By
for on September 27th, 2016
Dated or Delightful? 'Rumpole of the Bailey'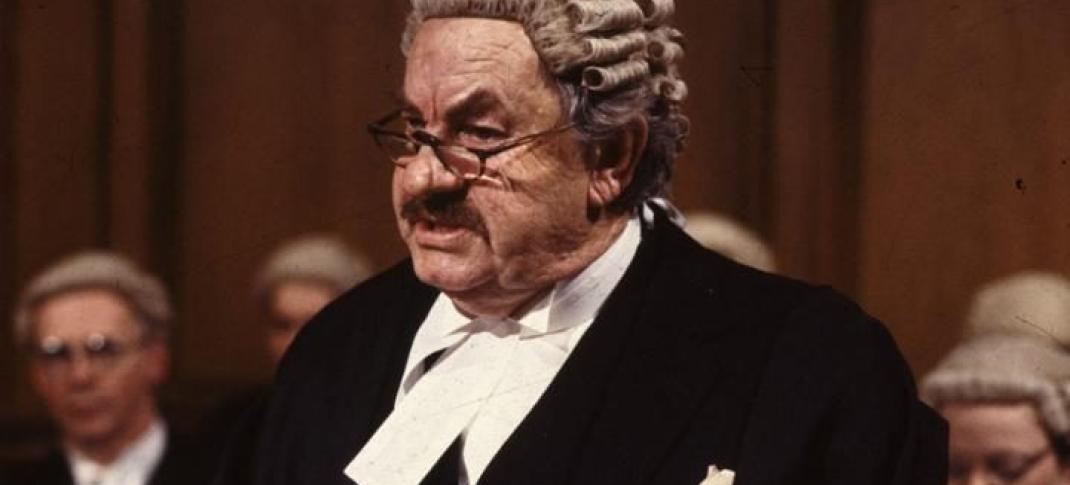 In this installment of Dated or Delightful, we travel back to the late 70's to discover if an ITV courtroom drama about a binge drinking, poetry loving, criminal defending barrister still stands up as an entertaining example of telly in 2016. May I present my evidence for the case of Rumpole of the Bailey?
First off, I had quite the wrong impression of what this show really was. I had always assumed it was a period piece set a couple of centuries or so ago –the wigs, the blustery poetry, even the title shouted old timey costume production. Not that there's anything wrong with that - I found Garrow's Law to be a solid historical legal program, after all.
Nevertheless, when I actually set upon the task of watching this almost four decades old series, I was in for a surprise. Rumpole was a much more modern day story than I had imagined while still brimming with British justice system traditions which made this courtroom drama enthusiast quite an entertained viewer.
Leo McKern (who happens to be Australian, not the quintessentially English thespian I assumed he was) debuted as Horace Rumpole in 1978. Created by real-life barrister John Mortimer, the show ran for seven series over a fourteen year span.  The first series was sort of odd in that each episode was supposed to have taken place in a different year starting in 1967 and catching up by the end to 1977. Subsequent seasons did not follow that pattern.
I found the character of Rumpole to be larger than life and a force of nature. This workaholic lawyer lives for criminal cases and never pleads guilty.  He often cites the success of his defense effort as a young solitary barrister in the Penge Bungalow Murders case as the pinnacle of his career. A self-described "Old Bailey hack", Rumpole eschews the idea of taking silk, being Head of Chambers or sitting on the "circus" bench. He's seen as an eccentric rebel and an annoyance by his colleagues and the judges he appears before. But they begrudgingly admit he is brilliant at his job and, despite what he would want others to think, he really cares about justice.
While his career path is to his liking, Rumpole leads everyone to believe he is a very unhappily married man. He refers to his wife Hilda (played by Peggy Thorpe-Bates in the first three seasons) as "She Who Must Be Obeyed" though he's hardly a hen-pecked husband. I would hazard a guess that Horace harbors great affection for her though he doesn't know how to express it except perhaps through poetry. Mrs. Rumpole just has to live with the fact that her husband loves the law more than he loves her.
Personally, I could do without some of the poetry and Shakespeare recitation even though I realize the passages he quotes are designed to reflect the plot of the episode. It also establishes him as a man of education and feeling who is blessed with a rather dramatic flair.
So what is my verdict? I find Rumpole of the Bailey to be curiously delightful. I had low expectations for the series and they were exceeded in many areas. As soon as I'd finished an episode, I found myself looking forward to watching the next.
Despite being broadcast almost forty years ago, human misbehavior has not changed all that much and so the cases that crossed Rumpole's desk- theft, murder, rape, drug dealing and hate crimes - are still very relatable today. I've also admitted my penchant for legal proceedings on TV and I loved to see how Rumpole would stay within in the letter of the law while simultaneously putting up the best defense he could for his client.
There are a number of talented supporting actors behind Leo McKern on this series including Peter Bowles (To the Manor Born) as Guthrie Featherstone QC/MP, Rumpole's upwardly mobile Head of Chambers and Patricia Hodge (Miranda's mum) as Phyllida Trant, a young colleague and frequent ally in an otherwise conservative chambers. Several familiar faces popped up as well in guest roles including Call the Midwife's Judy Parfitt, Chariot of Fire's Nigel Havers and Vera's Brenda Blethyn among many others.
Finally, some may criticize the dated appearance (or what we call production values these days) of the program, but again I must cop to the fact that I have a great nostalgia for a seventies era England to which I feel connected for no apparent reason. I love the sort of drizzly, dreary exterior shots and the obvious studio sets that sometimes look as though a play is being staged for television. In fact, the Rumpole series got its very early beginnings as a Play for Today on the BBC in 1975.
If, like me, you've never witnessed the courtroom finesse and antics of Rumpole or if you would like to experience this former Masterpiece Mystery offering again, all seven series of this BAFTA and Emmy nominated drama are available to stream on Acorn TV. If you have an opinion on the dated or delightfulness of this classic, please share it in the comments section!
---
By
for on September 27th, 2016