By
for on May 24th, 2016
Dated or Delightful? 'The Good Life'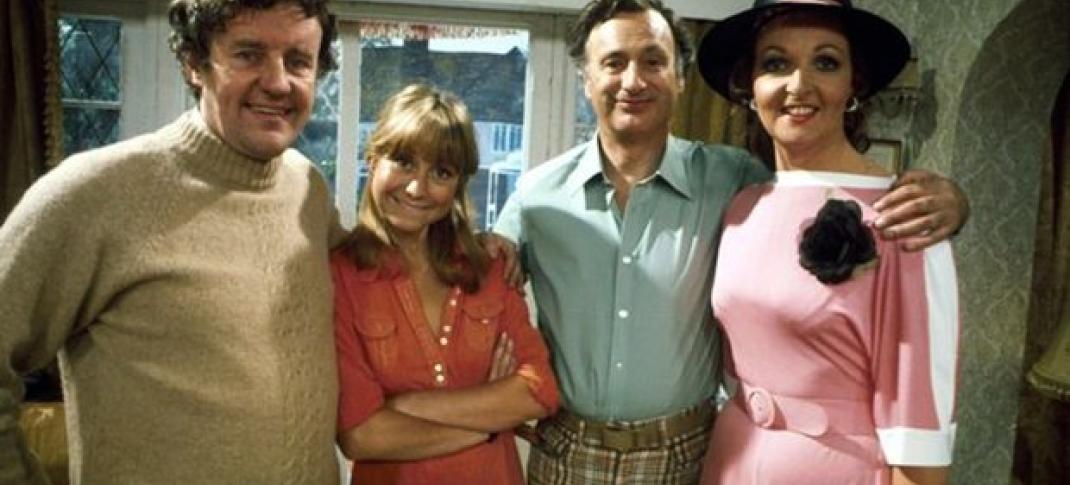 In this installment of Dated or Delightful, we travel all the way back to 1975 to see if a little sitcom about self-sufficiency in the suburbs can still be funny. Yes, over forty years ago the BBC's The Good Life debuted in the UK and remained popular throughout the decades even earning it the honor of 9th best British sitcom of all time in a 2004 BBC poll.
If you happened to catch this show on PBS in the early 80's (as I did) you probably remember it as Good Neighbors. Apparently a short lived American sitcom called The Good Life starring Larry Hagman and Donna Mills debuted in the early 70's. Clearly someone in charge thought audiences might be confused by a series with an identical title despite that fact that the US show aired only half a season and most people likely never even saw it anyhow.
The more enduring UK series lasted four years and followed the earnest if not always successful efforts of disillusioned draftsman and suburban dweller Tom Good (Richard Briers) and his wife Barbara (Felicity Kendal) as they chucked it all in for a simple existence on their own terms.  The Good Life was, in part, inspired by an interest in green issues and a back-to-the-land movement of the time.
Simultaneously it satirized the "keeping up with the Joneses" middle class mentality particularly rampant in the suburbs. Next door neighbors Jerry and Margo Leadbetter (Paul Eddington and Penelope Keith) represented these values with humor and aplomb.
I recently watched the entire first series and half of the second and found it overall delightful with a few minor reservations.
Here's why:
Self-sufficiency is still a relevant topic today. Bartering, buying locally from farmers' markets, alternative energy sources, and repurposing are concepts we encounter every day. And which of us hasn't found the idea of leaving the rat race to take charge of our own destiny appealing from time to time? Watching someone else jump in with both feet and commit completely to living within their means can be vicariously rewarding. It's also a cautionary tale about what turning 40 can do to an idealistic bloke.
In contrast to the Goods' brand of social revolution we have Jerry and Margo Leadbetter, the embodiment of suburban middle class success. They hold fast to their modern conveniences, holidays abroad and frequent social engagements. Margo, in particular, is concerned with her social standing and outward appearances. Her wardrobe is legendary and I must say, thanks in part to of the fashion trends of the time, make her look like a man in drag on occasion.
But the endearing thing about the Leadbetters is that despite their inability to relate to the lifestyle their friends have adopted, they are also the Goods' staunchest supporters and allies. Also if I'm not mistaken there is definitely a flirty vibe that exists across the two couples that I think might be looked at askance by viewers today.
I watched this show originally in my mid-teens so I didn't pick up on a few issues that I do now. Tom's enthusiasm for self-sufficiency bordered on mania in my opinion and there were times when Barbara, though a willing participant, paid the price. On occasion, Barbara was left to do the grunt work since her husband was the brains of the operation. And whenever Tom got dejected over a major failure, it was Barbara who was there to pick up the pieces. Not quite co-dependent behavior perhaps, but I just feel poor Barbara got the short end of the stick at times.
As always, modern viewers watching older shows are bound to encounter a few socially offensive references since sensibilities have changed over the years. When Tom refers to Confucius while making slanty eyes with his fingers; well, that's just not done anymore without being considered ignorant. Also when Tom uses the phrase "who dat down dere?" which originated in traveling minstrel shows it does sort of take one aback. You expect Margo to complain about the gypsies and navvies (unskilled workers on a building site), but isn't Tom supposed to be the enlightened liberal one in this scenario?
That being said The Good Life has many elements to recommend it. From enduring topical themes, to memorable characters with great chemistry, and downright funny physical shtick, this delightful series deserves its place in the hearts of Britcom fans everywhere. It's currently not available on any streaming service, but I found the complete series on DVD at my library.
What are your impressions and memories of The Good Life/Good Neighbors? Did you secretly hope that the Goods' pigs Pinky and Perky would live out their days in Surbiton, never to see the inside of an abattoir?  Do you consider it a humorous guide for those who aspire to a sustainable lifestyle?  Did you have a crush on Felicity Kendal? All remarks are welcome here!
---
By
for on May 24th, 2016