By
for on April 14th, 2016
Dated or Delightful? 'A Fine Romance'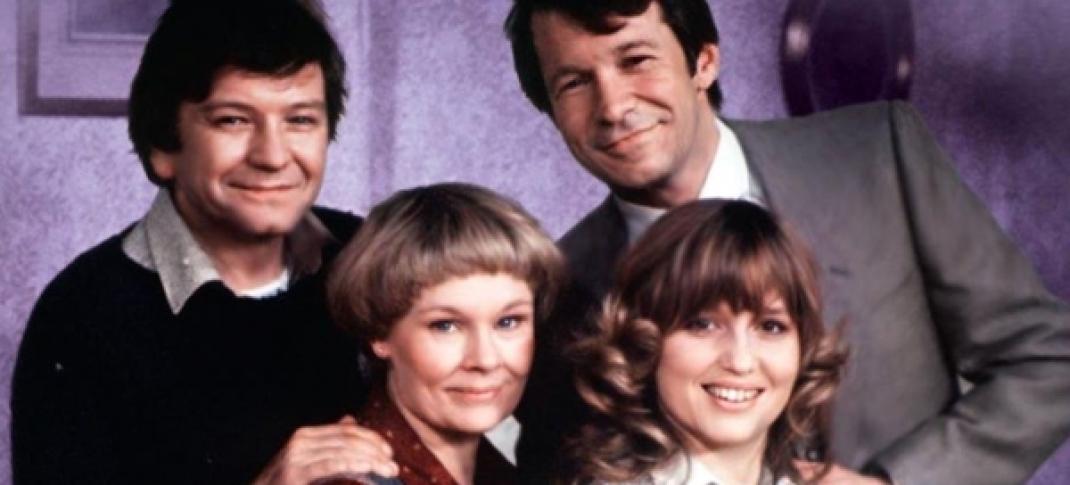 When it comes to British telly, I find myself watching a lot of current series -mostly gritty police dramas or edgy comedies- which I enormously appreciate and enjoy. But sometimes after a tension-filled binge session witnessing the heart wrenching things people endure living in the dead-end tower blocks, I need a bit of lighter fare to balance out the desperation.
Recently I've been trying out series from a kinder, gentler age; shows that before I might have passed by assuming them to be old-fashioned and irrelevant. Then I thought, why not make it an experiment out of it? While expanding my British TV repertoire, I could examine the entertainment value of these programs for myself and in the end declare them "dated" or "delightful". Any excuse for watching telly, right?
My first attempt at this venture was the thirty-five-year-old ITV sitcom, A Fine Romance. Starring Michael Williams and Judi Dench, this series ran from 1981 to 1984. It chronicles the romantic relationship that develops between stubborn yet insecure foreign language translator Laura Dalton (Dench) and hapless but endearing landscape gardener Mike Selway (Williams).
These single 40-somethings are reluctantly fixed up by Laura's younger sister Helen (Susan Penhaligon) and her husband Phil (Robert Warwick) at a party the couple is throwing. It's a meeting that lacks chemistry with the only thing they seem to have in common being their desire to have people butt out of their personal lives. Lasting relationships have arisen from less I'd dare say!
Over time Mike and Laura form a friendship that haltingly evolves into a love affair. So far I've watched all of the first series and part of the second and, at this stage, I would rate A Fine Romance…delightful! Here's why:
First off, there are no glaring pop culture references, fads or gadgets. Sure, everyone has a rotary phone and Laura uses a typewriter for her translation work. But the point is these things aren't the focus of gags or storylines. Mike's unreliable (and huge) answering machine aside, landscapers do pretty much the same work with the same tools as they would have thirty odd years ago.
I didn't find the 80's fashion sense majorly distracting except perhaps Laura's wedge haircut, but of course, I lived through that decade. Laura is supposed to be a dowdy dresser compared to her more glamorous sister so her wardrobe is quite conservative. The only torn sweatshirts (a la Flashdance) are Mike's moth-eaten work jerseys.
Also there aren't a lot of celebrities' or politicians' names thrown around to confuse foreigners or people from the future.  Aside from Laura's brother-in-law's preference for having "a pretty smile and nice set of legs" to greet clients in his office reception area, there aren't an abundance of sexist attitudes or insensitive racial jokes bandied about either.
These are people who go to work, frequent pubs, read books, watch TV and very falteringly fall in love. Their lives remarkably resemble our 21st century existence in all the most important ways.
The aspect of this show which I believe keeps it fresh for a modern audience is how socially awkward the main characters are; a more prevalent characterization in TV today than it was in the 80's. Rather than giving us protagonists who are established and confident in most aspects of their lives by this point, both Mike and Laura are something of a shambles.
Mike's almost bankrupt due to his lack of organization and business acumen.  Even his work van is on its last wheels as it were. Laura's freelance career seems stable, but the fact that she's a translator seems at odds with her communication skills. She's often sharp with of others, speaking her mind without much forethought. Conversely she will then hide away in the bedroom or closet to avoid dealing with people while Mike's favorite refuge is the loo.  
As you might expect with this couple, insecurities abound so there are plenty of opportunities for uncomfortable silences and misunderstandings. Both are rather clumsy, particularly Mike when it comes to the niceties of the social kiss or hug greeting. Meanwhile Laura seems to have ill-fitting contacts and which of course will pop out at the most inconvenient times.
A final thing that makes this show worth watching thirty-five years after it was produced is the obvious affection Judi Dench and Michael Williams had for one another and how much they enjoyed working together. They were husband and wife in real life after all! Ms. Dench, in particular, will smile or laugh at something her co-star has done so genuinely you know it's not just acting. No matter how many Oliviers, BAFTAs or Oscars she's won, some things can't be faked.
If you'd like to check out A Fine Romance for yourself, your streaming options are Acorn TV or Amazon Instant Video with an Acorn add-on subscription. I would imagine certain PBS affiliates have broadcast this Britcom over the years and the complete series is also on DVD.
If you've already seen it and would like to weigh in on its dated or delightfulness, please do so in the comments below. And yes, we can discuss Judi's theme song performance!
---
By
for on April 14th, 2016
More to Love from Telly Visions