By
for on July 7th, 2016
Dated or Delightful? 'Fawlty Towers'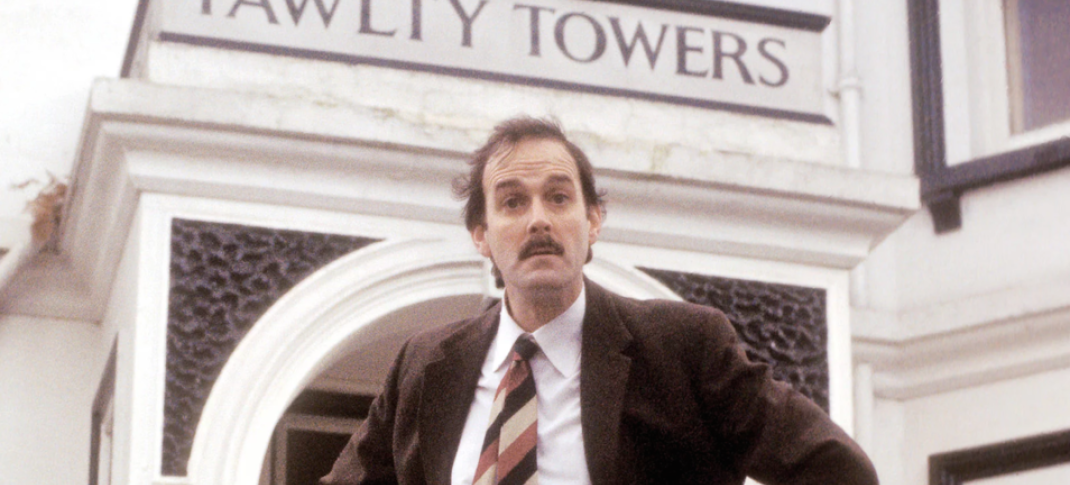 For this installment of Dated or Delightful  I went back to 1975 to re-watch a famous farcical sitcom about an ill-tempered hotelier and his overbearing wife. Throughout the twelve episode binge, my main goal was to ascertain whether Fawlty Towers  was still funny and relevant four decades later.
Inspired by an unhospitable stay in Torquay, John Cleese and his then wife Connie Booth modeled legendary British curmudgeon Basil Fawlty after Gleneagles Hotel owner Donald Sinclair who Cleese later described as "the rudest man I've ever come across in my life." After a shaky start getting commissioned by the BBC, Fawlty Towers has since found itself at or the near the top of a number of Best Comedy polls and lists garnering admiration and affection around the world.
If you aren't familiar with this British comedy classic, however, the gist is that a constantly squabbling married couple named Basil (Cleese) and Sybil Fawlty (Prunella Scales) own and operate a hotel in an English resort town. Sybil fancies herself the people person while Basil, who is constantly trying to raise the tone of his clientele, is simultaneously the frantic yet begrudging jack of all trades. Along with their skeleton crew of porter/waiter Manuel (Andrew Sachs) and waitress/reception/maid Polly (Booth), the staff at Fawlty Towers faces constant mayhem and misadventures which usually ends with Basil getting his just desserts for all his effort.
As for my assessment, I found that while the surface elements had a drab and dated look, the more important components of the show were still fresh.
Fawlty Towers' comedy comes from a place of confusion. Coincidences, misunderstandings and crossed wires abound which is still an integral part of sitcoms to this day.
It touched on the familiar situations we all encounter in the service field namely unhelpful staff and, on the flip side, unreasonable customers.
Timely current events even come into play. There's a point where the xenophobic Basil discusses the UK's recent entry into the EEC (now the EU). He's attending to a group of German guests and says, "May I say how pleased we are to have some Europeans here now that we are on the continent? I didn't vote for it myself, quite honestly, but now that we're in, I'm determined to make it work, so I'd like to welcome you all to Britain."
Talk about bookends to an era!  Regarding the recent Brexit vote John Cleese himself tweeted he would be voting to leave the EU much as we assume Basil Fawlty would have.
If I thought there was any chance of major reform in the EU,I'd vote to stay in.But there isn't.Sad.Sorry,Paddy.

— John Cleese (@JohnCleese) June 11, 2016
That being said, I didn't find Fawlty Towers to be the epitome of British situation comedy as it has been so often been anointed. Don't get me wrong, the repartee can be very clever and it certainly has its share of memorable scenes, but I failed to engage emotionally with the characters.  Unpleasant people are that way for a reason and getting just the briefest of insights into their misery makes them more human for that moment. Even if they show no growth over time at least it makes them bearable to watch.
This is about the closest Basil and Sybil get to showing any sentimentality about their marriage.
Also, Basil yells - a lot. More than once, my mind started to wander because of all the bellowing and shouting. This type of tantrum can be funny for a short sketch but gets tiresome after more than a minute or so.
As I've mentioned in other installments of this series, racist attitudes and slurs which are jarring and uncomfortable today were more mainstream in years past. The character of permanent Fawlty Towers' resident Major Gowen (Ballard Berkeley) is an example of an elderly man with outdated, prejudiced opinions specifically displayed in the episode 'The Germans'.Like famous American bigot Archie Bunker, the audience doesn't approve of his ignorance, but laughs at it. 
The Manuel situation, on the other hand, makes me a bit more uncomfortable. I'm not going to second guess casting Andrew Sachs (a German-born British actor) as the bumbling but well-meaning Spaniard. Nonetheless, the actor was required to wear makeup to make his skin darker despite the fact Spanish people come in a vast range of complexions.
Manuel's limited English fluency makes him the object of most of Basil's verbal and physical abuse. While we might assume Manuel wouldn't be a competent waiter anywhere, he is derided by guests and staff alike for his nationality. Most concerning was when Polly, probably the most tolerant character on the show,  called Manuel a "dago dodo " in a fit of frustration in the 'Basil the Rat' episode. Not okay, Polly.
So in my final analysis, I contend that Fawlty Towers is not dated nor entirely delightful either.  I found it witty, sharp and entertaining, but for me it lacked those glimpses of humanity that make comedy relatable. I know some will disagree with my opinion about this beloved British comedy and that's okay. Please share your thoughts and memories about Basil and his crew in the comments below. 
---
By
for on July 7th, 2016