By
for on November 1st, 2021
'Dalgliesh' Debuts with "Shroud for a Nightingale" Parts 1 and 2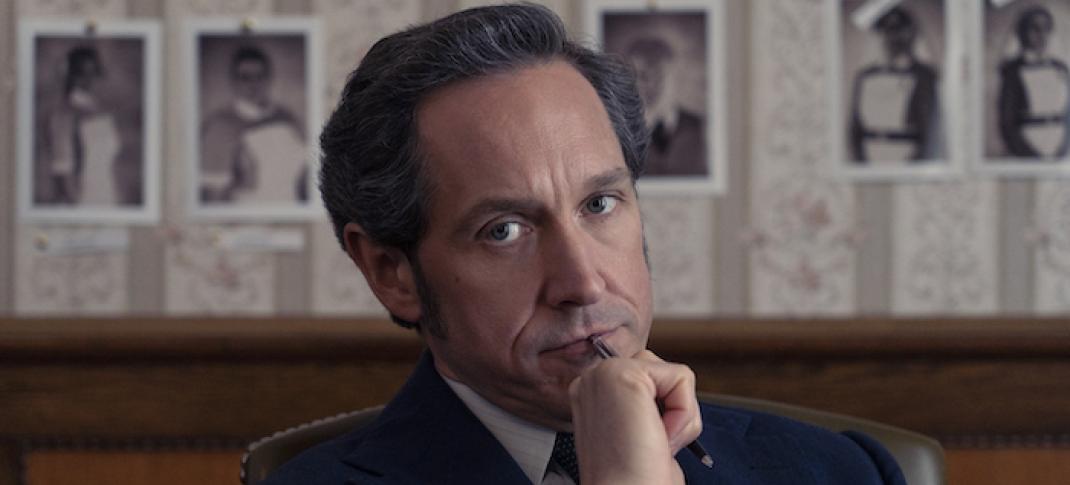 Poet detective Adam Dalgliesh has returned in a new series called, obviously enough, Dalgliesh. It's the first remake since the acclaimed and long-lived ITV/Masterpiece series aired from 1983 –1998 with Roy Marsden as Dalgliesh. This latest adaptation tackles three of the novels by the late P. D. James — "Shroud for a Nightingale," "The Black Tower," and "A Taste for Death."
You don't just see the everyday, the banal, the human beings running this little planet, thinking everything they do matters and has meaning. You see the underneath, our souls. You know me.
This new Dalgliesh series is rich, detailed, and demanding, an impeccable collaboration between lead writer Helen Edmundson (An Inspector Calls), Stephen Greenhorn (Doctor Who), and lead director Jill Robertson (Trainspotting), who is joined by Andy and Ryan Tohill (The Dig), and Lisa Clarke (Sanditon). The accomplished cast is led by Bertie Carvel (Jonathan Strange & Mr. Norrell). In other words, this team knows what it's doing.
Filmed on location in Ireland and set in the 1970s, the series' first two-part mystery, based on James' Shroud for a Nightingale, has a suitably spooky and Gothic feel. Set in a private hospital and nursing training school, Nightingale House, the inhabitants practice the healing arts, with sidelines in spitefulness, bullying, lying, and illicit sex. There's even a ghost, that of a sexually abused servant, and layers and layers of secrets — oh, and murder.
In the first episode, we scramble to untangle the relationships between the trainee nurses as they gather for a demonstration of assisted feeding, with one of their own, Heather Pierce (Beccy Henderson), chosen to be the subject. Except she wasn't the first choice––that was Josephine Fallon (Siobhán Cullen), who's been in the adjacent hospital overnight (or maybe not). The trainees are observed by their supervisors, Matron Mary Taylor (Natasha Little), Sister Gearing (Fenella Woolgar), and Sister Brumfett (Amanda Root), and by the arrogant bigwig surgeon Stephen Courtney-Briggs (Richard Dillane).
It is a demonstration that goes wrong, and while the business of someone having to swallow a tube is somewhat whitewashed, the reaction of Pierce as she is poisoned is graphic and shocking. We are spared the spectacle of the eminent surgeon cutting into her chest to resuscitate her (apparently an old-fashioned army surgical technique), although there's plenty of blood scattered around.
Scotland Yard is called in: Dalgliesh and the brash, crude Charles Masterson (Jeremy Irvine). Why bring in Dalgliesh? Probably because a well-known politician is booked for surgery in a few weeks at the hospital, and the powers-that-be are anxious to clear things up quickly. It's not the best working relationship between them, although Masterson has some learning experiences. During interviews, he bullies the only Black nurse there, Christine Dakers (Helen Aluko), who is weepy, lonely, and frightened. In a significant, demeaning gesture, Dalgliesh orders Masterson to make her a cup of tea.
It's a typical Dalgliesh move, understated and subtle, but he remains aloof. Maybe nobody knows him. He's recently widowed. He's a published poet but doesn't talk about it much (Masterson is incredulous, most of the women are intrigued), and he is a man of few words. Policing and poetry work together for him. He observes and reflects, and he's challenging to read, although one character thinks she has him figured out. Except Dalgliesh has a core of kindness and the brutality of police work. The all-female community from the top down flutters around him, except grumpy Sister Brumfett, who tells him he is bullying everyone and disturbing the routine.
As well as the poetry, it may also have something to do with his sports car since Masterson, the owner of a sexy (red, of course) car, receives quite a lot of female attention. Or, as one sexually adventurous nurse explains to Masterson, after firmly putting him at a disadvantage, it's all about the power. But back to the murder. Interviews with everyone fail to explain how a corrosive substance entered the milk used for feeding, when, and why. Pierce was a bully and blackmailer, with Dakers as one of her targets.
P. D. James deftly tosses out false leads, red herrings, and tempting theories that lead nowhere, and although the series is dense with detail, I found I was thoroughly absorbed. And then, at the end of Episode 1, we get a second murder. It's Fallon, the nurse in the hospital (or at least most of the time) during Pierce's murder and another poisoning case. There are several comments to the effect that she committed suicide because of the shame of being pregnant, although we know this is post-1973 (the publication date of Dalgliesh's poetry book). Abortion had been legal in England, if difficult to get. Poor Dacres is now frightened enough to run away.
Dalgliesh's real breakthrough comes when he starts investigating the murdered young women's reading material, which included a book about World War II war crime trials. There's also the patient who died unexpectedly in the hospital and, we learn, recognized someone he'd seen at one of the trials. Dalgliesh sends Masterson to interview the patient's mother, who greets him with alcohol and a tango on the record player and insists he dances with her for information; another learning experience for him.
Could there possibly be a war criminal who has escaped justice at Nightingale House? Since there are only four people who fit that age group (the two Sisters, Matron, and Stephen Courtney-Briggs), the field narrows considerably, and even more so when Brunfett dies in a very suspicious fire. Yet the big reveal is both riveting and surprising, a duel of wits between Dalgliesh and his suspect. If you like subtlety, intricate plots, and a challenge, you'll love this new Dalgliesh. 
---
By
for on November 1st, 2021
More to Love from Telly Visions