By
for on August 13th, 2020
'The Crown' Casts Jonathan Pryce As Its Third & Final Prince Philip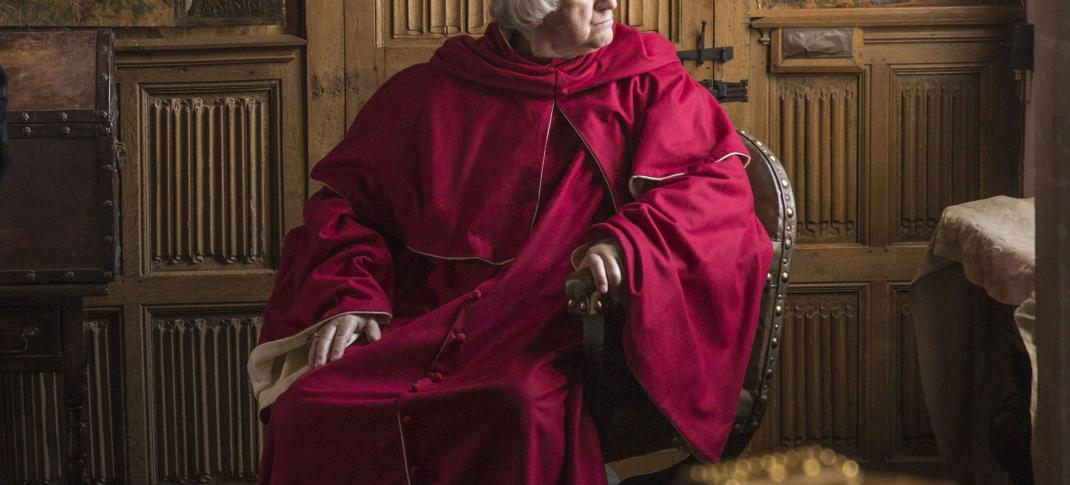 Watching The Crown build itself into a powerhouse series of A-list casting coups has been nearly as enjoyable as watching the show. Netflix planned for this to be a project on a scale that regular broadcast and cable TV could not risk. It greenlit the show for six seasons straight through, sight unseen, covering living icons of royal power, the Windsor family, and the life of its current reigning monarch Queen Elizabeth. Moreover, it would not stoop to aging makeup or digital manipulation of characters with one set of actors. Instead, it planned to recast the show, nose-to-tail, twice.
In each set of actors, one can see the ambitions grow. Seasons 1 and 2 only had one household name, Doctor Who's Matt Smith, as Prince Philip, with Elizabeth and Margaret played by relative unknowns Claire Foy and Vanessa Kirby. (Though we fans of Masterpiece knew the real casting coup of the set was Foy, from her turn as Anne Boyelyn in Wolf Hall.) Seasons 3 and 4 scored two out of three, with Oscar-winners Olivia Colman and Helena Bonham-Carter as Elizabeth and Margaret. It nearly landed the hat trick with Paul Bettany as Philip, but missed, and settled for the lesser-known (but better choice) of Tobias Menzies.
For the show's finale two seasons, it's gone whole-hog. Fans already know that Imelda Staunton, she of the iconic roles of Dolores Umbridge and Vera Drake, will take on Elizabeth. Oscar-nominee Lesley Manville, of Phantom Thread and World on Fire fame, will play Margaret. Now they're joined by Jonathan Pryce, making a hat trick of castings for Seasons 5 and 6.
Jonathan Pryce will play Prince Philip in the final two seasons of The Crown (Seasons 5 and 6), alongside Imelda Staunton and Lesley Manville. pic.twitter.com/zI7NotOfc4

— The Crown (@TheCrownNetflix) August 13, 2020
Like so many of his co-stars, Pryce's list of acting credits are too numerous to mention, though most will remember him for his own hat trick of religious figure roles, first as Wolsey in Wolf Hall, then The High Sparrow in Game of Thrones, and finally, his Oscar-nominated turn as Pope Francis in The Two Popes. That final role was a Netflix film, and if his statement is anything to go by, it partly led to him taking on the part of Philip for The Crown.
I am delighted to be working with Netflix again. The positive experience I had making The Two Popes has given me the confidence to tackle the daunting prospect of playing Prince Philip. To be doing so with Peter Morgan in the company of Imelda and Lesley will be a joy.
The Crown has currently finished work on Season 4, the final season of Colman and Bonham-Carter. After initially hedging that he might cut the series off after Season 5, for fear of getting too close to current events, writer Peter Morgan recently relented. The series will run the planned full six seasons. Seasons 5 and 6 will cover the 1990s, five years each instead of covering an entire decade per season as it did in previous ones, ending the series with the year 2000.
Currently, plans for filming for those final two installments are scheduled to begin in June of 2021, with both seasons filmed back to back. The Crown Season 5 is therefore not expected to arrive on Netflix until sometime in late 2022. The next season of The Crown, Season 4, does not yet have a release date, but most expect it to arrive before the end of 2020.
---
By
for on August 13th, 2020
More to Love from Telly Visions