By
for on August 27th, 2013
The Cornetto Trilogy: Zombies, Coppers, Robots and Friends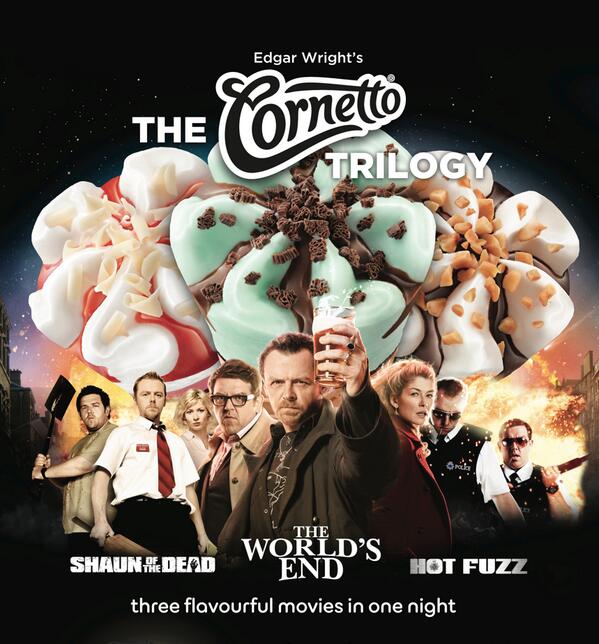 Last Thursday I spent six and a half glorious hours in a movie theater watching a once in a lifetime movie marathon. Dubbed the Three Flavours Cornetto Trilogy, this line-up was comprised of three films – Shaun of the Dead, Hot Fuzz and brand new release The World's End. The marathon was so named because each film features scenes and references to the British ice cream dessert called a Cornetto (similar to our Drumstick here in the States).  
A collaboration between actors Simon Pegg , Nick Frost and director/writer Edgar Wright, these three movies are not sequels.  They are stand-alone stories with unique characters which delve into the separate genres of horror, action and science fiction.  
That's not to say there aren't common themes of course.  The overall premise of the series is that an unthinkable evil has encroached on a peaceful English village/neighborhood and our heroes must survive or conquer the threat.  Also the very useful skill of fence jumping plays a relevant part in each film. 
[This video is no longer available.]
And, most importantly, Pegg and Frost's characters are always best mates at some point in the story. 
The trilogy begins with the zombie comedy (ZomCom?) classic from 2004, Shaun of the Dead. Shaun (Pegg) and Ed (Frost) have been boyhood pals since primary school and though everyone around him tells Shaun that Ed is holding him back, Shaun can't bear to cut his friend loose. In the end, Ed comes through for Shaun by making the ultimate sacrifice and in a world where zombies run amok no less.
Next up is 2007's Hot Fuzz, a buddy cop film and the funniest from beginning to end, in my opinion. Nicholas Angel (Pegg) is a London Metropolitan super-cop.  So he doesn't take too kindly to being transferred to the sleepy village of Sandford where he is paired with naïve and impressionable constable, Danny Butterworth (Frost).  Danny's fan boy admiration for Nicholas annoys him at first, but when Nicholas finally loosens up and Danny takes Nicholas' policing philosophies to heart, they actually make a pretty good team and even better friends. 
And the final chapter of the trilogy, The World's End, a sci-fi comedy about trying to recapture your youth -  and also robots. Gary King (Pegg) is a loser with an alcohol problem whose only desire in life is to relive his glory days.  He devises a plan to reunite his reluctant school friends in order to attempt a twelve stop pub crawl in their hometown of Newton Haven; a feat that they failed to complete when they were young men. 
The hardest person to sell on this caper is Andy Knightley (Frost), Gary's former wing man, who put his neck on the line for Gary when he was in serious danger.  Gary in turn thought of no one but himself and abandoned Andy, leaving him to take the blame for his mistake.In the end, Andy steps back into the fray once again to help his friend realize his dream whilst fighting off alien robot people.  The friends' story, in fact the story of the Earth, ends less than happily ever after, but to hear Andy tell it, he's not bitter…and Gary's found a new gang to follow him about.
I may have been the oldest person in the audience that night, but it really didn't matter. It was great to watch all three films one after another with people who know the actors, appreciate the humor and love the characters as well.  Oddly enough we were a polite crowd - there was no shouting out of famous lines such as "You've got red on you" and no one came wielding a cricket bat or a Japanese peace lily.
And while the screening of the Cornetto trilogy was a one-time deal, you can still see The World's End in theaters, while both Shaun of the Dead and Hot Fuzz are readily available on DVD and Amazon Instant Video.
Do you have a favorite installment of the Cornetto Trilogy?  Zombies, cops or alien robots, friendship is always a winner.
---
By
for on August 27th, 2013