By
for on December 1st, 2018
Classic British Cinema: 1968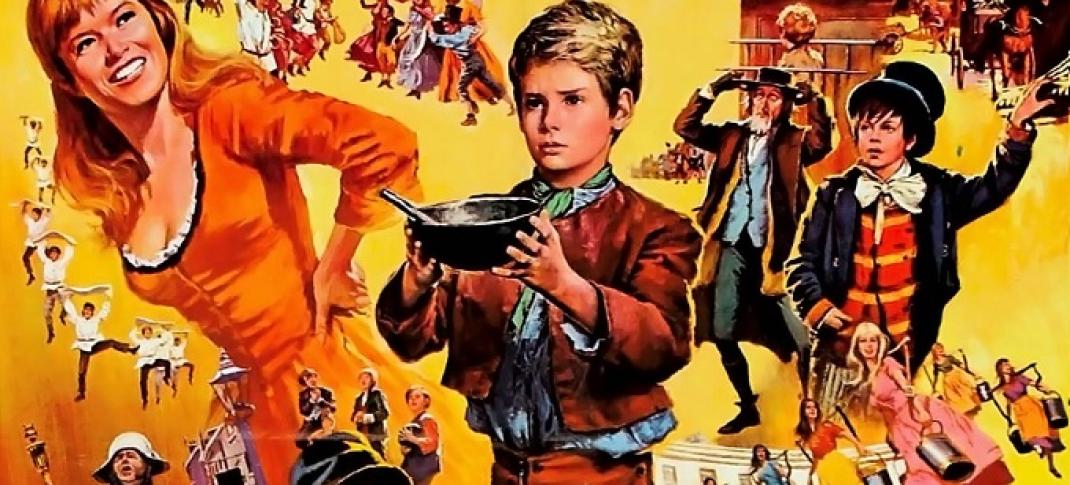 As far as British entertainment goes, I've always been much more of a telly watcher than a film buff.  My Twitter handle is @brittellyaddict after all. But recently while stuck at home on medical leave, I decided that it would be the perfect opportunity to increase my knowledge of classic British cinema. Perusing a couple of Best British Films lists, I noticed many familiar titles that I had never watched. Indeed, there some which I'd never heard of period. Ready to set off on this new project, I figured if I'm going to watch these movies, I might as well take you all along with me.  So here we go, starting with three very different films that were released in the UK fifty years ago.
Oliver! – Directed by Carol Reed
Oliver! is certainly the most famous in this trio of films I'm highlighting. Based on the classic Charles Dickens novel Oliver Twist, the adventures of the eponymous orphan boy were brought to the silver screen in 1948 before being turned into a successful West End musical by Lionel Bart in 1960. The screen adaptation of the musical arrived in cinemas eight years later to great acclaim, as well as eleven Oscar nominations and five statuettes including the one for Best Picture of 1968. Oliver! also found its way onto the British Film Institute's list of greatest British films of the 20th century and was ranked as Time Out magazine's 69th best British film ever.
(Whew.)
While I had seen a local stage production and a few of the big song and dance numbers from the film, I had never watched Oliver! in its full two-and-a-half-hour glory. (Yes, there is an intermission.) I have to say it was the most entertaining portrayal of poverty, domestic violence and child exploitation I've ever had the pleasure of watching. It's true that some pretty grim stories have been set to music over the years (Les Miserables, anyone?) and you can't get much bleaker than the social commentary of Dickens' Victorian England. Though it may seem strange to say, the almost two centuries-old setting of this story makes it feel timeless rather than dated - a fate that has befallen many a contemporary film of the late 60's era.
To the film's credit, the production numbers ("Consider Yourself", "I'd Do Anything" and the cheeky "Oom Pah-Pah" stood out to me) were beautifully choreographed by Onna White who won an honorary Oscar for her work on this film. Most importantly, young Master Oliver finds a happy, if not strangely coincidental, home. Can't ask for much more than that from a lavish big screen musical, can you?  My only complaint is that Mark Lester's performance as Oliver was lacking. He didn't actually sing the solos, but was dubbed by the daughter of the film's musical arranger and his on-screen presence was overshadowed by his co-star Jack Wild as the Artful Dodger.
Carry On Up the Khyber – Directed by Gerald Thomas
Before I get into the specifics of this particular film, I should explain that it is part of the Carry On series of British comedy motion pictures produced between 1958 and 1992. The brand also included a handful of Christmas specials, a television series and several West End stage plays. All the films employed the British music hall traditions of bawdy innuendo and double entendres. Producers relied on a core group of actors cast in stereotypical roles such as plus-sized ladies and their henpecked husbands, though the premise and characters varied from film to film.
Carry On movies were famous for spoofing British institutions and customs and, in the case of this 1968 offering, the targeted institution is the Empire.
"India, 1895 and the British colonials rule. The natives are ready to revolt, prevented from acting only by fear of Britain's famous 'Devils in Skirts', the Scottish regiment protecting the Khyber Pass. When Private Widdle (Charles Hawtrey) endangers their image, the Khasi of Kalibar (Kenneth Williams) seizes the occasion to ignite a revolt. Somehow the Skirts' honour must be re-established, but how?"
Having heard about this film franchise and the British public's affection for it, I went in with my eyes wide open. Up the Khyber contained all the things I assumed it would – misogyny, racism and Benny Hill-esque shenanigans. Women were either scantily-clad, buxom members of a harem or a neglected, love-starved wife. Only the Khasi's daughter, Princess Jelhi (Angela Douglas) has a mind of her own and, even then, she defies her father for the love of a British soldier. The Indians in the film were caricatures played by white actors, as was common practice at that time. There were slapstick gags and potty humor aplenty.
It must be noted however that it was equal opportunity farce which took the mickey out of the British elite as well.  It mocked the mythical greatness of Empire and poked fun at British arrogance and priggishness. Two very British characteristics, self-deprecation and derision of authority, run throughout this film which makes you feel a little better about the fact that Up the Khyber was the second most popular movie at the UK box office in 1969 and is still frequently cited today as the zenith of the Carry On series. It also squeeked onto the BFI Best British Film list at number ninety-nine. Whether your interest is social history or seaside postcard humor is your guilty pleasure, Up the Khyber is probably your best bet to get a glimpse of the British sensibilities during that era.
If.... – Directed by Lindsay Anderson
Like me, you may have had no previous knowledge of this "anarchist masterpiece" starring Malcolm McDowell in his first leading role. If…arrived in theaters at time when student riots challenging The Establishment were erupting world-wide. The British Film Institute named If… the twelfth greatest British film of the 20th century whileTime Out magazine ranked it the 9th best British film ever. It won the Golden Palm at the 1969 Cannes Film Festival.
So what is If… about you may ask? McDowell plays Mick Travis, a student at an exclusive British all-boys boarding school. A non-conformist, Mick finds himself mired in a rigid system of cruelty and repression carried out by sadistic senior "whips." After suffering a particularly savage punishment by the whips, Travis and his lackeys (David Wood and Richard Warwick) are primed for a startling showdown against fellow students and out-of-touch administrators alike.
If…was a contemporary satire, but since it takes place in a boarding school steeped tradition; the uniforms, rituals, even the backdrop of the Victorian-era building serving as "College House" make you believe it could just as easily be 1868 as 1968. That is if you ignore the main character's obsession with the Vietnam War and mini-skirted young women in coffeehouses rolling on the floor like tigers.  Also in case you decide to give If… a try, keep in mind that the director's choice of alternating black and white with color footage is not a strict Wizard of Oz-like indicator of reality versus fantasy.
My take on the film is that it is making a statement about class or individuality or hierarchy – probably a combination of the three. Some have called it poetic, not me, but actual movie critics and people like the movie's lead actor, McDowell.  It kept my interest, but I wasn't invested in any of the characters which is typically very important to any storytelling endeavor I undertake. The ending, while surely shocking at the time the movie was released, was sadly all too familiar in our hyper-violent society. I didn't love it, but I'm glad I'm aware of it now. Who knows? If… might come in useful to me someday as a question in a pub quiz or maybe even on Jeopardy.
I hope you enjoyed my first foray into classic British cinema. Are you tempted to try a movie from the selections above? If… is available to stream on Amazon Prime. The other two can be rented on Amazon as well. All three can likely be found through your local library system. Please proceed to the comments sections with your film feedback!
---
By
for on December 1st, 2018
More to Love from Telly Visions