By
for on June 1st, 2018
'C.B. Strike' Is This Month's Best British Mystery, But It's On Cinemax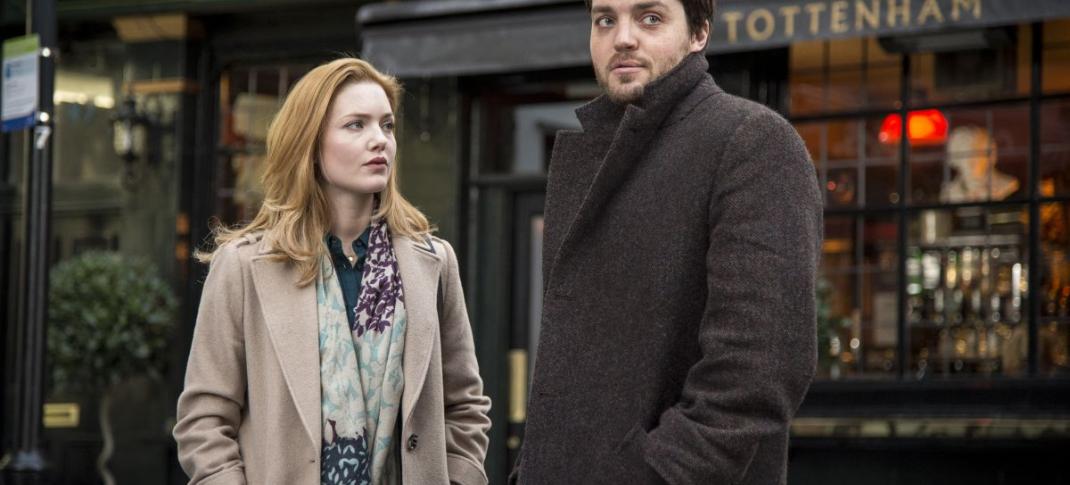 With C.B. Strike, J.K. Rowling brings a new voice to British mysteries and a little bit of Harry Potter magic. Under normal circumstances, C.B. Strike would be premiering on PBS' Masterpiece this weekend, the long-running home for BBC and ITV drama, romances, and mysteries, which provides these series with an already-built-in fan base. It's a BBC import which aired opposite Victoria last fall, under the slightly shorter title, Strike.  Written by middling range author Robert Galbraith, who has an oddly large twitter following, the show would slot nicely into the neighborhood. Less star-studded, yet more celebrity-obsessed than Unforgotten, not as concerned with morality as Granchester, and far more straightforward in its twists than Endeavour, C.B. Strike is a perfectly delightful mini-series coming all three of the existing books.
Except these aren't normal circumstances. Robert Galbraith doesn't exist. He's the pen name of Joanne Rowling, the billionaire with a household name recognized the world over, which is why HBO sunk money into the series and the rights to air it over here. C.B. Strike is airing on its secondary tier pay cable channel, Cinemax. 
Rowling's story is as Cinderella level as it is well known: a single mum living on the dole, she wrote the first Harry Potter book in coffee shops. The series, aimed towards tween and then teen crowd was a hit from the word go, kicking off an entire YA craze that still hasn't abated two decades later. By the time the final novel arrived in stores in 2007, Rowling never had to work again. There was one problem: Rowling wanted to work, but her name was getting in the way. So she sent out the first Cormoran Strike mystery manuscript under the pen name Galbraith, in hopes publishers would be fooled. Clearly, enough were: "Galbraith" received a collection of rejections that a post-Potter "Rowling" never would.
​The Cuckoo's Calling, which makes up the first three episodes of C.B. Strike's seven-week run, was Galbraith's "debut" novel in 2013. But before it reached readers' hands, the press had already leaked the secret. Rowling's name was now irrevocably attached. HBO and the BBC already worked together in bringing Rowling's other attempt at normality, The Casual Vacancy, to the small screen. So HBO hopped in and secured the rights to the BBC's mini-series made up of all three Strike novels.
There's only one problem: HBO doesn't air anything like PBS Masterpiece mysteries. It has no place for a series like this. And so we have C.B. Strike on Cinemax, where it will struggle to find the kind of quiet but loyal reception it deserves from an anglophile audience.
The worst part is C.B. Strike deserves that audience. It's hilariously delightful, decently written, and well acted. It was a smash on the BBC. (Sorry, Victoria's Season 2 ratings.) Tom Burke (War & Peace) makes a great disheveled and slightly-useless-as-a-human detective in the title role of Cormoran Strike. He and Holliday Grainger (The Borgias), who plays his secretary/partner-in-murder-mystery-solving Robin Ellacott, have wonderful chemistry together. On screen, there's no doubt who the real heroine is in the story is, even if Cormoran doesn't always realize it. All three mysteries are satisfying even if you have read all the books (as I have) and already know whodunit, or if you've never checked out Rowling's bids to join the ranks of Agatha Christie and P.D. James.
But the series is also one that Potterheads should tune into because if you grew up on the Harry Potter mythos, this is a great twist on the characters you already recognize. The parallels are obvious: Strike, an ex-celeb who turned his back on being an upstanding citizen to be a PI is Harry, had he walked away from the wizarding world post-Voldemort. As Harry has always been Rowling's alter-ego, it's also a metaphor for her running away from the wizarding world and skulking into crime detective fiction, where she can world build without magic. Meanwhile, Robin is exactly what Ginny Weasley would have been if she hadn't grown up in a wizarding family.
It's pledge month here on PBS, which means that the usual Masterpiece line up is on hold for the next few weeks. Endeavour's fifth season is not arriving until the end of the month. For fans of British mysteries, this is the perfect series to fill in that gap. So do yourself a favor and go figure out where Cinemax is in the cable line up tonight at 9 p.m. ET and check this out. Listen, if we as a PBS family can figure out where the hell the newest episode of Great British Baking Show got to this week, we can all figure out how to watch Cinemax on Fridays for the next seven. Especially when the show is worth it.
C.B. Strike begins airing on Friday, June 1, 2018, at 10 p.m. ET on Cinemax. Check your local listings.
---
By
for on June 1st, 2018
More to Love from Telly Visions