By
for on December 29th, 2019
'Call the Midwife' Season 9 Will Begin on PBS This Spring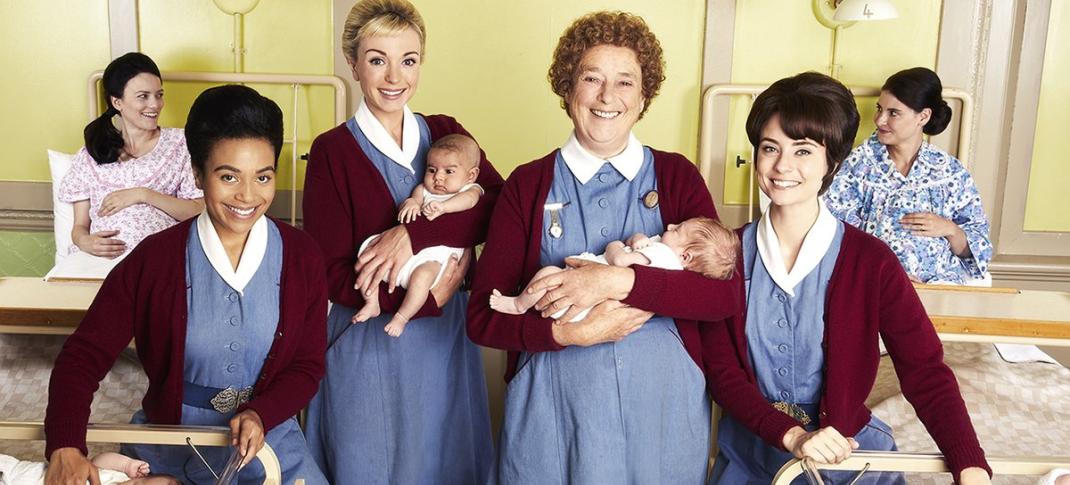 Mark your calendars: Heartwarming drama Call the Midwife will officially return to PBS for its ninth season this Spring.
Now that we've officially spent Christmas in Poplar - or in Scotland with some Poplar residents, if you want to get super technical - it's time to start looking toward the next full season of the popular drama, which is airing sooner than you might think. 
Season 9 will begin on Sunday, March 29, 2020 and take our favorite nuns and midwives into the mid-1960s. (Our lucky friends in the U.K. will see the new episodess a few weeks before we do, but, as usual, the U.S. audience on PBS won't be too far behind.) The season will once again be comprised of eight episodes, and the story begins in 1965. 
According to series' creator Heidi Thomas, the midwives' return to Poplar isn't as smooth as we might expect.  
Budgets are being cut, and hospitals reorganised. Terraced houses are being demolished, and traditional family structures torn apart. There are wrecking balls everywhere, and it's up to Sister Julienne, and the midwives and medics of Nonnatus House, to help find a way out of the rubble. When they themselves come under threat, their job becomes even harder.

As the series unfolds, and 1965 rolls by, we see the team dealing with cases involving cancer, diptheria, dementia, fistula, and homelessness. They are faced with loneliness among the elderly, the traumas of an exhausted carer, and the defiant behaviour of a young and vulnerable prostitute. They deliver more babies born out of wedlock, care for a couple whose beloved infant dies, and support a brave and beautiful new mother who is blind. Meanwhile the Turner's own family comes under threat, Lucille's romance does not run smooth, and Sister Julienne is driven to take an extraordinary step.

In the interests of balance, I feel obliged to mention here that there is also a posse of visiting medical students, a fashion show in which Trixie wears the shortest miniskirt ever seen in Poplar, a Horticultural Extravaganza which tests Fred to the limit, and a firework display with a lot of toffee apples. Life, in some ways, has never been sweeter. But time and again, we see our beloved regulars patching over the gaps in the system with ingenuity, kindness and - that eternal, priceless, beautiful thing - their care.
The news of the series' premiere date came via its official Twitter account. 
Ready for 1965? #callthemidwife leaps straight into the brand new Series 9 after our Christmas Day episode!! New series premieres Sunday 5th January on @BBCOne and March 29th on @PBS pic.twitter.com/6mAJ3E45sp

— Call The Midwife (@CallTheMidwife1) December 18, 2019
Call the Midwife has already been renewed for Seasons 10 and 11, which will take the series into 2022. How much further will it go? Well, as long as people want to tune in, I expect. There is clearly no shortage of heartwarming tales to be told, and the show has already proven its audience will ride out any cast shifts, having replaced several of its initial leads already since it first premiered. 
Are you looking forward to heading back to Poplar this Spring? Let's discuss in the comments. 
---
By
for on December 29th, 2019