By
for on July 5th, 2023
Two New Faces Arrive at Nonnatus House as 'Call the Midwife' Season 13 Filming Begins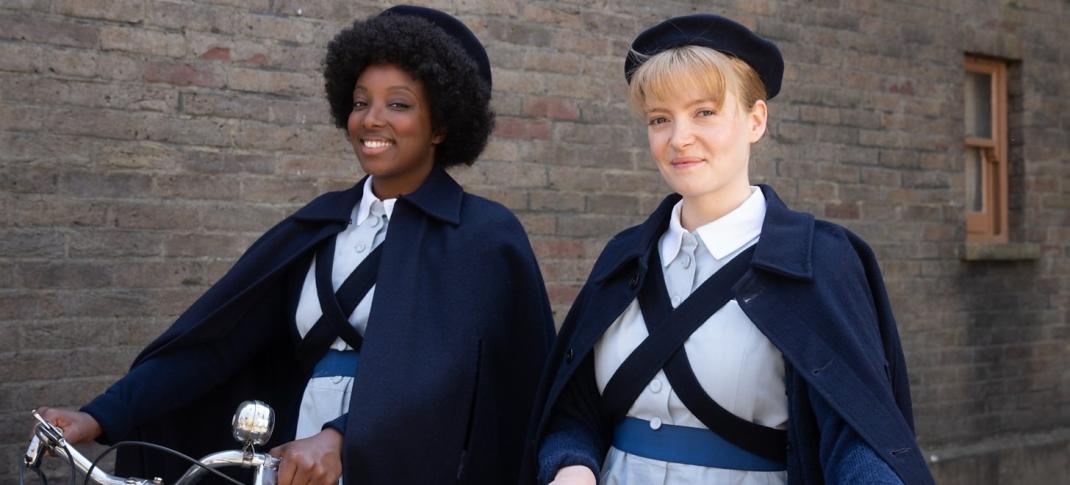 These days there are few things more certain in British television than new seasons of Call the Midwife. The megapopular period drama about the nuns and midwives serving the poor of London's East End first premiered in 2012, and is still going strong over a decade later, breezing through major historical events and shifting cast members with no signs of slowing down anytime soon.
Case in point: Production on the thirteenth season of the series (yes, you read that right) is now officially underway, and its revolving cast is adding two new faces as the show moves into 1969.
In the new season, we'll see Nonnatus House begin a new pupil-midwife training scheme, welcoming two young trainee midwives, Joyce Highland and Rosalind Clifford, to the series' canvas. Both girls are thrilled by this exciting new stage in their careers and move into Nonnatus House, where they become roommates. 
Joyce, played by Renee Bailey (Mood), hails from Trinidad and dreams of becoming the matron of a British hospital. The character is described as hardworking, intelligent, and kind, though she has a traumatic past that she will unlikely be able to keep secret forever. Natalie Quarry (Doctors) plays Rosalind, a warm, passionate, and funny young woman who nevertheless boasts an inner steel that will lead her to make some life-changing choices.
The BBC also confirmed that the series' Season 12 cast is returning for the show's next outing, including longtime favorites Helen George as Trixie Aylward, Linda Bassett as Nurse Crane, Judy Parfitt as Sister Monica Joan, and Jenny Agutter as Sister Julienne. Laura Main'll join them as Shelagh Turner, Stephen McGann as Dr. Patrick Turner, Cliff Parisi as Fred Buckle, Annabelle Apsion as Violet Buckle, and Megan Cusack as Nurse Nancy Corrigan, alongside Georgie Glen as Miss Millicent Higgins, Zephryn Taitte as Cyril Robinson, Olly Rix as Matthew Aylward, Rebecca Gethings as Sister Veronica, and Daniel Laurie as Reggie Jackson. 
Here's a description of the new season, complete with some challenging changes ahead for our favorite characters.
Series 13 continues to explore complex medical and personal situations on the midwifery and district nursing rounds. It is now 1969 and more babies are being born in hospital than ever before. Pressure on maternity beds remains extremely high across the country but Poplar is coping better than most due to the work of Nonnatus House and the popularity of home births under the auspices of the Sisters.

This series will see stories from within the Sylheti and Nigerian communities and from around the docks. Poor housing continues to blight areas of Poplar presenting complex social and health challenges to the Nonnatus team. It will also explore issues surrounding Cerebral Palsy, Congenital Hip Dysplasia, Tetanus, Porphyria and TB.
"After so many years, our much loved regular characters are like family to me - and our wonderful fans often tell me that they feel the same. I know they will be as thrilled as I am that Series 13 of Call the Midwife is full of beautiful moments that celebrate the young, the old, and the precious ties that bind them," series creator and writer Heidi Thomas said in a statement. "After Trixie's spectacular wedding, the Nonnatus House community feels more tightly-knit than ever, but life in Poplar has never been a fairy tale.
As 1969 unfolds, we will see change and challenge rock the world of our beloved nuns, nurses, medics, and midwives. Newcomers, Joyce and Rosalind arrive with much to learn and much to give. And yet even as man prepares to walk on the moon, we see them grappling with life's eternal questions. Who are we? What is love? And where do we belong?"
Call the Midwife will return with a Christmas special this holiday season, followed by Series 13 in early 2024 in the U.K. and the U.S. The series has already been renewed for Seasons 14 and 15, which means we'll be watching the nuns and midwives of Nonnatus House until at least 2026 --- if not beyond.
---
By
for on July 5th, 2023
More to Love from Telly Visions