By
for on April 9th, 2023
'Call The Midwife' Season 12 Midway Point Delivers Gratitude and Hope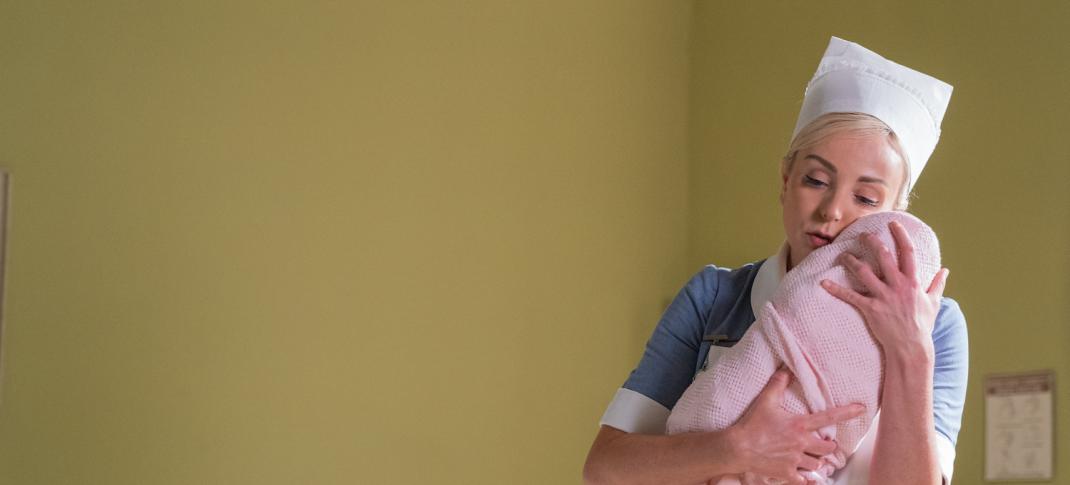 Call The Midwife continues the dark trajectory of Season 12 with a medical crisis at the maternity home. It won't be the first time in this series that the fictional events of 1968 Poplar mirror those of our lives –– families separated, overwhelmed medical staff, and a serious life-threatening epidemic. Meanwhile, new developments in obstetrics continue, as does the shift from home births to hospitalization. In 1968 English culture is obsessed with modernity and youth, and Nurse Phyllis finds that despite her years of experience, her value as a midwife is not always respected by patients or the health system.
Nurse Phyllis: With respect, Mr. Walsh, I've seen more innovations in my forty-four years of professional practice than you've had fish dinners. I've embraced them all with interest, and also with caution and questions, a policy which has served me well.
At this halfway point in the series, traditional midwifery, and possibly even Nonnatus House itself, may be under threat.
Reggie Jackson (Daniel Laurie), appearing for the first time in Season 12, is visiting, but he isn't his usual happy self. He's tired all the time, and on his arrival turns down Cyril's invitation to play dominoes at the social club. Something is not right, but Reggie is not able to communicate his fears to the Buckles, who continue to to be their usual optimistic and bracing selves. They don't realize this isn't what he needs, and when Violet mentions laziness he becomes furious and threatens to return to the Glasshouse Trust, the care facility where he lives with other young adults with disabilities.
The Buckles read a postcard he wrote to his girlfriend Jane, looking for clues to his state of mind. (Ed note: Is this appropriate?) The only activity Reggie asks for is a visit to his mum's grave to place flowers. When he asks about her death, Fred explains she was quite elderly, and very tired, so tired that she died, which does not reassure Reggie at all, and he's frightened by other symptoms such as hair loss. Finally he's able to confide in Cyril, who in the capacity of a friend closer to Reggie's age, and with his counseling experience, is able to help.
Tim Turner (Max Macmillan) is also back in Poplar, having aced his final exams at university. He has an entire summer ahead, working as an assistant at the maternity home. Although he starts doing paperwork and making tea, he racks up some unexpected hands-on medical experience. He's at the reception desk when Nurse Shelagh arrives with a patient in advanced labor, Vinita Khatri (Annice Boparai). Tim's face as Vinita's waters break is priceless, and he's given the job of mopping up while Nurse Trixie rushes Vinita straight into the delivery room.
She gives birth to a baby girl, but her contractions continue, and Trixie discovers an undiagnosed twin in a breech position. Dr. Turner is called, and Vinita finds herself the mother of twin girls. When dad Romesh Khatri (Manish Gandhi) visits, he didn't expect to become "a father of many girls" and has only thought about boys' names. Vinita challenges him to admit he wanted a boy, and what should be a joyful moment becomes tense and unhappy. Back at the clinic, Nurse Phyllis examines Simone Lucas (Abby Russell), an arrogant first-time mum, boasting about life in the suburbs and how she'll go to St. Cuthbert's hospital instead of a home birth.
Phyllis then joins Dr. Turner and Nurse Shelagh at a lecture on "Ventouse." The device (a baby vacuum extractor — imagine a bicycle pump attached to a beanie on the baby's head) is supposedly less invasive than forceps. Shelagh asks if it's been tested on home births. The presenter, Mr. Walsh (Philip Bird), dismisses home births and criticizes Phyllis's pumping technique, saying it's difficult "if you're old school." She stands up for herself, but her admission only confirms Walsh's suspicions about her age; she's called him out in front of other medical professionals. The question now is whether he's petty enough to make life difficult for her.
But the focus now turns to the maternity home where gastro-intestinaI symptoms strike two new mothers and one of the babies. It's E. coli, highly contagious and quickly fatal for a newborn. Dr. Turner closes his office and the maternity home, leaving himself, Shelagh, Trixie, and Tim to care for the patients. No visitors are allowed, and the babies stay in the nursery while the mothers express milk for bottle-feeding so that liquids taken in (and expelled out) can be monitored to prevent dehydration. It's a serious situation and hard for the women who can't even see or hold their newborns, let alone return home.
The remaining staff and nuns discuss how to maintain services. Sister Monica Joan says she can help; she has nursing skills and overcomes the objections of Sister Julienne and the others, all aware that her age could make her vulnerable. But what Sister Monica Joan wants, she usually gets and arrives at the maternity home as Trixie sends Matthew off with a shopping list. Sister Monica Joan persuades Shelagh to let her in to help nurse the newborns and gets her way simply by pointing out that Shelagh is also sick. Shelagh responds by rushing out of the room to throw up. Tim, the only other person there, accepts Sister Monica Joan's help.
Sister Monica Joan proves her worth when one of Vinita's babies has stopped breathing, comforting Vinita while Nurse Trixie and Tim work at resuscitation and call an ambulance. When Romesh visits, he's not allowed in, forced to listen to the fading ambulance bell as his daughter is rushed to the hospital. Dr. Turner reassures Vinita her husband cares about all of his daughters, although she is still convinced he wanted a boy. Since there's no phone at home, Vinita talks to her husband via a second-floor window.
Shelagh and her children are all now sick and miserable, and she bans her husband from their home until everyone is well. Nurse Phyllis is in a different but equally unpleasant situation. She has received a letter from the London Board of Health, of which Mr. Walsh is a member, to attend a hearing, almost certainly about her working past retirement age. She consults Sister Julienne, who reassures her that the local government has no jurisdiction over Nonnatus House's employees. But Phyllis is afraid she'll be forced to retire, and it's a severe blow to her confidence. "Who would I be without this uniform?"
Her first call doesn't improve her mood, seeing Simone, who makes a point of telling her St. Cuthbert's induced births to make it convenient for everyone involved. Phyllis, who believes babies should come in their own time, does not approve. However, the husband, Larry (Wilfred Scolding), arrives that afternoon at Nonnatus. Their phone has been disconnected in anticipation of their move, and Simone is in labor. It's too late to take Simone to the hospital; Phyllis deals with a difficult birth alone, her confidence at rock bottom. Simone says she's overwhelmed by the move and her first child and apologizes: "I just needed one solid thing I could touch and lean on, and it was you."
Simone's baby is stuck, his shoulder jammed on her pelvis, with the risk of compressing the umbilical cord (shoulder dystocia). Phyllis sends Larry out to the nearest phone box to summon the Obstetric Flying Squad while she delivers the baby, with Simone panicking and pushing when she isn't supposed to. Now there's only one problem, but a serious one — Simone is bleeding heavily. We can see how stressed Phyllis is, how hard she works at not sharing her anxiety with Simone and Larry, and share her relief when the Flying Squad arrives to rush mother and baby to the hospital.
The chairman of the London Board of Health, Dr. Threapwood (Timothy Harker), visits Nonnatus to rebuke Dr. Turner and Nurse Julienne for the handling of the epidemic — not what they did, but how. It is a fairly baseless accusation, but the Board is all privileged, pompous white men who dislike Nonnatus House's woman-centered mission. This is borne out when Phyllis attends her hearing, accompanied by Sister Monica Joan for moral support. Sister Monica Joan invades the meeting on Phylllis's behalf, praising her dedication and skill, noting Phyllis is younger than the Board members. As we suspected, they don't have any sort of case and lamely advise her to take more refresher courses.
Finally, the quarantine is lifted, and the patients and their babies can return home. Before we see them leave, Vinita and Romesh have agreed on names for their daughters: Shakura (gratitude) and Asha (hope). Dr. Turner can now see his regular patients again, one of whom is Reggie, accompanied by Cyril, who persuaded him to seek medical advice. Dr. Turner suspects, and a blood sample confirms, that Reggie suffers from hypothyroidism (underactive thyroid). He assures Reggie that he's not dying and that one pill a day will make him feel better very soon.
Dr. Turner asks Reggie if he has permission to talk to the Buckles about his condition, and he agrees. Violet apologizes for calling him lazy, which she'd previously denied doing, and it's great to see Reggie back to his usual smiley self, joking around in the shop. Dr. Turner and his family finally get to enjoy the summer after their hard work, splashing around in a wading pool. Sister Julienne, however, is concerned that once again, Nonnatus House will have to fight for its survival, so let's see what happens next.
Stream Now
Call the Midwife
Call the Midwife is a moving and intimate insight into the colorful world of midwifery.
Image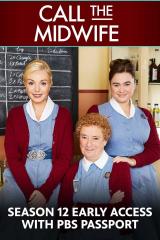 ---
By
for on April 9th, 2023
More to Love from Telly Visions