By
for on March 26th, 2023
The Second Episode of 'Call The Midwife' Season 12 Is All About Marmalade, Love, & Family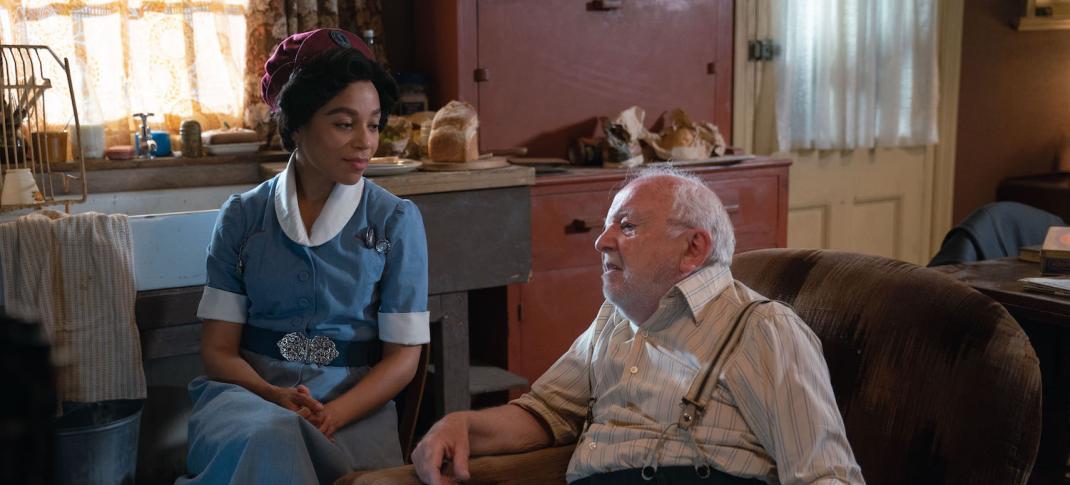 As Call The Midwife rounds into its second episode, it's May 1968 and Whitsuntide (Pentecost) is here. Nurse Shelagh is pulling together Nonnatus's celebration, with maypole dancing, refreshments, and a raffle. Sister Monica Joan gives her the entire cache of marmalade Sister Veronica brought as a gift for the house. Shelagh then discovers their maypole dance instructor had emergency surgery, so she rounds up volunteers — the nearest nuns, Dr. Turner, and Miss Higgins — and sets to work teaching them the steps. It's a disaster, not one of them seems to take it seriously, not even Sister Monica Joan, cast as the maypole and only has to stand still. 
Lucille: I have given the Holy Spirit every chance. I have given Him the chance to make me feel welcome in this country. I have given Him the chance to put a child inside my body. I have given Him opportunity after opportunity and either He has failed me or I have failed in His grace.
After a rocky start at Nonnatus, Sister Veronica, is now an asset to the practice and the order. Despite their initial conflict, she has gained Sister Julienne's trust and friendship, and is bursting with ideas. Her latest project is a breastfeeding class for pregnant women, of which Sister Julienne thoroughly approves. Afterward, Nurse Shelagh meets first-time expectant mum Lilian Reynolds (Lydia Larson) who asks her about a painful rash on her breast and chats happily about her colorful past as a dancer, and plans for a home delivery. Dr. Turner gets her into a specialist, Mr. Sawyer (Richard Brimblecombe), at the hospital for a mammogram and biopsy.
When Sister Julienne visits to follow up, Lilian is confused. Sawyer said her breast looked "a bit naughty," followed by the news she has cancer, leaving her shocked and scared. Dr. Turner meets with Lilian and her husband, Ronnie (James Alexandrou), to explain the situation with his usual clarity and kindness. Mr. Sawyer wants the baby induced so Lilian can start radiation and undergo a mastectomy. It's one blow after another. "Cancer is a monstrous bully," Nurse Trixie comments when she hears of the surgeon's decision. She, too, has encountered the other sort of monstrous bully, entitled senior physicians like Sawyer, while she was caring for her aunt.
Nurse Lucille, still fighting depression, is caring for Tommy Woodleigh (Barry McCarthy), an elderly man who lives alone and needs home visits after he injured his hand in a fall. He may also have macular degeneration, meaning that he could lose his sight. But he won't cooperate, refusing to leave Poplar, where he's lived all his life, and claiming he has no family. He and Lucille get on well, but he can barely see, and she realizes he's faking it. He grumbles about the fancy biscuits his son sends him, yearning for Marie biscuits (bland but famed for their tea-dunking properties).
He probably doesn't realize Lucille is Black, although he comments on her pretty voice and senses that she's sad. On Tommy's next visit, by Nurse Phyllis, he confesses he suddenly can't see any light on his left side. Dr. Turner recognizes the seriousness of the situation and insists he goes to the hospital now and by ambulance. Tommy is scared he won't come home again.
Lucille returns home to find Cyril downcast. Two of his congregation have been evicted after they fixed up their flat, something that seems to be happening a lot recently. But he's booked a call to Jamaica, and Lucille is thrilled to chat with her sister until she learns Celine is pregnant, and her mood plummets. She shuts herself in the bedroom. Nurse Phyllis, concerned about Lucille's emotional health, meets Mrs. Wallace (Linda Hargreaves), a respected and helpful member of Cyril's church, and asks for help.
Mrs. Wallace meets with Cyril to pray for Lucille, who she believes is under spiritual attack. Cyril is uncertain that prayer is all his wife needs, but as Mrs. Wallace tells him, he must give the Holy Spirit a chance. Unfortunately, Lucille arrives home from work in time to hear that bit of advice and is furious, slamming out of the apartment. But worse happens after she visits Tommy in the hospital, bearing a packet of the prized Marie biscuits. There, she meets another visitor, Tommy's granddaughter Janet Norris (Phoebe Horn), with her two young children.
Tommy has a family, but he is determined to stay in Poplar and has refused to move in with her or any of them. Janet asks Lucille to hold her baby so that she can see to her elder daughter. Lucille is overwhelmed and cries as she cuddles him. She returns the baby and leaves, watching traffic rush by as she stands dangerously close to the side of the road, emotionally in a very dark place. Cyril brings her home, and she confesses that Tommy's choice to be isolated struck a chord with her. She's doing the same, shutting out a world that no longer suits her. Lovingly, Cyril reminds her of their first date, "This is it. I'm never getting off this ride."
Lucille goes to see Dr. Turner and asks for his support as a doctor this time, not as a friend. She knows she needs medical help. But after a couple of days on medical leave, she is bored. She's about to get her hair done when Cyril produces a plane ticket to Jamaica. He can't take time off work to go with her and wants her to visit her family and recover. In another sweet, poignant gesture, he borrows a motorcycle with a sidecar to take her to the airport. She's not wearing a yellow dress, but Nurse Phyllis has presented her with a cardigan she's been knitting and this lovely piece of advice: "Choose to be loved, to let the sun shine down on you."
Ronnie and Lilian have an unexpected surprise. Lilian goes into labor at home, and neither Nurse Trixie nor Sister Julienne expects her to go to the hospital. Just for tonight, Sister Julienne explains, the cancer is not relevant. She is to give birth at home and spend a few precious hours with her baby and Ronnie. After the joy of the birth of her daughter, Lilian is overwhelmed with sadness again when she has to take medication to prevent lactation. On his own with a newborn, Ronnie is panicky and emotional and needs help from Nurse Trixie and Sister Julienne.
When Lilian returns home, he wields a bottle like a pro and tells her he took the baby to the clinic at Nonnatus for her first weigh-in. Lilian is furious that she's missed this first milestone in her baby's life and takes it out on Sister Julienne with some ugly statements about her childless and celibate state. Sister Julienne apologizes and asks for forgiveness, but Lilian shuts herself in the bedroom. However, when the baby starts crying, Sister Julienne tells Lilian she needs her mother, and apologies are made on both sides.
Nurse Shelagh arrives late, flustered and apologetic, to a maypole dance class. Sister Monica Joan had sat bemused as small children ran around shrieking until she'd had enough and took over, and Shelagh is greeted with a flawless maypole dance. No one asked Sister Monica Joan if she knew about maypole dancing (and, of course, she didn't volunteer that information at Shelagh's disastrous first rehearsal). The Whitsuntide celebration is a success until Sister Veronica discovers her cache of marmalade is missing. It turns out to be the last raffle item, and Sister Monica Joan has the winning ticket. She looks appalled at her win while Sister Veronica smiles.
Stream Now
Call the Midwife
Call the Midwife is a moving and intimate insight into the colorful world of midwifery.
Image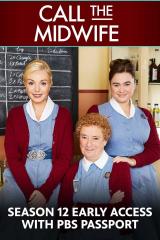 ---
By
for on March 26th, 2023
More to Love from Telly Visions