By
for on May 19th, 2019
'Call the Midwife' Recap: Season 8 Episode 8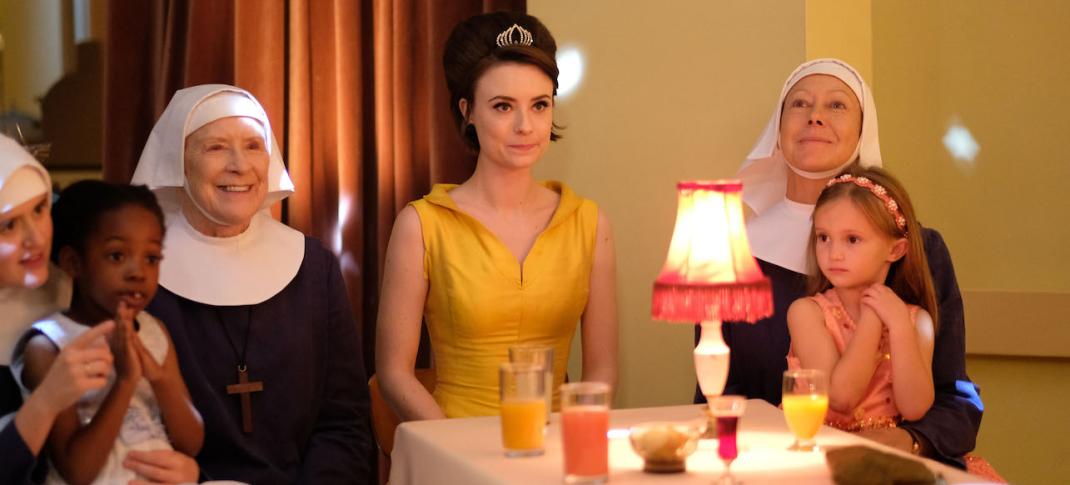 Before we dive into the final episode of Call the Midwife's eighth season, it would probably be a good idea to review what occurred last week. Sister Frances aced her first solo delivery, a father-to-be with a sex addiction jeopardized the health of his wife and child and the identity of Poplar's injurious back alley abortionist was revealed to be Nurse Dyer's own gran, Elsie. For more details, check out the complete recap of episode seven here. 
The season finale was a very eventful installment, so let's mention the good news first. We learn that Nurse Crane's release from hospital is imminent!  However, what initially looked like a fast friendship with Dr. Turner's secretary has become something of an annoyance for Phyllis. Miss Higgins's handmade get-well card declaring Nurse Crane a frail invalid can't have done much for their rapport.
So when Sgt. Woolf (whose first name turns out to be Aubrey) shows up for a bedside visit, Phyllis is happy for the intrusion. In fact, Nurse Crane can barely disguise her pleasure when Miss Higgins and Sgt. Woolf start openly flirting in front of her. I'm sure you join in me in looking forward to Phyllis taking her rightful place as the keeper of the rolodex and healer of women with all this Sgt. Woolf nonsense behind us.
In the turn-a-frown-upside-down column this week, the Turners are spending their last precious moments with May before she departs for her previously arranged adoptive family. Shelagh tries to distract herself by planning the Ballroom of Hope, a fundraising dance in aid of purchasing an incubator for the maternity home. But by the end of the episode, (and I think it came as no surprise to anyone) May's adoption fell through and she's back home with the Turners for good!
Reggie too has returned to Poplar due to an outbreak of whooping cough at the special needs community where he lives. Violet notices both her men seem to be preoccupied and down in the dumps.  She frets herself into a such a state that she breaks into tears in front of Cyril who has stopped by her shop with Lucille's shopping list. Being the fine gentleman he is, he fetches her a handkerchief and suggests it might be best for Fred and Reggie to talk things out among themselves, free from women's intiuition. 
Mrs. Buckle wisely heeds this advice and gives Fred ten shillings for a boys' trip to the pub. Over a pint and a shandy, Fred admits he's having some worrying problems with his "waterworks" and Reggie spills the beans that he's missing his girlfriend Jane. (After ascertaining that Jane is another resident with Down's syndrome, Violet plays fairy godmother and reunites the young couple at the ball.)
Realizing that help will have to come looking for Fred, Reggie passes a note to Dr. Turner informing him that "Fred bladder sore.  Fred sad." Dr. Turner reassures Mr. Buckle that his concerns may be premature, and after performing a prostate exam, gives Fred the all clear on his cancer scare.
One of this week's other characters has not been so fortunate when it comes to cancer. Seventeen-year-old Julie Schroeder (Betsy Coates) has just come home after receiving radiation therapy for Hodgkin's disease. The doctors have said her treatment options are at an end, so Sister Hilda is assigned to dress her radiation burns and make her more comfortable.
While on her first home visit, Sister Hilda finds that Mrs. Schroeder (Kerry Godliman) is not facing up to the terminal nature of her daughter's condition. Not only that, she's pregnant and, according to her husband, hasn't been seen by a nurse for six months.  Lucille joins the Schroeder family health team as the lead midwife and she and Hilda encourage Julie to take part in both the impending birth of her baby sister and the Ballroom of Hope dance (i.e. make the most of whatever time she has left.)
But the sequined dress and fancy shoes appear to be all for naught when Julie urgently requires a transfusion for anemia. Dr. Turner goes above the call of duty and transports her to the hospital himself, making it possible for Julie to get to the ball on time. And in classic Call the Midwife fashion, Julie's stepdad has found a way to express his love for her by repairing the damaged mirror ball and spinning her around the floor in his arms during the father-daughter dance.
The most dramatic storyline of the night of course was the fate of Valerie's gran. Trixie and Valerie fulfill their due diligence and report Elsie's criminal activity to Sgt. Woolf, which leads to the elderly woman's arrest. Elise pleads not guilty, telling the police that Teresa Banley, the young woman who Trixie and Val encountered in the filthy room above the pub, tried to abort the baby herself. Liar, liar pants on fire!
This means the case goes to trial and Valerie has to testify against her own grandmother. The Dyer family turns against her including her cousin Maureen who comes to the clinic to berate Val for being a "stuck-up turncoat". Lucille puts her bossy pants on and ejects the woman from the premises for being disrespectful to a uniformed professional.
In fact, all the residents of Nonnatus House have Nurse Dyer's back, including Sister Julienne who accompanies her to court saying,
"Where would I be, if not alongside you? You were born into our hands. Your trials are ours."
On the stand, Trixie goes rather overboard dragging her friend Jeannie's death into the middle of things thus undermining her expert testimony. But just as it looks as though Val will have to give evidence against her beloved grandmother, Sister Monica Joan shows up with a new witness. She and Sister Frances have tracked down Cath Hindman (from the season's first episode) and persuaded her to identify Elsie as her abortionist and share with the court the ordeal that followed her procedure.
After this testimony, Elise changes her plea to guilty which releases Valerie from having to take the stand. She is sentenced to a six-year prison term, which will likely be most, if not the rest, of her life. She and Valerie talk things out before she's sent away. Elsie seems at peace with the outcome saying it's just the way the world works and implores her granddaughter to do more.
"Until you girls, with all your training and all your learning, sort something out with the men who make the law, there'll be names being whispered and money changing hands in every backstreet in England!"
Perhaps once Val has some time to recover from of the personal upheaval that resulted from these events, she'll find purpose in advocating for changes in women's reproductive rights. Trixie certainly seems to be on that track with her efforts to bring a women's advice center to Poplar. How timely and disheartening it is that over fifty years later these issues are circling back again.
So there we have it, another season of Call the Midwife is done and dusted. This is our last chance to talk things over before we depart Poplar for a while. What were your highlights of the season – favorite characters, performances and plotlines? Did anything fall flat in your opinion? The comments await your final evaluations!
---
By
for on May 19th, 2019