By
for on May 12th, 2019
'Call the Midwife' Recap: Season 8 Episode 7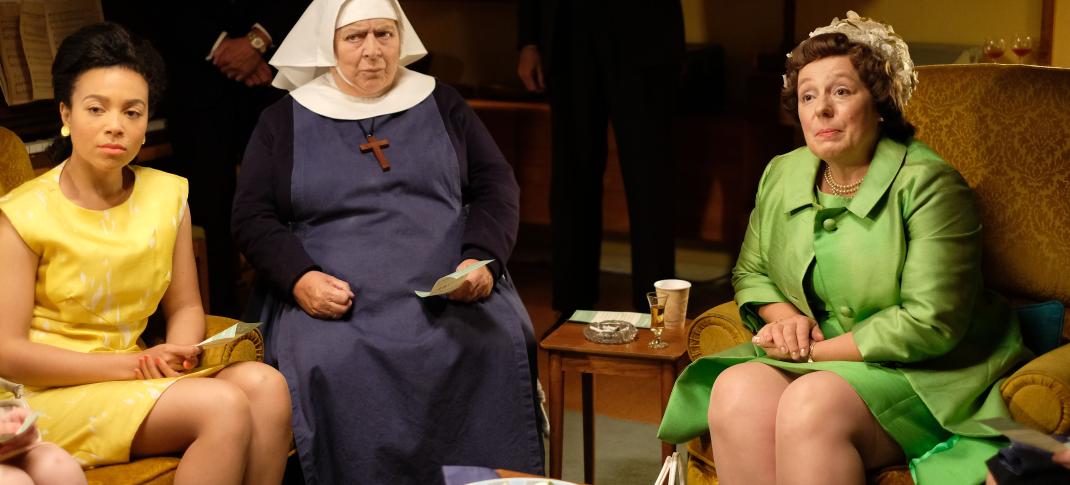 Last time on Call the Midwife, the Mother House sent back-up for an ailing Nurse Crane, a Poplar family faced serious illness due to dangerous work conditions and Lucille helped a teenage mother determined to keep her baby. If you want to refresh your memory, the full recap of Episode 6 is right this way.
This week, we find the residents of Nonnatus House (and Sister Monica Joan in particular) enthralled with the TV coverage of the Tokyo Summer Olympics. The courtship between Cyril and Lucille is going strong, and Mother Mildred hits her stride as a wise and guiding presence. Unfortunately, Nurse Crane remains in traction at the hospital, but a flood of patients and friends continue to send their well wishes.  
Meanwhile, the Turners get word that May will be leaving them in a week's time. Though Shelagh and Patrick try to spin it as good news to the children, no one is celebrating. Timothy (who we've seen only glimpses of this season) expresses his unhappiness with the situation and worries that little Angela just won't understand why her sister has to leave. The best they can hope for is that May's new family will allow them to visit. Or perhaps the Tunnocks will have a change of heart….
Since this episode aired in th U.S. on Mother's Day, it seems only fitting we should have a pair of childbirth storylines this week.
Connie Blakemore (Kellie Shirley) is a mother of one with another due any day. Her first delivery was a breeze though she was apparently quite vocal. When her labor gets underway, Sister Frances is sent by an insistent Mother Mildred on her very first solo gig. The young nun is a bit shaky, but holding her own. However, when Connie complains of a very different, sharp type of pain, Frances checks things out only to discover the infant is trying to come out in a tricky elbow-first presentation.
Sister Frances' wobbles momentarily but keeps her wits about her. After wisely calling for backup, she ends up delivering the baby girl by herself, episiotomy and all. Mrs. Blakemore is relieved and proud of what they accomplished together.
"Well done, you, Sister! We don't need back-up. We did it on our own. Just the three of us."
When she returns to Nonnatus House, Sister Frances receives a round of applause. But before stopping to eat with the others, she runs to the alter and gives thanks to God for not leaving her alone when she was on her own.
Sister Frances shows how far she's truly come when, upon making a follow-up visit to the Blakemore home, she finds a party in full swing. Music blasting, the fussing newborn is being passed around with no Connie in sight. Mr. Blakemore says she's having a lie down, but she's actually crying uncontrollably in the bedroom. Frances reassures the distressed mum then firmly puts an end to the festivities by sending everyone home. There will surely be more challenging deliveries ahead for Sister Frances but at least she knows she has the skills and courage to face them.
The other mother-to-be we meet this week is Heather Pugh (Rosie Sheehy), a neighbor of Connie's who is a bit more anxious about the big event to come. At her antenatal visit she mentions some concerning symptoms that, after lab test confirmation, turn out to be gonorrhea. She's truly stunned by the diagnosis as she has been faithful to her one and only sexual partner and can't fathom that her Vince (Phill Langhorne) has been with anyone else.
But, of course, he has, and he's paid for it. When confronted, her husband can't even begin to deny that he's cheated on her. Dr. Turner and Trixie accompany a devasted Heather to the maternity home where she will be treated with antibiotics and observed for complications. There is a chance the gonorrhea could cause permanent damage to the child's eyes.
As a matter of public health, Dr. Turner requests the identity of the woman with whom Mr. Pugh has been having relations. She needs to be put on a course of antibiotics as well and Patrick strongly advises her to turn away clients until the infection has cleared up. Who should show up at the call girl's door as Dr. Turner is leaving? Vince Pugh!
Turns out Vince is most likely suffering from a sex addiction that began back in his army days when he was introduced to prostitutes as a way to "let off some steam." Despite loving his wife, the pregnancy has brought on this self-destructive behavior, but Patrick tells him he has the chance to rebuild his relationship.
Back at the maternity home, Mrs. Pugh has a baby girl and, as far as the doctor can tell at this early stage, she hasn't been harmed by her mother's infection. When Heather eventually allows Vince in to see the baby, she has already worked out how things must be for him to remain a part of their lives. This includes an evening curfew and the marriage counselling that Dr. Turner has recommended.  (I always marvel at how attuned Patrick is to counselling and mental health issues. Truly a physician ahead of his time!) Anyway, Vince agrees to her terms, but only time will tell if this marriage can be saved.
And in the most dramatic turn of the episode, we learn some shocking information about Val's grandma. On a bingo outing, Elsie Dyer (Ann Mitchell) is still in a lot of pain from her boils so Val insists she see Dr. Turner. Turns out it's a nasty cluster of boils (a.k.a. a carbuncle) caused by a strain of strep bacteria. Sound familiar?
Another hint dropped whilst Elsie was having her dressing changed by Sister Julienne. She obviously bursts with pride over her granddaughter's accomplishments saying, "You watch her go. She'll do everything you never did."  Sadly any aspirations she had to be a nurse herself were impossible due to her lack of education and economic means.
It all hits the fan when Val's Aunt Flo calls Nonnatus House with an urgent and cryptic request for her to hurry down to the pub with her medical bag. Trixie offers to come along as back-up and when they get there the nurses find a distressing sight. In a filthy room above the pub is Elsie trying to soothe a scared young woman lying on a table.
As the realization of what her grandmother is doing washes over Val, Trixie takes control of the situation like the pro she is. As Elsie mumbles about how she's never seen anything like this, Trixie tends to the hemorrhaging girl and tells Aunt Flo to call for an ambulance. When she refuses, Nurse Franklin threatens to involve the police.
As Trixie accompanies the patient to the hospital, Val stays behind to face her grandmother. We know that Elsie has seen the grim consequences of unwanted pregnancy firsthand in her own family so her involvement in back alley abortions is believeable. Elsie defends what she has done for women living in poverty and abusive relationships who have begged her to help them. Valerie tells her she hasn't witnessed the aftermath of her barbaric, unsanitary methods that have led to infertility and even death in exchange for the money she keeps stashed in her oven.
Whether or not Mrs. Dyer will go to jail for her criminal enterprise remains to be seen.  One thing's for sure, women like the ones Elsie has dealt with would definitely benefit from the contraception and confidential advice the Brook Advisory Centre could provide. Here's hoping Trixie and the Turners can change the minds of necessary partners like Violet Buckle in their quest to improve and, in some cases, save, the lives of desperate women because, as we've seen over the years, mothers are the backbone of Poplar and society at large.
Well, this installment gave us a lot to process and, believe it or not, there's only one more episode left in season eight! What are your thoughts about Mother Mildred's guidance of Sister Frances and her low key departure? Were you suprised by the identity of the Poplar abortionist? And how about that interaction between Miss Higgins and Nurse Crane at the hospital? I never noticed how alike they were until that scene. Let's get chatting! 
---
By
for on May 12th, 2019
More to Love from Telly Visions