By
for on April 21st, 2019
'Call the Midwife' Recap: Season 8 Episode 4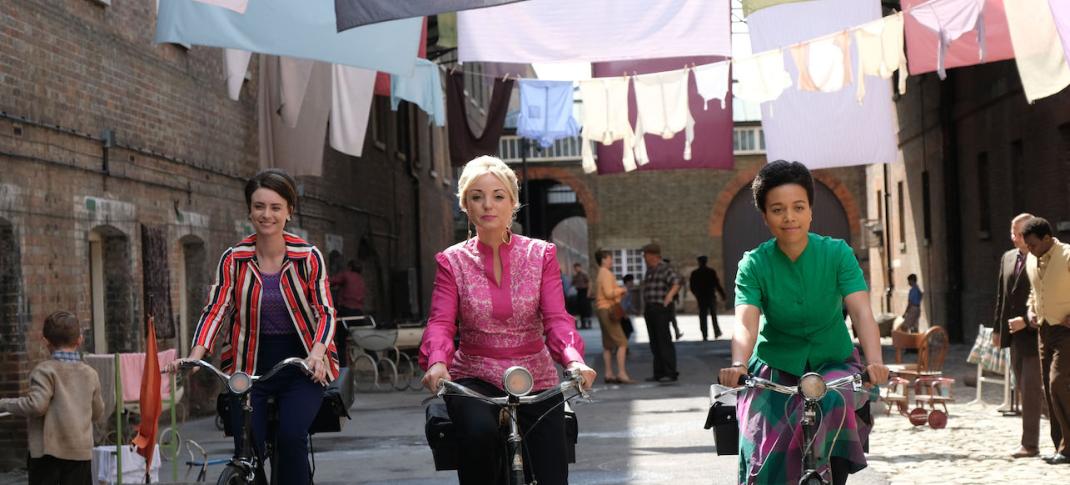 On our last visit to Poplar, struggling mums faced birth defects and the buried grief of losing an infant with the support of their midwives and other medical staff. The full recap, including the transformation of the Nonnatus forecourt into a play beach, can be found here.
In the latest installment of Call the Midwife, we witness the joy of a family reconciliation and the tragedy of a woman driven to a fatal decision. I suggest we ease into this episode with a look at that quirky little date that wasn't exactly a date, at least not in the eyes of one of the concerned parties.
As has been obvious for some time, Sgt. Woolf fancies Nurse Crane. She, on the other hand, has not be so quick to pick up on his signals. (Or if she has, she's not eager to encourage his attentions.) Just last week he volunteered to serve as Phyllis' assistant pack leader as a way of putting himself in increased contact with the object of his affection. Now the sergeant has homed in on Nurse Crane's interest in photography as an opportunity to invite her to an art show in Soho.
Unfortunately for the officer, it turns out to be an exhibition of nude portraiture. Woolf ends up having to admit he knew nothing about the artist and only claimed to in order to appear cultured. Phyllis doesn't seem terribly bothered by it but declines his suggestion to repair to a café to plan their next excursion. Automobile enthusiast that she is, the nurse is far more taken with the parking meter system than her companion. I'm fairly certain this isn't the last we've seen of this odd couple.
Our family dysfunction story this week features a mother and daughter who find themselves simultaneously with child. While perhaps a bit awkward, this could potentially be a time of great comfort and bonding for the two women. However, mother Enid Wilson (Niky Wardley) has failed to accept her daughter Cilla's (Hannah Hutch) marriage to an Indian immigrant. The rift between two is clearly affecting Cilla's blood pressure and Enid's civility.
When the pair land in the maternity ward at the same time, they alternately ignore and annoy one another. During labor Cilla develops a bad headache and her blood pressure shoots up which alerts the staff that toxemia (i.e. pre-eclampsia) has set in. Cilla's anxious husband Pardeep (Omar Malik) arrives at the maternity home. Dr. Turner does his best to convince both Mr. Singh and Enid that Cilla is in good hands and leaves them to look after each other. As Enid worries in the corner, her son-in-law prays
Cilla delivers a healthy baby boy under sedation. A thankful Pardeep calls the birth of his son and the safety of his wife the answer to his prayers to which Sister Julienne responds, "God is good." Later that night Enid seeks out her grandson in the nursery. She always felt guilty that Cilla spent her first night alone separated from her because Enid also suffered from toxemia and almost died.
When Enid's labor finally gets serious, Sister Julienne's presence is requested. (And it was nice to finally see the senior sister back in a nursing role this season!) Enid's husband doesn't have the stomach for childbirth so Nurse Turner rolls Cilla in to hold her mother's hand during her delivery of a baby girl. Cilla tells her mother that she finally understands why she was so protective, and Enid apologizes for her stubbornness.
In the end, the relationship between mother and daughter is repaired. Enid's husband gets Pardeep a better job as an Underground driver and it looks as though the young family may have moved out of their unsuitable communal situation and in with the Wilsons.  It's heartwarming what the arrival of a baby can do.
On the other hand, an unwanted pregnancy can be heart-wrenching as the story of Jeannie Tennant (Molly Chesworth) demonstrates. At the beginning of the episode, we meet a woman whose life is going to plan. She's about to move into a new house with her loving husband and two little boys. Just as important, Jeannie has a part-time job she enjoys and is an avid participant in Trixie's Keep Fit class (i.e. she has interests outside the home that keep her sane unlike her mother who had seven children in eleven years and was hospitalized for nervous breakdowns.)
Therefore, when she finds out she's pregnant again despite using birth control, Jeannie experiences disbelief and dismay. Dr. Turner first advises her to "Go home. Tell your husband. It'll soon start feeling like good news." Then when she comes to him hoping he'll find a way to medically justify an abortion, Patrick sympathizes with her fears and unhappiness but can't in good conscience refer her for a legal termination.  
When her friend Trixie can only offer platitudes about not knowing what you can achieve until you try and her husband Frank (Bryan Parry) bluntly puts an end to the abortion discussion, it's no surprise that Jeannie's despair drives her to find a back-alley abortion. A few days after the procedure Jeannie falls gravely ill – nausea, fever and uncontrollable chills. When she becomes unresponsive, her terrified husband summons Dr. Turner. Patrick can immediately see what has happened and though he does everything he can in the ambulance to keep her alive, Jeannie dies en route to St. Cuthbert's.
Sgt. Woolf questions a devasted Mr. Tennant for any clues he can offer about Jeannie's state of mind or movements. He has no concrete answers except the abortion cost his wife seven pounds and her life. What there is plenty of among the inhabitiants of Nonnatus House and Dr. Turner is sadness, frustration and regret.  It's apparent there is a dangerously negligent abortionist taking advantage of the women of Poplar who feel they have no other option. When Sister Frances wonders how the women know where to go to get these secret terminations, Sister Monica Joan responds matter-of-factly,
"Child, do you ask how the fish in the murk of the ocean finds the light? How the rat in the rubble locates the air? In extremis, necessity finds a way. It has always been thus, it will always be thus."
As we reach the halfway point, how would you rate the current season of Call the Midwife? Are you warming to the new nuns? Did it come as any surprise that Sister Monica Joan is a Doctor Who fan? Which stories have touched you the most? What are your thoughts on the ongoing abortion storyline? The comments section awaits so let the chat begin!
---
By
for on April 21st, 2019
More to Love from Telly Visions