By
for on April 14th, 2019
'Call the Midwife' Recap: Season 8 Episode 3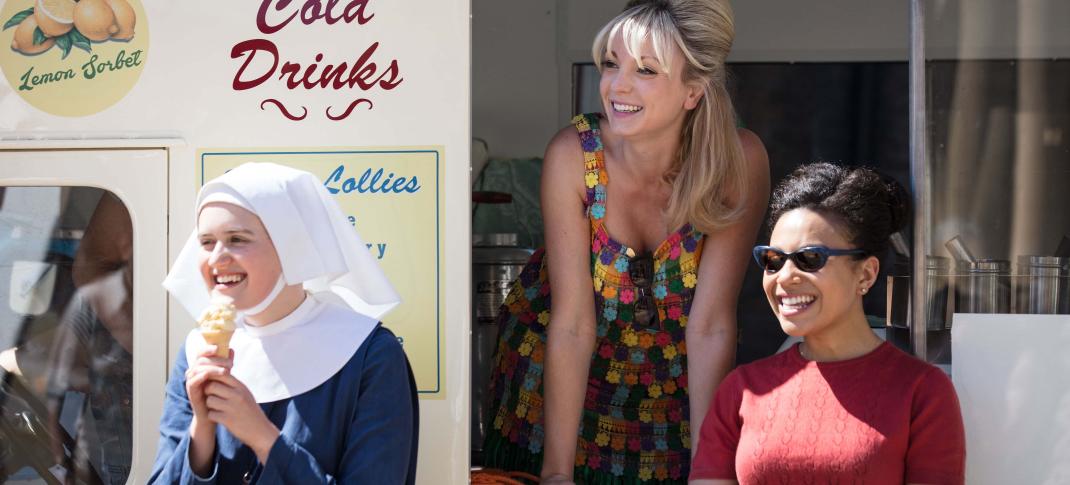 On Call the Midwife,  this week's adventures in Poplar take us right back to where we left off last time - the local council elections.  As you may recall, there was a bit of a cliffhanger regarding the voting results, interspersed with some touching stories about a family struggling with a mysterious health condition and a lonely pensioner with a brave and difficult past. If you need a refresher, our recap of Season 8's second episode can be found right here. 
We don't have to wait long to learn that Violet Buckle did, indeed, win the Poplar North council seat. Fred couldn't be prouder of his wife and Reggie calls from his residential home to wish his mum a big congratulations
The first request from her constituency comes from Nurse Crane who wishes to turn the forecourt of Nonnatus House into a beach for the upcoming bank holiday weekend. Many of Poplar's residents can't make it to the seaside so she wants to bring the seaside to them.
This sounds like something right out of Violet's community event playbook, so it's odd when her initial reaction is to call the idea ridiculous. But after reassurances from her husband, Phyllis and Sgt. Woolf that materials for the festivities will be donated by local businesses and that the required sand will be removed promptly, she acquiesces. Later, Mrs. Buckle suggests the addition of a paddling pool for the occasion, so she obviously warms to the plan. Perhaps she just doesn't like good ideas coming from other people?
Anyway, the play beach comes off with very few hitches; the premature delivery of the sand being the sole snafu. Unfortunately, the large hill of sand attracts the neighborhood cats and produces the funniest line of the episode from Sister Monica Joan...
"We shall have no defecation here!"
On the nursing side of things, we meet two troubled mothers this week. Though their circumstances and personalities couldn't be more different, they both encounter the extreme stresses of parenting.
First off is Betty Marwick (Lisa Ellis), mother of five rambunctious children with another on the way. Her attitude is easygoing and her discipline style is mostly non-existent. With her husband gone at sea much of the time, this family structure has worked pretty well for her. Up until the birth of her sixth child, a baby boy she names Kirk.
Kirk is born with a cleft lip and palate. It's soon apparent that caring for this child is going to take more time, organization and cooperation that the previous Marwick children. His deformity rules out breastfeeding and Betty has difficulty expressing milk, so formula feeding is required. The process is time-consuming and frustrating for Betty. And Kirk has already aspirated some of his formula leading to a minor lung infection.
Meanwhile Betty's oldest son Keith (Frankie Fox) has been cautioned by the police for riding recklessly through the neighborhood on motorbikes with his friends. With a series of daunting surgeries and recuperation periods for the baby on the horizon and no husband or family on the scene to lend a hand, Betty is completely overwhelmed. It was so easy with the other children, but no one's clapping for her now. She tells Nurse Dyer she thinks it best if Kirk were adopted by someone who can take proper care of him. (From previous CTM stories about infants with special needs, we know that Betty's boy would likely end up in an orphanage.)
Valerie consults with Sister Julienne about Mrs. Marwick's situation and the nun strongly suggests that they help Betty start helping herself. So the next day Nurse Dyer shows up bright and early at the Marwicks' door ready to get the children off to school. She also strongly suggests Keith start doing more around the place while his dad is away, beginning with making sure there's always a back up can of baby formula in the house.
After a few days of less chaos, Betty feels more confident in her ability to care for Kirk and the rest of her kids. She tells Valerie she's changed her mind about adoption. Now she has to get Kirk through his first operation which will repair his lip. The surgery goes well and - added bonus - Mr. Marwick (Sam Redford) makes a beeline straight to the hospital from his ship. He applauds Betty's efforts and dotes on his beautiful son which is exactly what his wife needs. The road ahead must certainly look a lot smoother for Betty at this point.
Hazel Becker (Matti Houghton), on the other hand, is new to Poplar and has just one child, a baby girl named Dawn. The term helicopter parent definitely would have been used to describe Mrs. Becker if it had existed at that time. She keeps her daughter next to her on the bed at night, to her husband's displeasure, and is positively paranoid about exposing Dawn to the germ-ridden children in the local playgroup.
At the clinic, Hazel hears about the measles vaccine trial that is being administered by Dr. Turner and Company and is eager to get her baby protected against this very dangerous disease. However, Dawn is turned away when it's discovered she is two months too young for the vaccination. Hazel has a rather out-of-proportion meltdown and her fears only build when Dawn comes down with fever from some teething discomfort and later a roseola infantum rash that the terrified mother is certain is the measles.
The cause of Mrs. Becker's heightened anxiety turns out to be very tragic indeed and something she doesn't talk about. When she and her husband lived in Cypress, their son Stephen unexpectedly died in his sleep at eight months old, the same age Dawn is now. Dr. Turner can't explain why her first child died but tries to reassure Hazel that she is a wonderful mother and he has every confidence in her.
The doctor's receptionist, Miss Higgins, offers to drive Hazel and Dawn home. At the flat, she learns from Mr. Becker (Tom McCall) that his wife was given a sedative after the death of their son and was advised not to attend the funeral. Miss Higgins says we all need the chance to say goodbye. This encounter leads to the couple finally open up about their loss and grief.
Later, the normally businesslike Miss Higgins brings the Beckers the gift of a rosebush.  She explains that when her parents died in the Blitz, her uncle who lives in Canada planted a rosebush as a memorial. Tending to it brings him comfort since he can't visit their graves. She hopes this rosebush will make them feel closer to their son as well.  The couple are visibly touched, and Hazel gives the receptionist a grateful hug. The healing has only begun, but it gives me a warm feeling to know there's a soft side to Miss Higgins after all.
So there's another tear-jerker for the books! As a mother of two grown children, I recognize the feelings of incompetence, powerlessness and abject fear that can strike from time to time as you're raising your children. I still worry about my kids to this day, and always will.
But as with most Call the Midwife stories, there is kindness, grace, and hope at the end of the tunnel. Plus this week we were treated to a lovely neighborhood tableau complete with an ice cream van, nuns dipping their feet in the water, a donkey and the Poplar community coming together for some fun, sun and fellowship.
Let's chat about this moving episode in the comments section. I'll wait for you to blow your noses first.
---
By
for on April 14th, 2019
More to Love from Telly Visions