By
for on April 15th, 2018
'Call the Midwife' Recap: Season 7, Episode 5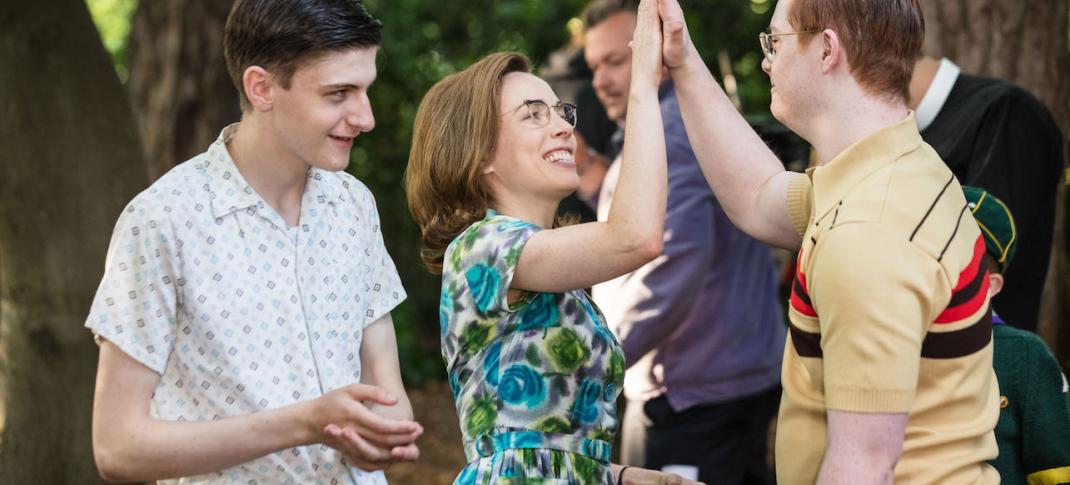 When we last visited Poplar, Sister Monica Joan's sight was finally restored, the Ganis were emerging from their struggles to work towards becoming a cohesive family and Trixie made a tough decision in order to halt her downward spiral. The complete breakdown of last week's Call the Midwife can be found here.
This week's episode begins with the departure of one midwife and ends with the return of another.
Trixie's Exit
Nurse Franklin takes her leave, slipping out of Nonnatus House in the early morning in hopes of a fuss-free getaway. Nice surprise though, Christopher is waiting outside in his car to take her to airport (as a friend). We learn that Trixie will be staying with her godmother who lives on the Italian Riviera in Portofino. (No austere retreat for reflection and contemplation for our Miss Franklin.) She plans to be back before the weather requires her cashmere cardigan. Phyllis and Val rush out in their pajamas to see their friend off on her journey.  Arrivederci for now, dear Trixie.
Meanwhile, life goes on as usual in Poplar. Violet Buckle has been made head organizier and delegator for the Poplar charity picnic to be held in nearby Epping Forest. Fred remembers it fondly and has brought Reggie (Daniel Laurie) back from his group home to help with the preparations and to participate in the festivities. We'll return to Reggie in a bit.
Eunice Dobson and the terror of tokophobia
Eunice Dobson (Tamsin Topolski) is a very irritable pregnant lady indeed. Her husband Kenny (Adam Sopp) is, by all accounts, an involved and concerned partner, asking about her next prenatal appointment, due date and where she wants to have the baby. Her response is "Don't worry about it, we've got plenty of time." When Mr. Dobson stops by the clinic to meet Eunice at her check-up, he's told by Shelagh that she's on their records, but has never had an appointment with them.  Kenny is puzzled as she claims she's been coming there for weeks. Nurse Anderson says she'll drop by the flat the next morning.
When Kenny confronts Eunice that evening about not being at the clinic, she says she doesn't see the point in going. With their first baby, she didn't know what she was facing. Now she does. We've seen her son Michael and he looks fine so her attitude about this birth certainly had me scratching my head.
The next day Lucille arrives, but Eunice won't allow her to do any routine checks or take her medical history. Almost hysterical, Eunice refuses to go anywhere near a hospital. Lucille says she'll come back later to make plans for the birth. Nurse Anderson returns to find Eunice's mother in-law Pamela (Beth Goddard) at the flat as well. The pregnant mother grudgingly agrees to cooperate with Lucille, but Mrs. Dobson's gift of a knitted baby cardigan sets Eunice off again.  Lucille comforts her asking her to explain how she feels.
During her first labor, the baby got stuck and the doctor used forceps to pull him out. The experience was so traumatic she has even tried to end her current pregnancy. When Dr. Turner comes to talk to Eunice she describes her ordeal as a film that keeps running in her head.  Patrick tells her they can make things better for her this time, but Eunice distrusts all doctors now so his reassurances do no good.
Kenny asks about this thing called a cesarean section, but Dr. Turner says that procedure is only called for when the mother's life is in danger. Eunice's problem isn't with her pregnancy. It's her mind that is causing the distress. The mother-in-law apologizes for Eunice, insisting she'll "just have to get on with it." Patrick says Eunice has a phobia and she'll need a lot of support from her family. Later when Pamela finds the present she knitted in the kitchen trash, she confronts her son about his wife's foolish behavior to which he replies that he'll take her to the station tomorrow. Good for Kenny! That's one less unsympathetic aura in the room.
Soon after, Eunice goes into labor. In the middle of the night, she locks herself in the bathroom and won't let Kenny in. He calls for Nurse Anderson who, in turn, requests Dr. Turner meet her at the Dobsons' home.
When Lucille shows up, Eunice is still refusing to unlock the door and she's eyeing her husband's razor. Kenny wants to kick door down, but Lucille asks him to wait. She tells the terrified woman that even if she hurts herself, the baby will still come out and she knows Eunice loves her baby. Eunice finally emerges from the bathroom.
Dr. Turner arrives at the Dobsons' with Shelagh. Patrick will remain with Kenny, but will be nearby in case he's needed. In the bedroom, Lucille tries to calm Eunice and helps with her breathing. Shelagh guides the baby out and announces that Eunice has given birth to a healthy girl.
Old Jenny voice-over (Vanessa Redgrave) tells us Eunice didn't have any more children but their family, now complete, became a happy one once more. Her condition, at the time unnamed, was later labeled "tokophobia."
The Faith and Friends of Ade Babayaro
An unknown black man wearing a scarf over his face is chased off a ship by angry sailors with brooms. He wanders the streets of London's East End asking everyone he sees for help in finding the seamen's mission, but they all turn away. He beseeches God to help him. This is how we are introduced to Nigerian sailor Ade Babayaro (Jordan Peters).
Ade is kept on the run when one of the mission residents discovers he has disfiguring lumpy growths on his face. His presence has been reported to the authorities and Dr. Turner is informed because it's feared the sailor may be contagious with smallpox. Patrick asks the midwives to be vigilant for sightings of Mr. Babayaro and for signs of the disease in their patients. Vaccinations cannot be administered until the runaway is found and his illness is properly diagnosed.
While the police are on the lookout, panic is starting to spread through Poplar. Residents are at the surgery demanding smallpox vaccinations and customers are staying away from the Black Sail pub due to a reported sighting of the disease-ridden refugee nearby. The dockers have already been vaccinated, but they're worried about their families.
Aware of the angry mob and the threat his contagion poses to others, Ade goes into hiding below street level. While on a errand helping Violet with her picnic plans, Reggie notices Ade through a grate in the sidewalk. Unaware of the potential danger, Reggie follows the man to his hiding spot and offers him a loaf of bread and a handshake. Ade thanks him for the help, but warns him not to come near. He also asks the young man to keep his whereabouts a secret.
Later when one of Violet's Dundee cakes goes AWOL, the truth comes out.  The Buckles take Reggie right off to Dr. Turner for an exam. Patrick says he is exhibiting no symptoms of smallpox yet and reassures Reggie that he's not in trouble for being kind. BUT it would be helpful if he could remember where he found Mr. Babayaro.
The following day Nurse Crane comes to check on Reggie at the Buckles' house. Phyllis asks Reggie to tell her where Ade is because sometimes you have to break promise to really help someone.  Reggie whispers the location to her and Phyllis goes off in search of the suffering sailor.
Ade is still in his subterranean hideout.  Nurse Crane gently tells him she's there alone and wants to help him. He begs her not to send him back home as he has nowhere to go. She calls Dr. Turner to tell him she has Ade in her car and that she doesn't think he has smallpox.
He's brought to Nonnatus House whereupon seeing the nuns he says God has answered his prayers. It turns out Ade has leprosy which isn't as contagious as once thought and is, in fact, a curable condition. Sister Julienne offers him their hospitality until he can be transferred for treatment. Violet and Fred are relieved that Reggie won't contract any disease from Ade. They also learn sufferers of leprosy are no longer sent to colonies.  
Sister Monica Joan comes across Ade praying in the chapel. He gets up to leave but, in classic Sister MJ fashion, she has a Bible passage about Jesus and the lepers memorized. They share an instant bond and upon his departure they exchange tokens of their faith- a Bible for Ade and a cross on a leather string for Monica Joan.
Barbara's Return
The day of the charity picnic finally arrives and the coach is loaded up with Cub Scouts and others from the neighborhood. While Nurse Crane and Violet are taking control of the refreshments and wayward urinators, Barbara and Tom Hereward show up at the party with the Turners. Barbara hadn't wanted a fuss made of their return any more than Trixie had wanted attention for her departure. The couple announce their mission in Birmingham (sorry, I said Liverpool in an earlier post) has successfully come to a close and they are back in Poplar for good!
Thus ends this episode of Call the Midwife. As always, kindness, support and a cool head save the day. While the healing and celebratory powers of cake are never to be underestimated, we must look to the challenges, joys and heartaches that are surely ahead for us as viewers. Only three episodes remain in this season so let's chat about all things Midwife while we have the chance.
---
By
for on April 15th, 2018