By
for on April 8th, 2018
'Call the Midwife' Recap: Season 7 Episode 4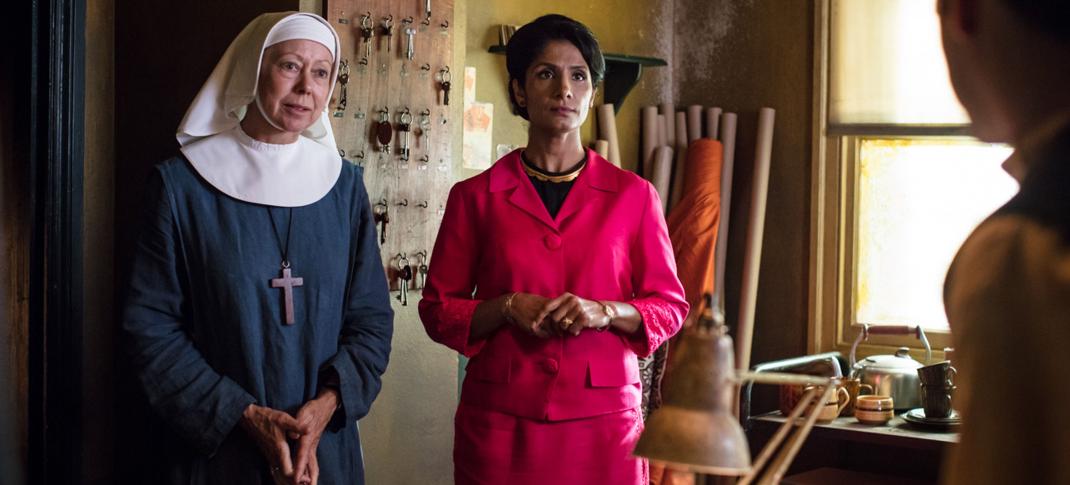 I think we can all agree last week's episode of Call the Midwife left everyone rather gloomy and depressed. The Lunt family suffered devasting illness and loss, Magda's desperate actions resulted in her departure from the Turners' employ and a sacrificial breakup with Christopher left Trixie vulnerable enough to abandon her sobriety. Check out all the discouraging details here.
Thankfully, the series' latest episode provided viewers with a bit more of that reassuring hope we've come to expect from the midwives.
Sister Monica Joan and the Lady Cosmonaut
It's June 1963 and the residents of Nonnatus House are mesmerized by the unfolding adventures of Soviet cosmonaut Valentina Tereshkova. No one is more enthralled than Sister Monica Joan who praises her as a fearless adventurer fulfilling her destiny.
Sister Monica Joan's world, however, is becoming smaller by the day. Since the beginning of the season, the elderly nun has been hiding the fact that her sight is failing. When she leaves behind her magnifying glass in Fred's allotment, her secret is out. Upon discovering the indispensable item in his garden shed, the elderly nun lashes out at the handyman. Monica Joan admits that despite her vow to relinquish her senses to God, letting go of her sight has been most difficult. Fred promises to help her sort out her problem.
Subsequently, Fred informs Sister Julienne about the severity of Monica Joan's vision loss. The sister thinks that what Monica Joan actually fears is that something can be done to restore her sight. Julienne summons Dr. Turner to Nonnatus house which makes Monica Joan very cross indeed. He begs for five minutes of her time. Based on the strength of the glass she is using and her age, he guesses she has cataracts, but gives reassurances that much can be done to help.
But for Sister Monica Joan surgery is unthinkable. She tells Julienne that she has memorized many books into which she can retreat in the darkness. For her part, Sister Julienne refuses to just allow her sister to go blind. Arrangements are made for Shelagh to take Monica Joan to her appointment with the surgeon as Julienne is not currently in her "good books". Mrs. Turner bribes her with the promise of custard slices in a cafe after her appointment just to sweeten the deal.
The surgeon determines that Monica Joan has cataracts in both eyes and will require surgery under general anesthesia. No surprise, the nun reiterates her rejection of the treatment, calling the doctor a butcher in the process.  Based on Monica Joan's refusal, Julienne concedes but feels it's their duty to prepare her for a life of blindness within the walls of Nonnatus House. Ever the pragmatist, Shelagh proceeds to fill Monica Joan in on the tough realities of living with blindness – a future of white sticks and reading her beloved books in braille.
While this discussion does begin to erode Monica Joan's resolve, it's her heart-to-heart with Fred Buckle that finally hits home. In the chapel, Monica Joan describes her life-long fight against authority and her path to an eventual state of surrender and acceptance. The way Fred sees it, she's rejecting the help God is sending her – help from friends and medical science. He adds that God knows her reasoning and her fear. Everyone gets scared, even the first lady in space. (How clever is Fred bringing up Valentina?) Monica Joan declares herself and the cosmonaut "brides of science" and agrees to the cataract surgery.
Sometime after the procedure, we see a blissful Monica Joan on the bench in Fred's allotment enjoying the garden and sharing a cup of tea with the man who helped her see the light.
The Unusual Case of the Gani Family
Mumtaz Gani (Balvinder Sopal) and her husband Saddiq (Simon Rivers) run a successful factory in Poplar. Married in Pakistan as teenagers, the couple have focused on their business, learning to share everything along the way. Despite her inability to conceive, Mumtaz seems pretty satisfied with her life.
That is until Mr. Gani blindsides his wife with some staggering news. Apparently when Saddiq was home for his father's funeral, his mother arranged for a back-up wife who could give him a child, Mumtaz's 15-year-old cousin Parveen (Aasiya Shah). More shocking to Muntaz is that the girl is already heavily pregnant with her husband's baby.
The midwives try to help the couple deal with their unique and volatile new family configuration. Sister Julienne listens to Mumtaz as she pours out her shame, rage and grief over decisions made by their families who live in another country. She also regrets a girl so young has been used in this way. The sympathetic sister plans to book Parveen into the maternity home for the birth so that the first Mrs. Gani can come to terms with what is happening. Mumtaz says she will never come to terms with it, but she must try anyway.
Soon after this discussion, Parveen's waters break and she begins her labor at the maternity hospital. When the birth is imminent, Mumtaz joins Parveen in the delivery room, gently encouraging her in Punjabi. The baby is a boy and momentarily Mumtaz is proud of Parveen. However, Saddiq's reaction to his and Parveen's son leaves Mumtaz mortified once more. Way to go there, Saddiq!
Parveen is not taking to motherhood with much enthusiasm. She ignores her son's cries and lets the midwives bottle feed him. Questioning the wisdom of a maternity home birth, Julienne comes to see Mumtaz at the factory.  Distraught and distracted, Mumtaz suffers a gruesome sewing machine injury.
Dr. Turner is summoned with bandages and painkillers at the ready. At first Mumtaz is resistant to hearing about a baby that isn't hers. Patrick tells her about his atypical family and how he and Shelagh embraced what they were given. Julienne suggests that if Mumtaz can open her heart to Parveen, perhaps they can all thrive, especially the baby.
Mumtaz heeds Julienne's advice. She visits Parveen at the hospital, bringing her familiar homemade food, a gesture that shows her willingness to work towards building a happy, unique family of their own.
Nurse Franklin Comes Back from the Brink
After last week's break-up with Christopher, Trixie is having a rough time of it. She trudges through her rounds and has categorically fallen off the wagon. Nurse Crane has given Trixie a lighter work load in consideration of her broken heart though Trixie would prefer the work as a way to keep her mind off her problems.
Trixie is called out to the Campbells' flat to deliver their second child. Throughout her pregnancy Mrs. Campbell (Rose Wardlaw) had suffered from a condition called pica that involves cravings for non-food items, in this instance, coal. She has been assured her craving will pass after the baby is born. The way she describes it to Nurse Franklin, it rather resembles her alcohol addiction; the shame, sneaking around, and feeling better for only for a moment after getting a taste.
A healthy baby girl arrives and in a spirit of celebration, the proud papa offers Nurse Franklin a sherry. At first she declines, as she is on duty, but it doesn't take much arm twisting for Trixie to accept the tipple. Did this put anyone else in mind of the Nurse Crane car accident incident of last season?
Trixie's indiscretion doesn't stay hidden from Nurse Crane for long.  In the midst of Mrs. Campbell's post-natal evaluation, her hubby limps in with a hangover which his wife says started when he gave Nurse Franklin a drink. Phyllis changes the subject in front of the couple, but she's not one to sweep problems under the rug.
Back at Nonnatus House, Nurse Crane confronts Trixie about her drinking and asks if she's stopped going to her AA meetings. She won't report this violation of the rules yet, but points out Trixie has broken promises to herself. With this in mind, Trixie makes the effort to re-establish her sobriety, but exits the meeting before it even begins. Once back home, she sneaks into the loo for a drink.
Meanwhile Christopher has been hanging about hoping to talk to Trixie. When he finally catches up with her he reports that his daughter Alexandra is doing better. He also lets it slip that Phyllis told him of her unhappiness stating that they both care about her, as friends of course. Trixie admits that she is drinking though she's being "disciplined" about it.
Despite her bravery and pride, Christopher knows she needs help. He accompanies Trixie to an AA meeting and waits for her outside. She realizes the hard truth that she must cut off all contact with Christopher in order to move on. The handsome dentist is saddened, but willing to accept whatever Trixie needs to do.
Afterwards, Trixie apologizes to Phyllis for putting her in a bad position with Sister Julienne, for not being completely honest with her and for not being on duty the next day. She has decided she has to leave Poplar for a while in order to get her life back on track. Nurse Crane gives her a hug and her blessing (something from the Bible about starting fresh in the morning).
It is Sister Julienne, however, who must give official approval for Trixie's leave of absence. The nun grants her six months off to "deal with her problems" and offers their love and prayers. Trixie starts to cry and uncharacteristically grabs Julienne's hand. The sister responds with a hankie and a comforting shoulder squeeze. In moments like this, we are reminded of the reserved manner Julienne has always exhibited with Trixie, especially when it comes to the issue of her alcoholism.
So it appears we won't be seeing Trixie for the rest of the season.  (My guess is this is the point when actress Helen George took her maternity leave). Previews indicate Nurse Gilbert-Hereward will be returning from her husband's assignment in Liverpool, so for the time being at least, Nurse Crane's duty roster won't be too overloaded.
After the depressing events of last week, this installment had a more hopeful feel with Sister Monica Joan's sight restored, Trixie moving forward and the Gani family trying to make the most of a weird situation. Honestly though, didn't you want to say, "Why didn't you stand up to your mother, Saddiq? Your life and your wife are 3000 miles away from Pakistan!" Also are we to assume Christopher has reconcilled with his awful wife for the sake of their daughter? And the whole pica thing just ended up being a factoid about pregnancy and an analogy for Trixie's alcoholism. Not one of the stronger episodes, in my opinion. Let's chat about your take on tonight's events in the comments below!
---
By
for on April 8th, 2018