By
for on April 1st, 2018
'Call the Midwife' Recap: Season 7, Episode 3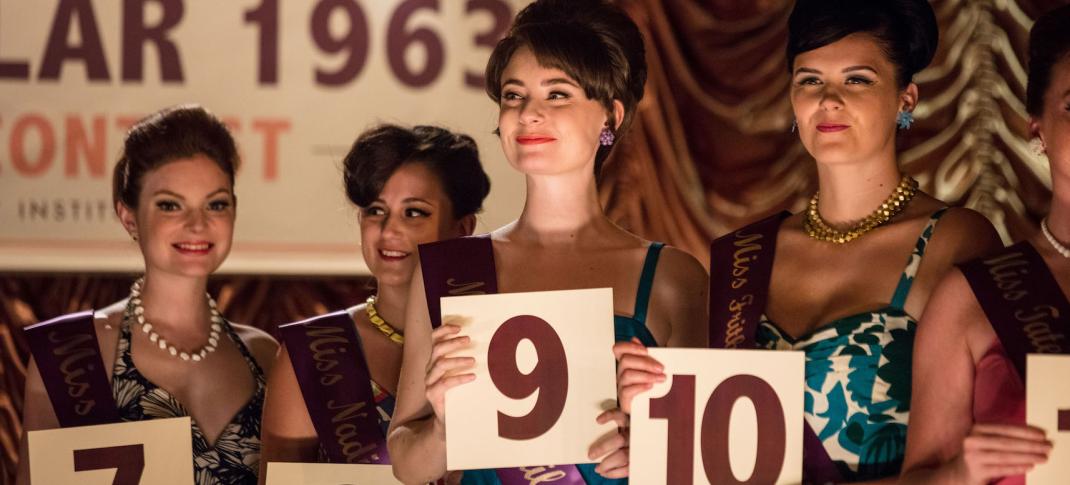 Thank you for joining us for another episode recap of Call the Midwife. Last time we met the Turners' chic and confident new au pair, Magda, who was not what Shelagh had in mind at all. Sister Winifred tried to get new fathers more involved in the care of their babies and one of them ended up delivering his own child. And Nurse Anderson refused to run from bitter prejudice and helped a broken family to heal in the process. (If you need a more detailed refresher, our recaps of Season 7's first two episodes can be found here and here.)
This week, the midwives and those close to them encountered heartbreak, desperation and sacrifice that no cute little beauty pageant could candy coat. We start with the unbelievably tragic story of a family torn apart by disease.
The Lunts
Nurse Crane makes a home visit to pregnant mother-of-two, Doreen Lunt (Kelly Gough). In her words, she's "gotten behind" in the care of her home and Nurse Crane offers to help her tidy up before Mr. Lunt (Patrick Knowles) returns home from his night shift. Phyllis strongly recommends that Doreen have her baby at the maternity home so that she'll be able to concentrate on the baby. But an intimidating Mr. Lunt won't hear of it. Nurse Crane bites her tongue, but her expression speaks volumes.
Meanwhile, Sister Winifred is at the school for a hygiene lesson. One of the students, who turns out to be Wendy Lunt (Ava Potter), is slow moving and clumsy. When Winifred helps her up from the floor, she can't help but notice she's covered in bruises. Later at Nonnatus House, Winifred tells other nurses that this is certainly a case of neglect and maybe something more. Admit it, we all jumped to the conclusion that Mr. Lunt was a cruel, abusive father!
Nurse Crane asks Mrs. Lunt to come to the clinic. She arrives with her both children in tow, explaining they didn't want to go to school. Phyllis wants to discuss what might be happening at home and pops out to get Dr. Turner. Mrs. Lunt leaves Wendy and Kevin in the café and bolts from the building.
Nurse Franklin takes them back home with the intention of speaking to Mrs. Lunt, but she's sleeping. Mr. Lunt tells her Doreen hasn't done any housework for months. It's like something is stuck in her brain. He also explains that Mrs. Lunt won't see a doctor because her father died in a mental institution. Trixie says if Doreen will see a doctor, she promises his wife won't be carted off.
After a preliminary exam, Dr. Turner suspects a brain tumor and refers Doreen Lunt to the neurologist. The specialist's diagnosis turns out to be much worse. Mrs. Lunt has Huntington's chorea, an inherited disorder that affects mood and mental abilities, followed by a general lack of coordination and an unsteady gait. Patrick offers support to Mr. Lunt and his family, but warns there is no cure and it's unlikely she'll be able to remain at home for long. More concerning, her children have a 50% chance of inheriting the disease. Mr. Lunt promises to look after his family, vowing not to let them down. Hands up if this made you feel guilty for judging him so unfairly before.
Doreen goes into labor. At the maternity home, Nurse Crane guides her through the quiet, serene delivery of a healthy baby girl. Meanwhile Mr. Lunt brings Wendy to see Dr. Turner for a burn. The father says she's always dropping things and Patrick observes her limbs are rigid. Coupled with the fact that the child is irritable and underperforming at school, Dr. Turner suggests she might have a rare juvenile version of Huntington's. The devasting diagnosis is confirmed by the specialist who advises sending her to a residential home. Mr. Lunt fears getting social workers involved will result in the total breakup of his family.
Mr. Lunt appeals to Nurse Franklin to help him keep his children at home. She agrees, as long as he gets proper assistance once they get the situation in hand.  Trixie teaches him how to care for the baby and keep the flat clean and tidy. Soon afterwards, Trixie stops by to check on the family. The infant is crying and has a terrible diaper rash. Dr. Turner steps in telling Mr. Lunt that he's done everything possible, but Doreen will only get worse. In the end, the Lunts accept that their children can't remain with them. Trixie arranges to accompany Wendy to the facility.  As they say their goodbyes, Mr. Lunt tells Wendy they both love her despite her mom not being herself. In fact, Doreen barely acknowledges her. That is until Trixie and Wendy are out the door. Doreen rushes after them to give Wendy her scarf and tells her daughter she loves her. Later a woman comes to the Lunts' home to take the baby (and possibly the son also) into foster care. Mr. Lunt's fears have come to fruition and he and his wife are alone.
Miss Poplar 1963
Now we might have been led to believe that this beauty contest storyline was supposed to provide us with a bit of light relief after such a distressing family tragedy. But no, those CTM writers couldn't allow us to just be happy for a few minutes.  Let's break this down.
Fred and Violet Buckle are discussing what to do on Whit Monday (a.k.a. the day after Pentecost) to benefit the Women's Voluntary Service and the Civil Defence Corps. Fred suggests organizing a neighborhood beauty pageant as they're all the rage these days. At first Violet isn't on board, then she realizes she could make some money in her shop if they include a homemade dress category. That's the entrepreneurial spirit, Mrs. Buckle!
At Trixie's Keep Fit class, Violet tells the ladies about the competition so Nurse Dyer and the Turner's nanny, Magda, agree to enter. Trixie bows out because she and Christopher have gotten rather serious. (Helen George, the actress who plays Trixie, was pregnant during the filming of this season so for practical reasons Trixie needed to avoid any occasion to don swimwear.) At the Nonnatus dinner table, Phyllis voices her opposition to women being "gawped at in their unmentionables". Sister Monica Joan says it's a modernization of the May Queen ritual with the girls being offerings to the fertility gods. Of course, back then they would have been sacrificed. Later Valerie asks Sister Julienne if she can enter the competition as Miss Nonnatus House to which the nun discreetly suggests the alternative of Miss Black Sail Public House instead.
Through the pageant, Valerie and Magda have become fast friends, but there's a secret the young Hungarian woman is keeping from everyone. Magda goes to the family contraceptive clinic and is dismayed to learn she is already two months pregnant (presumably by some suave Frenchman she met on her last job). She asks the nurse about how she can take care of this and gets a snotty response about England not being a Communist bloc country and that abortion is only legal when there is a grave danger to the mother's health.
Magda confides in Valerie in hopes the nurse can hook her up with someone able to rid her of this unacceptable problem. Nurse Dyer has seen how badly things can go with these illegal procedures and encourages Magda to tell Shelagh about her situation. Instead, Magda fakes an interest in nursing school in order to borrow Shelagh's old midwifery books. She reads up on a drug called ergometrine which is used to cause contractions of the uterus. So desperate is Magda to end this pregnancy that she steals the pills from Dr. Turner's bag. When that doesn't work, Magda sneaks into Nonnatus House while most of the ladies are out at the beauty pageant, finds a vial of ergometrine and a syringe and injects it into her thigh. Little does she know that Sister Monica Joan is home. She fleas a confrontation with the nun, already bleeding as she goes.
Meanwhile back at the community center, Fred is resplendent in his tuxedo asking the contestants that ubiquitous "world peace" question. Nurse Dyer's response, "Put a Poplar woman in charge!" gets an enthusiastic response from the audience. Alas Valerie's pluck doesn't earn her the Miss Poplar title – that honor goes to Miss Weights and Measures Office – but she is singled out as the superior seamstress of the best homemade dress.
A diligent Sister Monica Joan has called the community center to report her strange encounter with Magda. Back at Nonnatus House, Shelagh and Valerie realize what has happened and quickly locate Magda on the ground in Fred's allotment. Valerie admits she knew about the au pair's condition and desire for an abortion and Shelagh is upset she provided her with the books to help her do this. Magda is transported to hospital where a D&C is performed to stop her bleeding. The incident ends with Magda returning to Paris. The family is sad to see her go, but Magda tells the children she is going to study to be a nurse like Shelagh.
We Need to Talk About Trixie
Last week we learned that Christopher's ex was stirring up trouble by poisoning their daughter's mind against Trixie. Now we discover that Alexandra is so stressed by her parents' divorce, she's started seeing a psychologist. Several rules have been put into place including the stipulation that Alexandra shouldn't have to see her father's girlfriend if she doesn't want to. This shakes Nurse Franklin as she has always insisted she not be involved in the girl's life if it was going to be detrimental to her.
Then after seeing a child at the residential home that reminds her of Alexandra, Trixie makes the painful decision to break up with Christopher for his daughter's sake. Alexandra's security and happiness are what's important. (You may recall that Nurse Franklin herself had a turbulent childhood, caring for an alcoholic father who suffered from post-traumatic stress.) After several years of sobriety, the breakup drives Trixie back to the bottle.
Call the Midwife has always faced hardship and social issues head on, but this installment seemed devoid of much-needed hope. On a scale of 1 to 10, how depressing was this episode for you? Let's chat about whatever feelings these stories elicited and your hopes for the characters in the weeks ahead!
---
By
for on April 1st, 2018