By
for on March 26th, 2018
'Call the Midwife' Recap: Season 7, Episode 2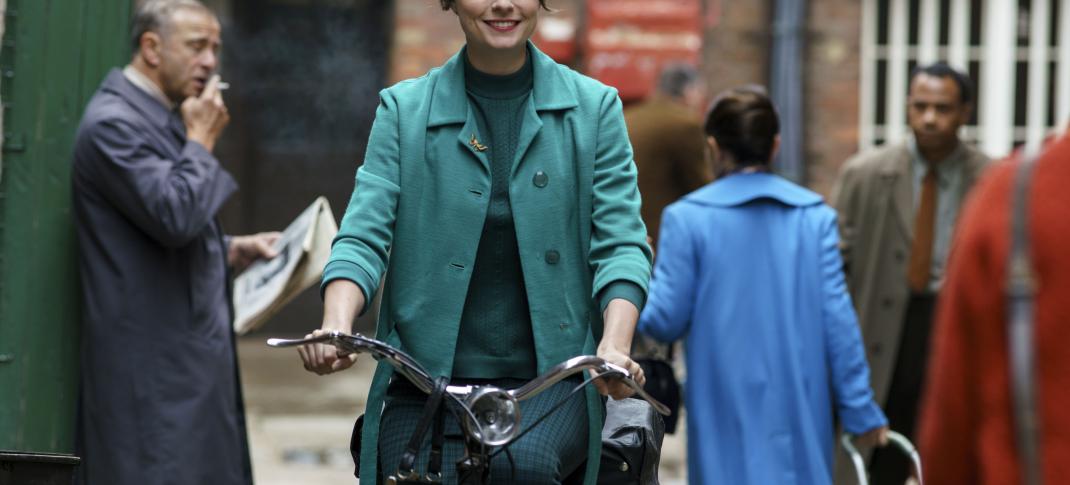 Welcome back to the second half of our Call the Midwife double header. Thus far, we've met the new midwife, Lucille Anderson, Nurse Crane advocated for a dying patient who was under threat of being evicted from her home and a brave new single mother inspired Trixie to let love lead her forward in her relationship with Christopher Dockerill. Looking for a more detailed rundown? You can find it right here.
As we rejoin the midwives in this episode, the snow has finally melted and Poplar is thawing out at last! Nurse Dyer is considering a chic new hairstyle, Trixie has developed an interest in domesticity and Winifred is making knitted bosoms as teaching aids for breastfeeding instruction. Once again Sister Monica Joan eschews wool crafts as "the refuge of a dull mind" but is upset with the faded appearance of the garden and its lack of spring daffodils. Finally, Sgt. Woolf makes it his business to tell Nurse Crane about a spate of car thefts. He so obviously likes her!
And now for the au pair update:
Shelagh has chosen a Hungarian woman named Magdalana to be their au pair. On her application she appears quite severe and Timothy isn't thrilled about having stranger in the house. However, when Magda finally arrives she's much prettier than expected. Tim perks right up and Patrick finds her refreshing. After a few days with Magda in the house, Shelagh wonders aloud what she has done. Considering some of the things Magda has said, any wife might be concerned - "Your home is very pleasing, and so is your husband," her father is a doctor so she "likes medical men" and "everyone likes to try something new". When Shelagh finally airs her concerns about having Magda around, Patrick declares he only has eyes for his wife, but at least Magda has Tim doing the dishes.
Marjory Chivvers, Mae Stanton and Nurse Lucille Anderson
At the neighborhood hair salon, beautician Marjory Chivvers (Sophie Austin) goes into active labor with her third child. Val happens to be there on her day off (sounding more Cockney than usual) and tells the others to call Nonnatus House. Nurse Anderson shows up just as Marjory's mother, Mae Stanton (Maggie O'Neill) is making a racist remark. Upstairs, Valerie is helping Marjory, whom she has known since school, through her labor pains. She fills Lucille in on the patient's textbook childbirth history. She also tells her the biggest complication is likely to be Marjory's mother who is a "bit of a character". Valerie tries to turn things over to Lucille, but Mae is distrustful of someone "just off the boat".  As the labor continues, Mae and Valerie wait for Marj's husband, Dennis (Paul Longley), to arrive and we discover the root of Mae's bitterness. Her husband abandoned them when Marjory was a toddler. It turns out the baby is a boy, and everyone is delighted, except Mae of course.
During Marjory's first checkup after the birth, Valerie comes with a gift and tries to set Mae straight about the "foreign" midwife and her stellar qualifications. However, her remarks about Lucille being uncivilized continue and Mae is dismissed from the room. While Lucille takes her blood pressure, Marjory suddenly feels sick and her head hurts. Valerie rushes calmly, but urgently, downstairs to call for an ambulance with a suspected case of postpartum preeclampsia. It quickly becomes apparent that Marjory has had a stroke instead. When Dennis gets word, he hurries to the hospital. Marjory can't walk or talk and Mae has taken over as next of kin in dealing with the doctors. Dennis asks her whose fault it is and you can see the hatred in her face. Mae is going to blame Lucille.
At the midwives' morning briefing, Nurse Crane notifies them Marjory is being discharged from hospital today. They can't do much more for her and Mae wants her at home. Nurse Anderson will visit twice a day to give the family support as the patient is largely immobile.  Dr. Turner tells Mae and Dennis not much can be done for Marjory except to keep her clean and comfortable which Lucille offers to teach them how to do. Mae stubbornly declines, but Dr. Turner urges her to accept help when it's offered. Marjory indicates that she wants to hold her baby, but Mae says she isn't able. She also informs Dennis that she be taking his place in the bedroom in case she's needed in the night. Marjory is upset, but helpless.
While preparing to go out, Mae overhears a woman in the salon gossiping that it was her fault that Marjory had the stroke because she overworked her daughter right up until the birth. Mae shows up for milk tokens at the clinic with her grandchildren in tow. Lucille tries to talk to them, but Mae tells her to keep hands off. In front of everyone in the clinic, she blames Lucille for what happened to Marjory. When Dr. Turner and the midwives defend their colleague, Mae says derogatory things about the NHS and tells them to stay away from her daughter.
The next morning, Lucille discovers Valerie has replaced her as Marjory Chivvers' caregiver. Nurse Crane and Sister Julienne have decided to spare her more unpleasantness from that quarter. Nurse Anderson goes to discuss the situation with Julienne, saying it's not up to them to decide how much unpleasantness she can bare. She believes it gives the impression that Mrs. Stanton's slurs are justified and that they accept her attitude towards Lucille and others like her. Sister Julienne insists she does not accept it and Lucille is once again Marjory's nurse.
Later in the kitchen. Valerie apologizes to Lucille. An East Ender herself, Nurse Dyer is embarrassed and ashamed one of her own would treat Lucille that way. She knows what it's like to be bullied. In the army one of the nursing sisters thought someone of her class shouldn't be a nurse and wrote her up for every little mistake she made. In the end, the nun spoke against Valerie at an inquiry into the death of a wounded solider. Though found not responsible, Valerie had enough and left her post. They both agree that good nurses come from all classes and backgrounds.
The next day Lucille comes into the salon and tells Mae, in front of all the customers, that neither of them is to blame for Marjory's stroke despite the gossip. She has a prescription for Marjory and asks if she may take it up to her. Mae allows it and even has a civilized chat about who does Lucille's hair and being away from her mother. As Lucille is leaving the flat, she stops to talk with Dennis who feels ineffectual when it comes to helping his family. Mae comes out Marjory's room and Dennis says he's off to the pub, to which she scoffs that there's no surprise there. Lucille holds her tongue, but knows that Mae is responsible for her son-in-law's passivity.
Once again Dr. Turner has worked his magic and found a spot for Marjory at an occupational therapy clinic. They usually treat geriatric patients, but he's instructed them to focus on skills that will help her care for her new baby. He arranges for Dennis and Mae to tour the facility, but the place upsets Mae. Later when Lucille recounts this turn of events to Sister Monica Joan, she suggests Mrs. Stanton glimpsed the future and didn't like it. She also tells her that with experience and age, hope tends to dim. Noticing the book and magnifying glass near the old nun, Lucille asks if she could sit awhile and read to her. In turn, Monica Joan says if Lucille is lonely, she can keep her company.
Not willing to give up on the Chivvers family, Lucille seeks Dennis out at work and tries to persuade him that he can make things right for his family by getting therapy for Marjory. Dennis takes her words to heart and firmly notifies Mae that Marjory will be going to the clinic and he will be moving back into their bedroom. He's the man of the house and they will all work together to get through this.  On her first day of therapy, Dennis brings Marjory carnations. She says the word "wedding" suggesting she remembers the flowers she had on her wedding day.
As for Lucille, Valerie asks some local Caribbean women for a few recipes from home to help the new midwife feel more welcome. To everyone's delight, they bring a table full of food instead.
The Romaines and Sister Winifred
At the mother craft class, Janet Romaine (Bronte Barbe) is bragging on her husband, a fit football coach who doesn't drink much and is eager to help out with their baby. This gets the wheels turning in Sister Winifred's mind and back at Nonnatus House, she shares her plan to open the next baby care session up to the husbands. Opinions on the idea are split among the staff, but Sister Monica Joan breaks the tie by saying "one must not be frozen in the act of looking backwards."
As expected, Mrs. Romaine's husband attends the next class. Janet suggests Allan (Josef Davies) would like to be there for the birth to which he nervously agrees. Afterwards, Allan back peddles saying being present for the delivery isn't something he would enjoy. Janet points out she doesn't "enjoy" attending all his matches. The argument turns into a very sore point between the couple with Janet confiding to Nurse Crane that Allan isn't the man she thought he was. Phyllis comforts her with Garibaldi biscuits and the suggestion that a man's job is guide his child through life, not the birth canal. For her part, Sister Winfred goes to see Mr. Romaine. He says he would do anything for Janet, but the memory of his mother's screams in childbirth make him wary. Winifred suggests he tell Janet this. She's sure his wife will understand.
When Janet does go into labor, Allan is preparing for a match, so he ditches his players to drive her to hospital. The baby is coming very quickly indeed so Allan pulls over and calls Nonnatus House for assistance. Furtively grabbing Phyllis' car keys, Sister Winifred sets off to meet the Romaines only to be forced to abandon the vehicle on the way. Winifred gets there just as the baby is emerging and, in the midst of it all, is Allan helping to bring his child into the world though cutting the cord seems to be asking too much.
Meanwhile Nurse Crane returns home to find her car missing, presumably stolen by those thieves Sgt. Woolf had mentioned. Not surprisingly, the police officer has already come upon Phyllis' abandoned car so when she comes to report the Morris Minor missing he can gloat that her keys were left inside. When Winifred returns to the car after the delivery, she finds a not very happy Nurse Crane inside. But at least she got to the Romaines in time.
How did you feel about this installment? Sister Winifred finally got a more substantial storyline and it looks like Lucille is going to be as strong, reliable and compassionate as any midwife we've met before or since. How long will Magda last? Will the domestication of Trixie continue or will the grapefruit suprise be her last culinary foray? And what exactly is happening to Sister Monica Joan's eyesight? Your ideas and opinons about these questions or any other aspect of the show so far is welcome. Let's chat away!
---
By
for on March 26th, 2018