By
for on October 24th, 2021
'Call the Midwife' Recap: Season 10, Episode 4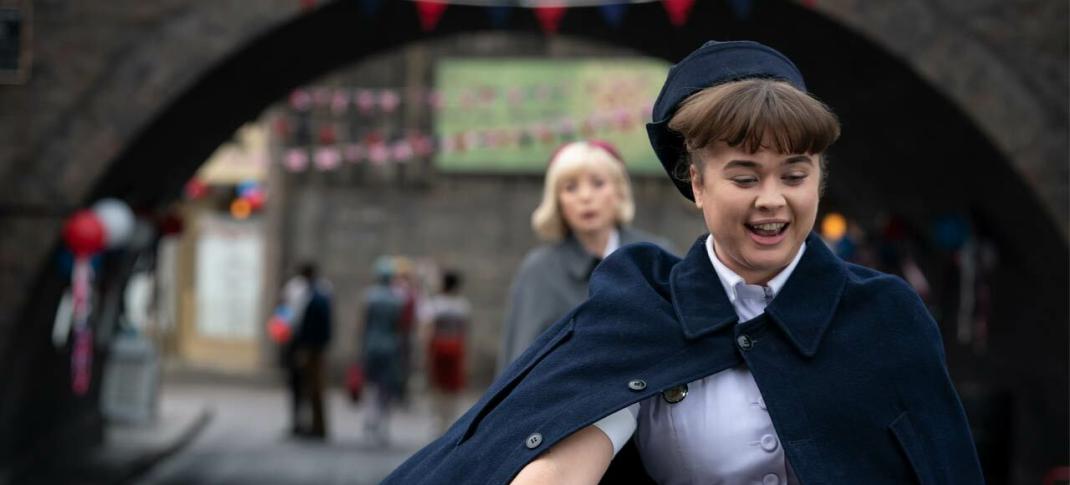 The latest installment of Call the Midwife finds Poplar in the throes of World Cup fever. It's July 1966 and, as the host country, England's team is moving swiftly through the tournament, inciting more enthusiasm with each victory. Even the sisters and midwives are getting caught up in the excitement with their own sweepstakes of sorts. More on that shortly.
As a follow-up to last week's Lucille and Cyril storyline, the future continues to look bright for the couple. Not only does Cyril have a new flat, but for doing so well on his engineering exam, he was awarded a cash prize of 25 guineas (a guinea was just a smidge over a pound). At first, Cyril considered using the money as a down payment to join his boss as a business partner. He backed off from that idea, buying a stereo for his flat. Lucille's reaction was concern that he wasn't spending the money on his future career.
In the end, Cyril did invest his prize winnings in the future. He returned the fancy record player and bought an engagement ring instead. He proposed to Nurse Anderson on one knee. (Of course, he did - Cyril's nothing if not deferent.) She said yes and I just hope with this new level of intimacy, he'll start calling her Lucille in public.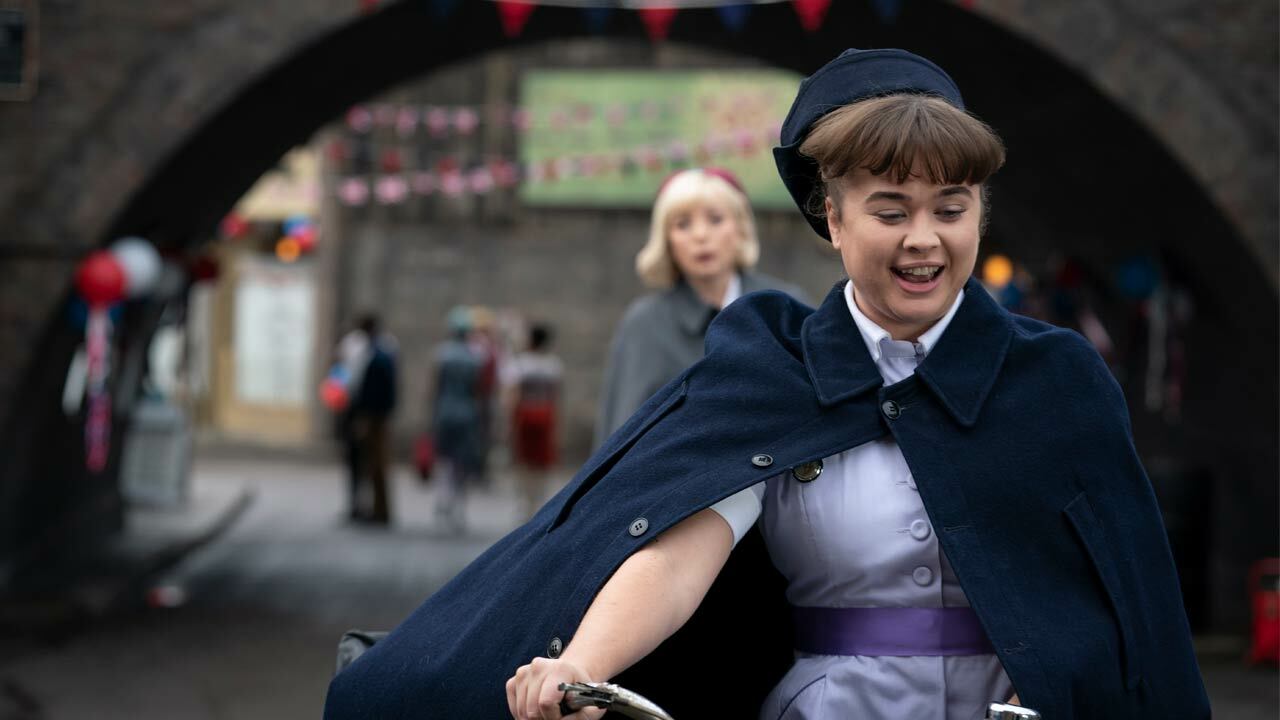 At Nonnatus House, things are looking up as well. Shelagh's plan to fund the order's operations by providing training for pupil midwives has just been set into motion.
Four new student midwives will be training under the Nonnatus crew, but only Nancy Corrigan (Megan Cusack) will be living on the premises. An orphaned girl raised by Irish Catholic nuns, Nancy is eager to break free from the sedate life of the convent.
Her high-spiritedness and groovy dress sense notwithstanding, Nancy's blunt way of talking to the patients has already earned the young nurse a reprimand. Mrs. Greaney (Lizzie Aaryn-Stanton) who had a past delivery complication has decided against a home birth after encountering Nancy's flippant attitude towards her concerns. Losing a patient to St. Cuthbert's certainly won't reflect favorably on the training scheme.
In the end, Nurse Corrigan demonstrates a great deal of grace under pressure when Beryl Greaney shows up at Nonnatus House in very active labor. (Her husband's refusal to take her to the hospital until the World Cup match was over was unforgivable and a bit unbelievable.)
With only her first-level training and the sage guidance of Sister Monica Joan, Nancy safely delivers Beryl's baby. Bonus – the elderly nun's crisis of faith is finally resolved, not only by being of service, but by finding a reminder of God's love in a placenta. Classic MJ to locate God in nature.
In other medical developments this week, Dr. Turner and Nurse Crane join forces to help a troubled teenager struggling to come to terms with being gay, which was still illegal in 1966.
An only child, Michael Leeks (Jack Archer) is the apple of his parents' eye and their pride is only increased by his career prospects at a swanky hotel in London. (Sophia Loren has apparently stayed there.) It turns out his employers were encouraging him to do more than tote luggage to guests' rooms. On a visit home, it comes to light Michael is suffering from a nasty pilonidal cyst at the base of his spine that requires treatment. This procedure in turn reveals that Michael has an STD connected to his sideline at work.
Dr. Turner advises him to leave the job which has exploited this young man, while also assuring Michael that whatever the law, he's perfectly fine as he is. When forced to explain why he's quitting his job, Mr. and Mrs. Leeks react badly to their son's coming out.
An anguished Michael flees to a sketchy doctor to "fix" his problem.  His remorseful parents just want their son back, but fear they may never see him again. Michael left behind a business card for Lakewood Grange clinic. After Miss Higgins conducts one of her famous phone inquiries, Dr. Turner and Nurse Crane find Michael isolated and weak with the antibiotics he required for his infection being withheld by the staff there. The pair hustle the young man out of the clinic and reunite him with his parents.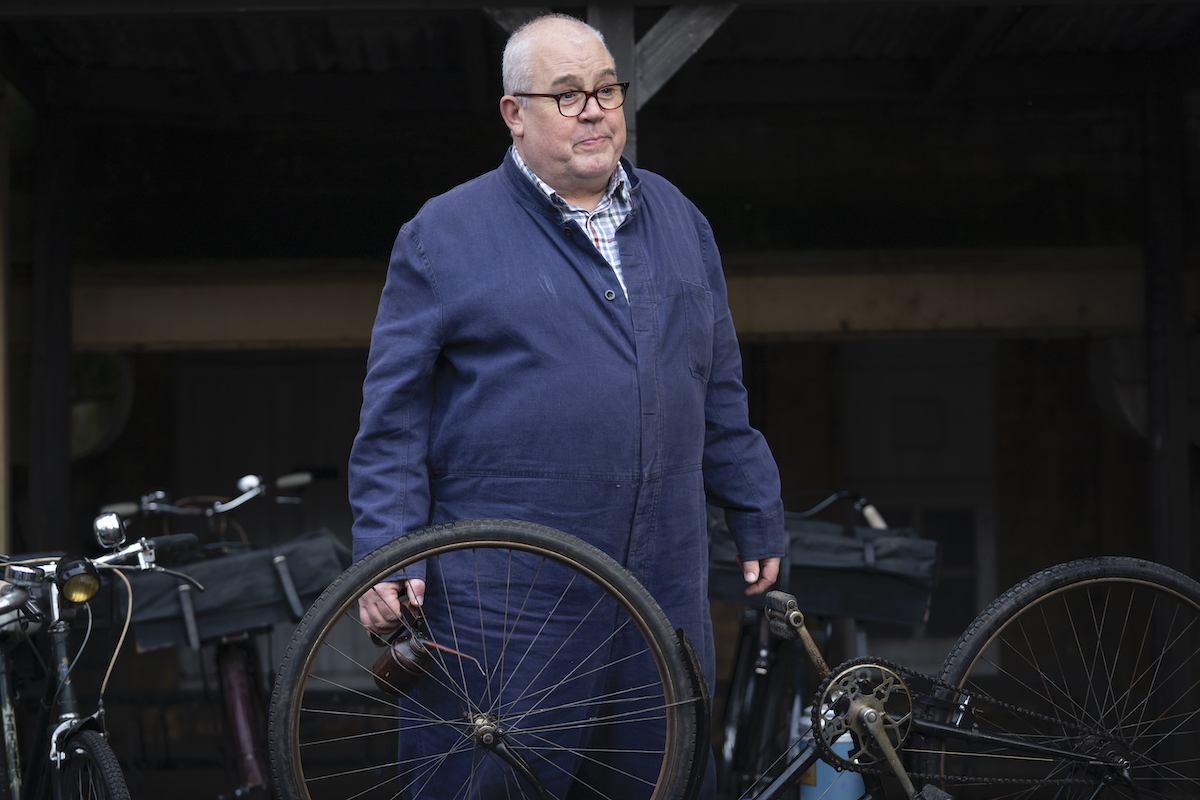 As promised, back to the World Cup! Over the years, we've observed Fred Buckle become less of a chancer out for a quick buck and more of a respectable businessman. But dear Fred apparently couldn't resist the opportunity to win a pot of money on the World Cup. Without his wife's knowledge, he placed an accumulator bet (this seems rather like a bracket situation) against England to win. Alas, not only did poor Fred's gamble fail to make him rich, but he was denied the joyous celebration he surely would have enjoyed if he'd placed a more loyal wager. It was an expensive lesson to learn indeed, especially when he confesses what he did to Violet…
Other tidbits we got in this episode- it's highly likely little Tim Turner is about to enter medical school. Widower Matthew Alyward invites Trixie to his son's christening. He's hired his childhood nanny to care for baby Jonathan, but she's running roughshod over his wishes for the way he and Fiona wanted to raise him. Maybe once he plucks up the courage to read his dead wife's letter, he'll be motivated to take control of the situation?
Now's the time to ask what you thought. Did this week's episode tick all the Call the Midwife boxes- a community celebration, a socially relevant patient issue, dedicated medical personnel, and a tear-inducing scene or two? Let's chat about your opinions on episode four!
---
By
for on October 24th, 2021