By
for on December 25th, 2021
'Call the Midwife' Christmas Special 2021 Recap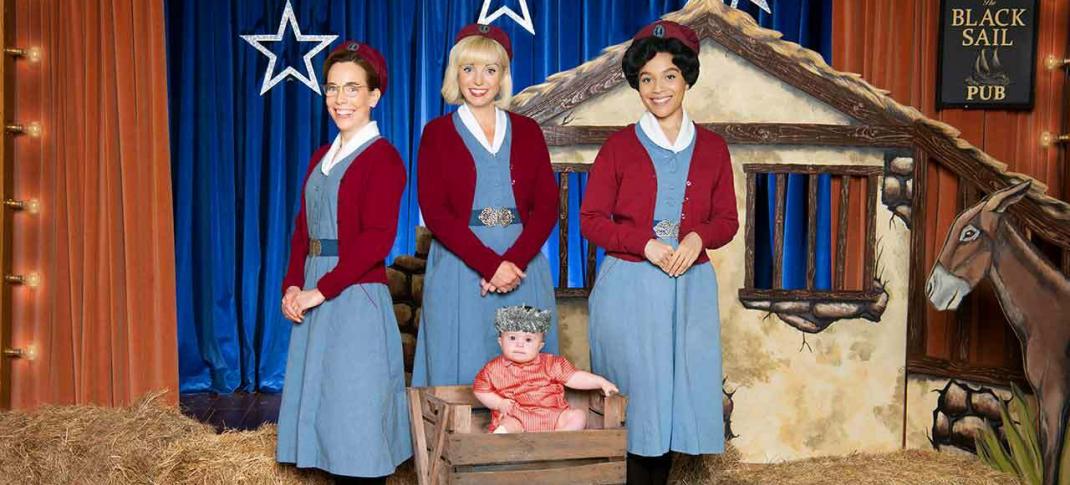 Happy Christmas, everyone! There's so much to cover in this extended holiday episode of Call the Midwife. It's full of classic family Christmas traditions, for sure. But viewers are also treated to hoodlums, a handful of tricky deliveries for the midwives and if that's not enough, a much-anticipated wedding.
We arrive in Poplar in the weeks leading up to Christmas. The nativity play at the community center, helmed by the intrepid duo of Nurse Crane and Miss Higgins, is already underway. As expected, Fred Buckle dons his rather snug Santa suit to distribute some yuletide cheer.
Nurse Anderson and her fiancé are busy preparing for their wedding, scheduled for December 26th (aka Boxing Day). Let's cover all the drama first and then come back to the nuptials at the end!
First, we meet Anita Page, a groovy dresser to be sure, but not very conscientious about her antenatal care. She's underweight and pale and after ducking out of her appointment, it's obvious Mrs. Page is hiding something. Soon after, we enter Anita's world when Dr. Turner shows up at her flat on an emergency house call.  Her husband is a flashy, albeit small-time, thug. His lackeys get into knife fights and sell stolen merchandise. But one thing Mr. Page does not approve of is drug use, which took his brother only last year. What he doesn't know is that his pregnant wife is shooting up heroin behind his back.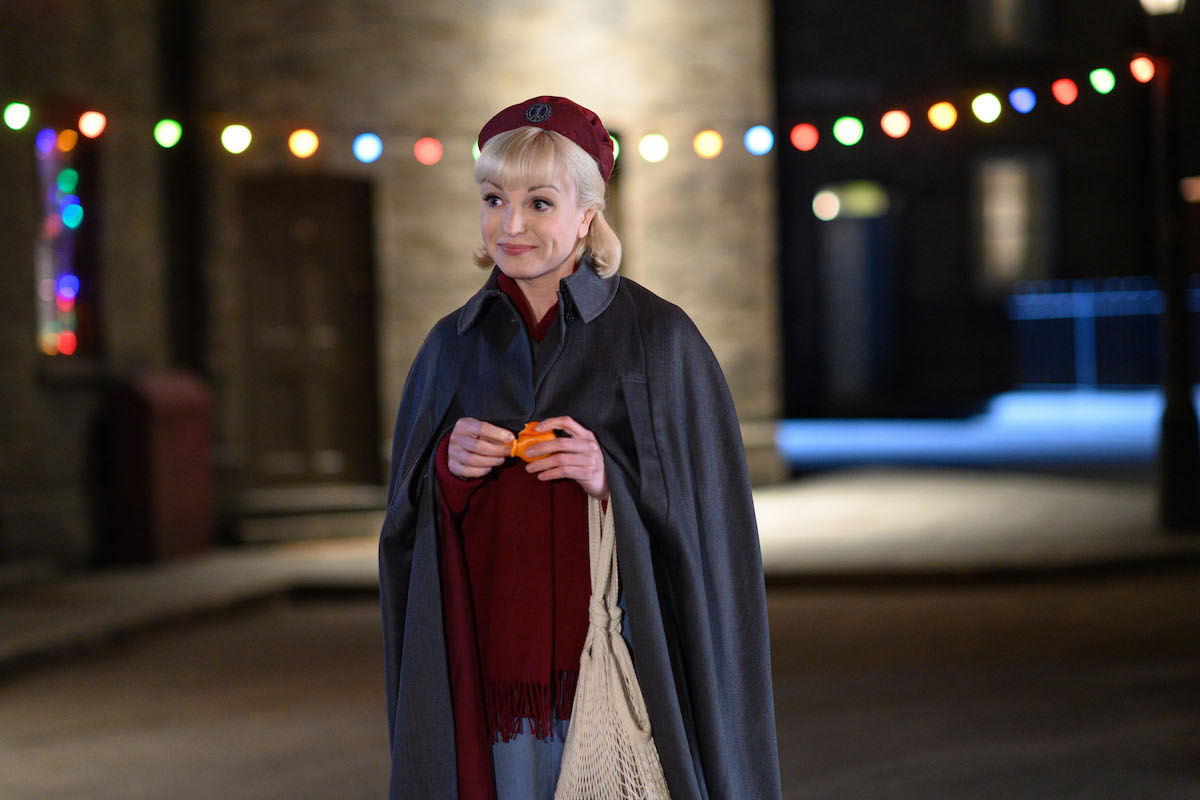 Anita's waters break but she doesn't go looking for medical help for some time. On Christmas day, she's finally admitted to the maternity home where she gives birth to a very small baby girl. At first it seems that Mrs. Page has dodged a bullet, but soon both mother and baby start to go into opiate withdrawal. The baby's condition is quite serious, as she has a persistent, high-pitched cry and has started to experience convulsions.
Dr. Turner can start Anita on a treatment for withdrawal, but they're not sure how to ease the newborn's symptoms. Fortunately, Mother Mildred, who saw a lot of these cases in Hong Kong, knows what to do. She tells Shelagh and Patrick that their foster daughter was one such baby. Shelagh offers to administer the opiates and comfort Anita's baby since she wasn't able to be there for her beloved May.
It will be up to the council's welfare department to see if Anita will be reunited with her child. Regardless, she promises her husband that she will do everything she can to get well and be a better mother than her own alcohol-addicted mother was to her.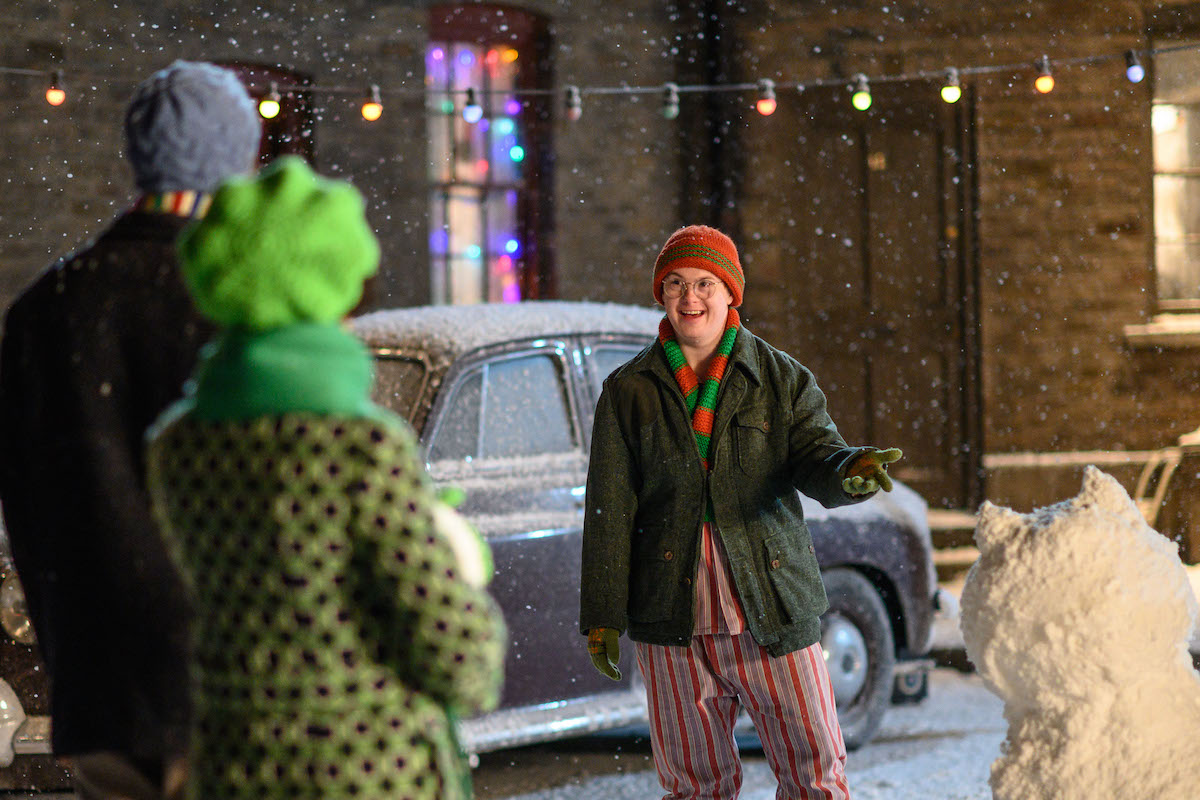 Christmas brings a flurry of other deliveries, and none are straightforward. Sister Frances attends a home birth for Susan Chu, a recent transfer from St. Cuthberts. As expected, because Frances mentions she hasn't performed a breach birth delivery, Mrs. Chu's baby is in that position. (Isn't foreshadowing great?) At first, the Sister asks Mr. Chu to summon backup, but when he can't get through to the other midwives, Frances calmly goes it alone. (Many seasons ago, you may recall Chummy was in a similar situation). After a few tense minutes, the Chus have a healthy baby boy!
Things get really hairy when Mrs. Howells, mother of four boys and in need of a forceps delivery, is giving birth just as first-time mum, Maria Kaufopolous has a major hemorrhage whilst laboring. In the end, both mothers and babies are fine though Maria and her child require blood transfusions. Baby Page will be treated at the children's hospital with Shelagh at her side. Tim Turner, home from university for Christmas, has certainly gotten a lot of practical and unvarnished medical experience following his dad around.
And now back to the bumpy but ultimately happy tale of Lucille and Cyril's wedding…
The midwives and the Buckles team up with Cyril and Lucille's church family to stand in for the betrothed couple's relatives. From the gown, flowers, and music to hen/stag nights and a parade of cakes, a detailed plan has been set in place for the couple's special day.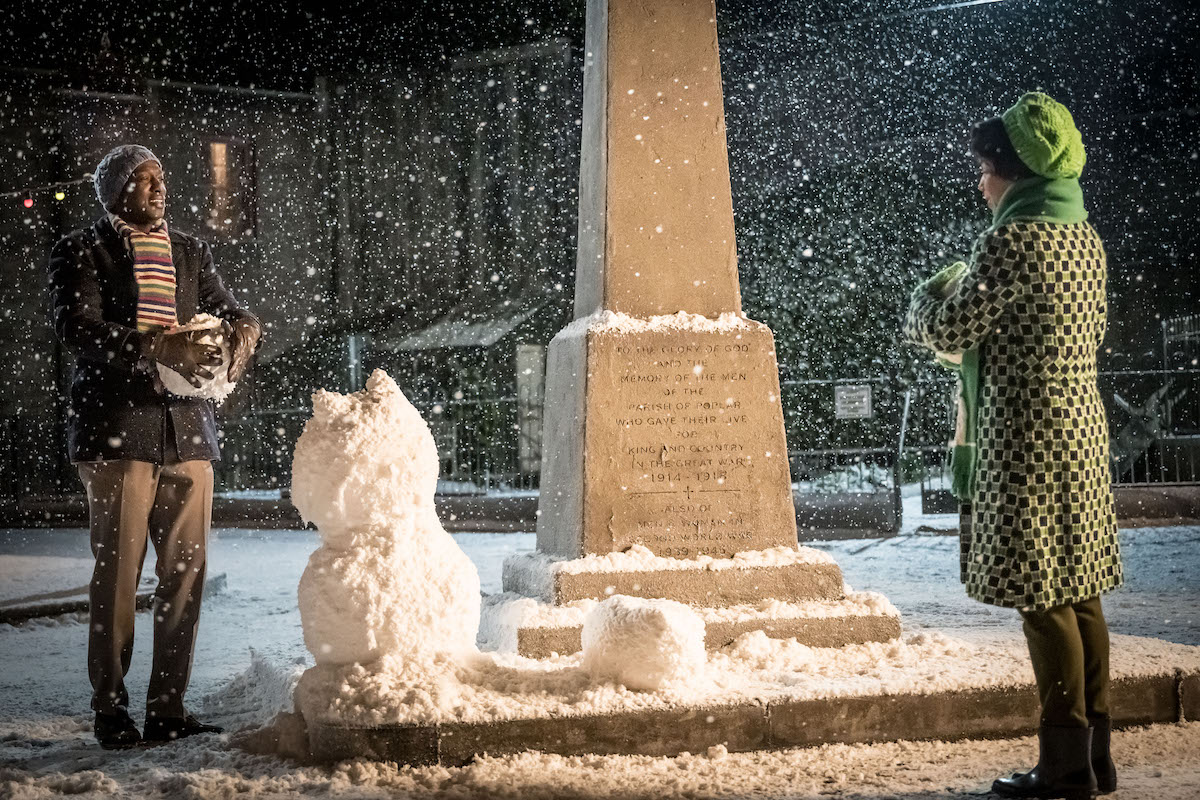 Unfortunately, those plans start to quickly unravel. The gentleman who was going to give Lucille away suffers a serious injury. Cyril suggests Fred switch from best man to surrogate father-of-the-bride. Reggie will be his backup groomsman.
Problem solved, right? Not so fast. When Sister Hilda over-spikes the punch at the hen party, Lucille gets uncharacteristically tipsy and trips up the stairs at the end of the night, striking her eye against one of the treads. What starts out as a black eye quickly swells shut and the blood behind Nurse Anderson's eyelid could take up to a week to drain out on its own. Trouble is the wedding is just three days away!
Sister Monica Joan, always a font of old-timey medical knowledge, has a lightbulb moment. There is a tried-and-true solution to Lucille's unsightly eye wound and Dr. Turner is on board. I could barely believe it when he revealed that box of "medical" leeches!
A trembling Lucille undergoes the procedure and, lo and behold, the leech does its job and sucks the blood from her bulging lid. What a bride won't do to look less horrifying on her wedding day, am I right?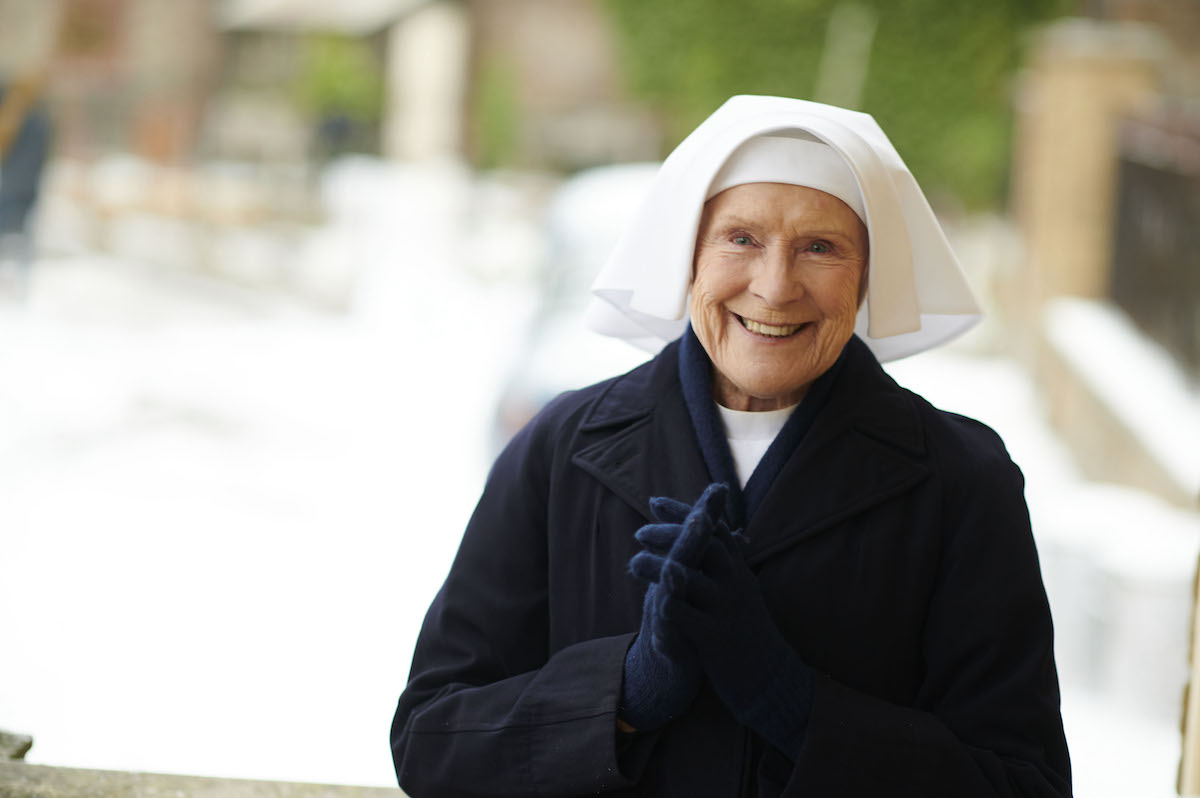 Then of course there's the touching interaction between Nurse Crane and her soon-to-be ex-roommate. The sight of Lucille's gown hanging on the wardrobe brings back fond (and terribly sad) memories of Nurse Barbara and her wedding. Always gracious and compassionate, Lucille encourages Phyllis to tell her about Barbara's special day. With a combination of smiles and tears, Phyllis recalls the radiant bride and the pearls she bought especially for the happy occasion – and hasn't worn since. (No surprise, Nurse Crane wears them at Lucille's kind request.)
On the day, the ceremony goes without a hitch. The dress Mrs. Buckle made is stunning and suits Lucille to a tee. Trixie arranges for Nonnatus benefactor and her special friend Matthew to drive Lucille to the church in his fancy motor. Probably the best moment of all is when Phyllis surprises the bride with four children, all of whom Nurse Anderson helped deliver, to act as her attendants as she walks down the aisle.
And there you have it, another eventful, and ultimately joyful Call the Midwife Christmas installment in the books. All that life and love going on plus Miriam Margolyes mesmerizing everyone with her reading of A Christmas Carol. Please share your thoughts on this festive episode in the comments and I look forward to chatting about Season 11 in mid to late March 2022.
---
By
for on December 25th, 2021