By
for on November 15th, 2012
Britwatch: Apparently Benedict Cumberbatch Movies Will Take Over 2013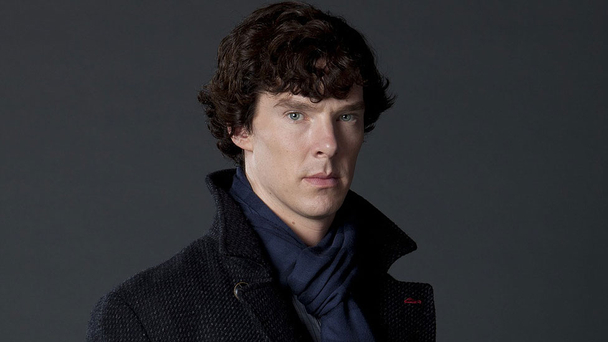 In case you didn't think
Sherlock
star
Benedict Cumberbatch
had enough films coming out next year, what with his appearance as the villain in
Star Trek: Into the Darkness
, his turn as Smaug the dragon in Peter Jackson's
The Hobbit
trilogy, and his key role in total Oscar bait-y ensemble drama
August: Osage County
, you'll be happy to know he's already signed up for a bunch more projects. Because apparently, he doesn't bother with boring things like sleeping. (Eek, and even in this list I managed to leave one out already, because you'll also be seeing Cumberbatch all dolled up in period garb next year for
Steve McQueen's Twelve Years a Slave
.)
Movie theaters of America: Prepare to receive all of my money, thanks very much.
Besides his upcoming reunion with Sherlock director Paul McGuignan for that biopic about Beatles manager Brian Epstein, there's lots more Cumberbatch to look forward to in the new year (and, yes, he still has to film Sherlock Series 3 somewhere in the midst of all this.) What is everyone's favorite consulting detective actor working on now? Well, there's:
The Awesome Film: Cumberbatch is set to portray the notorious Julian Assange in a film about the WikiLeaks founder that is being directed by Bill Condon and will dramatize the last few years of his life. Word on the street internet says the movie will once again pair Cumberbatch with X-Men: First Class star James McAvoy, who will play Assange's right-hand man Daniel Domscheit-Berg, the author of Inside WikiLeaks: My Time with Julian Assange At the World's Most Dangerous Website.
The script is based partially on Domscheit-Berg's book, and partially on WikiLeaks: Inside Julian Assange's War on Secrecy by David Leigh and Luke Harding and has been written by West Wing alum Josh Singer. How this gets better, I do not know. Please take my ticket money now.
However, from the shallow end, I am not looking forward to Cumberbatch dying his hair that weird white blonde color, so if we can leave that bit of "realism" out of this whole thing, that'd be lovely.
The Weird Film: There's a new Monty Python movie coming out, and apparently Mr. Cumberbatch is going to star in it. Well, not quite – but, sort of! It's called Absolutely Anything and it's a comedy co-written by Terry Jones and Gavin Scott. It's the story of a school teacher whose life gets turned upside down because…well, because some random aliens pop up and give him magical powers. (No, really.)
Here's where the Python connection comes in – our intrepid gang of random aliens is going to be voiced by Jones, Terry Gilliam, Michael Palin and John Cleese, and, for those playing along at home, that's two-thirds of the original Monty Python crew. (Why Eric Idle isn't involved in this is anyone's guess.) Oh, and the aliens are animated. Anyway, Cumberbatch will play the teacher who will of course bring about total chaos thanks to his new alien powers, punishing misbehaving schoolchildren and raising people from the dead and all that sort of thing. Allrighty, then. Oh, and Gemma Arterton is also apparently in this somehow. As is Robin Williams, who reportedly is doing some sort of voice work. (Maybe there's a rival gang of random aliens. Who even knows.)
Though I realize Cumberbatch has a history of playing characters who are either evil or who die tragically in some sort of horrible/heartbreaking circumstance and have frequently led the cheerleading charge for the poor man to just make a comedy already, this is kiiiiind of not what I had in mind. For the few that don't know this, Cumberbatch is actually an excellent comedic actor (see: Starter for Ten, or his voice performance in the Cabin Pressure radio series), but this just really, really bizarre sounding. I'm sort of not completely convinced the entire internet is being punked with this, but if I can make myself into a fairly credible Star Trek enthusiast after years  of resisting because of his presence in Into the Darkness, well, I guess I can pull myself together here. (Though I still think that his involvement in this must be because he lost a bet somewhere along the way.)
And The Rumor That Won't Die: Possibly this bit of gossip only resurfaced because of the mega-success of new James Bond film Skyfall, but, a lot of people on the internet seem convinced that Cumberbatch is in line to play a Bond villain in the franchise's next outing. This has been confirmed by absolutely no one, and I believe the man himself actually denied knowing anything about it during an appearance at the Cheltenham Literary Festival recently, and yet the rumor refuses to die. There's another rumor going around that posits that "Bond 24" will be fast-tracked to hit theaters in 2014 due to Skyfall's blockbuster status, which is equally interesting for a host of different reasons. And anything's always possible, I suppose.
While I think everyone knows I consider Cumberbatch amazing at generally everything, I'd vastly prefer he not get typecast around Hollywood as "British evil-for-hire". There's a fine living to be made in that niche – surely folks like Alan Rickman and Ralph Fiennes are doing quite well for themselves in that regard – but I am resolute in holding out hope that Cumberbatch will have a career with a bit more variety. (Though, as evidenced by the outright weirdness of that Absolutely Anything film, I probably ought to be more specific in what I wish for, huh?)
---
By
for on November 15th, 2012
More to Love from Telly Visions