By
for on January 2nd, 2021
British TV In 2021: A Look Ahead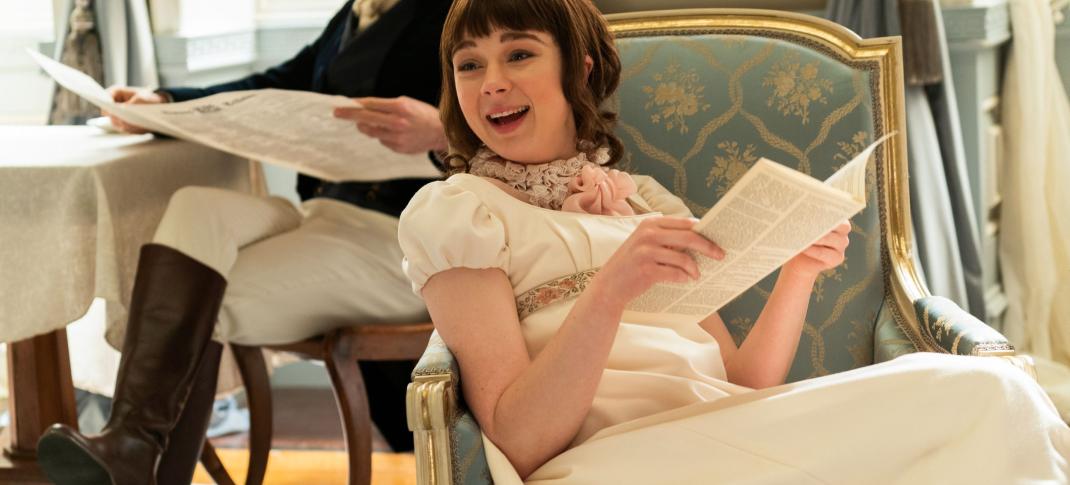 Predicting the future is a fool's errand, but people do it anyway as the New Year arrives. It's hard to know what the next year will bring in the world of television, especially in the wake of this year's pandemic upending filming schedules around the world. Moreover, the entire landscape of TV is shifting under our feet as we speak. Next month, two more mainstream streamers enter the arena with Discovery+ and Paramount+, and it's unclear how much either will be a factor in overseas imports. 
But with so many already in the mix, let's run down which streamers and titles are the ones to watch in 2021.
PBS Passport
The good news for fans of PBS is that the 50th anniversary of Masterpiece is here. That means lots of British content coming to those who are PBS members. The early part of the year will have All Creatures Great & Small and Miss Scarlet & The Duke as binge-watches arriving the same day as they premiere on linear TV. Plus, there are several Walter's Choice titles, including Seaside Hotel in February and No Second Chance come March.
But the real bonanza will probably arrive in the fall as the backlog of British shows that delayed filming turn up in a bunch, including Unforgotten, Van Der Valk, and more.
Acorn TV
It turned out 2020 was a banner year for Acorn TV, which came in with the Miss Fisher movie and followed it up with a new title nearly every month following.
The beginning of 2021 will continue A Suitable Boy, which will then be followed by Finding Joy, one of Acorn's few hit comedies. Other titles for 2021 include Bloodlands, the Lucy Lawless fronted My Life Is Murder, and more Ms. Fisher's Modern Murder Mysteries.
These are supported by the usual eclectic mix of imports, including new Monty Don, more The Bone Detectives, and other continuing programs.
Netflix
Still the champ after the first year of the streaming wars, Netflix will continue to be the place for Anglophiles to find regular streaming content, from The Dig to The Repair Shop to more Peaky Blinders. The Crown has the year off, but that was preplanned due to the cast turnover. As for more Bridgerton, fans are eagerly awaiting news of a Season 2.
Moreover, despite its "disrupt TV" model doing nothing of the sort, it turned out that model was *perfect* for these pandemic times. Unlike most others who will experience feat-and-famine modes as filming stops and starts, Netflix will reliably chug out new titles all year.
HBO (& HBO Max)
The oldest and newest kid on the block in terms of bringing over BBC and ITV series, HBO has been a long time reliable supplier of British content, and HBO Max is surprising fans with new titles like Murders at White House Farm and I Hate Suzie. January will see all the CB Strike Mysteries arrive mid-month, including the latest, Lethal White, and the Daniel Radcliffe fronted Miracle Workers. 
HBO Max is working on being a big player, especially with so many feature films debuting on its service this coming year. Good British TV is part of that plan, and fans should keep their eyes peeled for more.
AMC+
Ironically, right now, most of AMC's British series are leased to HBO Max to help fill their coffers. But the service, which includes everything BBC America puts out, is slowly building its slate of British originals, including shows that air on Sundance TV and BBC America like Killing Eve and The Watch. 
Despite this streamer's low profile, there's a lot of potential here, especially should it decide to merge with Acorn TV, which is also owned by AMC.
Peacock
NBC Universal streamer ran out of British originals midway through the fall of 2020, but that doesn't mean it's out of the game. Right now, the streamer is mostly focused on its American TV cred, but The Capture was one of the best British shows on all of American TV this past summer, and Season 2 is in the works.
Plus, this is the streamer with Downton Abbey and Carnival Films in its arsenal, which means no British TV fan can discount them.
Hulu (& FX on Hulu)
Hulu quietly has one of the most extensive libraries of unsung British shows, from In My Skin to Love Island to Scott & Bailey. But it's FX on Hulu that's worth watching, as Disney starts to get into U.K. content to help expand the FX brand into something a little less American Horror Story and a little more HBO.
Amazon
Like Hulu, Amazon has tons of British shows stashed away deep in its library, plus it has add ons like PBS Masterpiece and STARZ streaming, so it's a must-have for fans of British TV. But the layout continues to make finding its content hard.
With both a Lord of the Rings series and the Wheel of Time adaption supposedly arriving this year, it's going to position itself as a significant player in British and Irish fantasy. It's just a matter of whether or not audiences notice.
BritBox
BritBox continues to lean heavily into the older titles rather than bring much original content to the fore.
The BBC-ITV joint venture has plenty of old favorites and will continue to be comfort TV to old fashioned anglophiles. But for those seeking new content, this streamer doesn't look to be aiming in that direction. Of course, that could easily change...
All The Other Pluses: Apple TV+, Disney+, Paramount+, Discovery+
Right now, none of these are investing heavily in British TV. Though, AppleTV+ and Disney+ are dipping their toes in here and there, mostly in the documentary categories. (Dickinson is a favorite here, but it is an American series.) It's doubtful British TV fans will need to pay any of these much mind next year, but, like with Britbox, that could easily change.
---
By
for on January 2nd, 2021