By
for on October 1st, 2022
19 British Shows to Stream Around the Apps in October 2022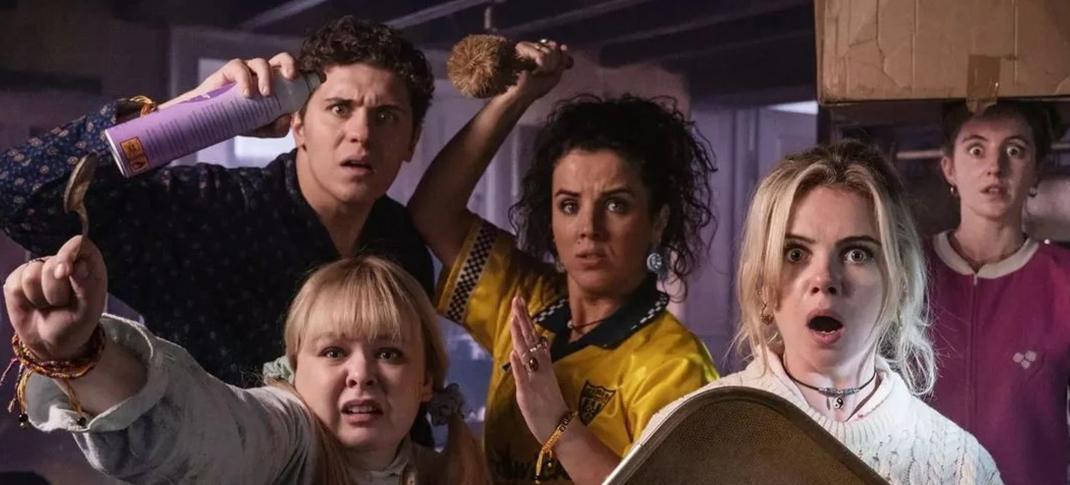 October has arrived and the leaves are starting to turn in earnest. Though the clocks won't fall back for a few weeks yet, the nights are getting longer and the days are getting colder. For those of you who are all over spooky season, now is the time for murder mysteries and thrillers. The countdown to Halloween means a blend of old favorites and new releases.
However, for those who are not all in on the jump scares and the creepy things that go bump in the night (because insomnia is real y'all), it's not all blood and gore and Agatha Christie this month. There are all kinds of British series heading to streaming, and with awards season kicking in, there are high-end movies coming this month. There will be plenty to suit all tastes for those hunkered down on the couch.
Here's a full rundown of the best British TV series coming to U.S. streaming services this October.
My Life Is Murder Season 3 
The Australia/New Zealand series My Life Is Murder starring Lucy Lawless, is back with Acorn TV now on board as producer for a third season. Lawless plays retired detective Alexa, who still solves crimes in between her bakery work. The ten-episode series begins with two episodes on Monday, October 10, with two new episodes streaming every Monday through November 7.
Doc Martin Season 10
The final season of the long-running Doc Martin is finally here. Martin Clunes returns for one last go-round as the titular grumpy doctor with a heart of gold. Fans will get to say farewell to him, Caroline Catz as wife Louisa, Dame Eileen Atkins as Aunt Ruth, and the idyllic hamlet of Portwenn in Cornwall starting Monday, October. 17, with a two episodes premiere. The eight-episode series was originally going to run on a double-episode format but has updated that schedule since this was originally posted. It will now air one episode every Monday to follow through November 28.
The Entire James Bond Collection
When MGM refused to sell the rights to James Bond to Amazon in 2021, Jeff Bezos did the only sensible thing a real-life Bond villain would do and bought the whole damn company. Their grand prize is exclusive rights to stream the entire James Bond library on Prime Video. All 25 films starring all six 007s arrive on Wednesday, October 5, World Bond Day.
My Policeman
The Harry Styles-Emma Corrin film My Policeman, which opened in limited release in theaters in September hits streaming in time to form opinions ahead of the closing of the Oscars shortlist. Loosely inspired by the life of author E.M. Forster (Howard's End), this three way marriage during the time homosexuality was illegal in the U.K. is a time jumping tear jerker. The film debuts Friday, October 21.
The Devil's Hour
Prime Video's major horror series release, The Devil's Hour, stars Peter Capaldi and Jessica Raine in a gripping psychological thriller where nightmares help find serial killers in a world where nothing is as it seems. The six-episode series arrives as a binge drop on Friday, October 28, just in time for Halloween weekend.
AMC+/IFC/Sundance Now/Shudder
Documentary Now! 
AMC+ usually leans on Sundance Now for British programming to stream, but this month, it's spreading the love a little. First up is the long-running comedy series Documentary Now! starring Dame Helen Mirren, which is a staple of AMC Network's IFC Channel. It will stream on AMC+ with a three-episode premiere on Wednesday, October 19 with one a week to follow.
True Colours Season 1
Meanwhile, Sundance Now and AMC+ will simultaneously stream the first season of True Colours. The Australian-produced police procedural stars Rarriwuy Hick as Aboriginal detective Toni Alma. Her season-long case begins with a car accident in Perda Theendar, the community she left as a child and has had little to do with since. All six episodes arrive as a binge on Thursday, October 20.
Resurrection 
And finally, since it is Halloween, AMC+ will team up with its niche horror streamer Shudder to co-stream the film Resurrection, starring Rebecca Hall and Tim Roth. The film originally debuted at Sundance last January and had a limited run in theaters in July. It will start streaming in time for Halloween arriving Friday, October 28.
Shantaram
Apple TV+'s only major offering that's not American this month is Shantaram, an Australian-set thriller starring Charlie Hunnam. Hunnam stars as Lin, a bank robber forced to go on the run out of his native country and into India. The ten-episode cat and mouse series also stars Richard Roxburgh as Detective Sergeant Marty Nightingalem, plus Radhika Apte and Alexander Siddig. Three episodes debut on Friday, October 14, with one a week to follow to mid-December.
Sherwood
Hailed as one of the BBC's best shows of 2022, Sherwood features an all-star cast in a true crime tale based on the real-life Nottinghamshire murders in 2004. The series kicks off when a long-time resident is murdered by a bow and arrow, but the roots of the conflict spread deep into the past and well into the future. All six episodes arrive on Tuesday, October 4.
Karen Pirie
BritBox's other original series arriving this month is Karen Pirie, a female detective series just in time for Halloween, adapted from Val McDermid's best-selling series of novels. Lauren Lyle stars as the titular Pirie, a cold case detective up in Scotland, who leads the reopening of a 25-year-old case when a podcast gets ahold of it and forces the community's attention back to the unsolved crime. All six episodes arrive on Tuesday, October 25.
Rosaline
Hulu's primary British offering this month has nothing to do with scary stories unless heartbreak terrifies you. The film is Rosaline, a name you've vaguely heard when Romeo tells Juliet he'll toss the poor thing over and no longer be a Montague. Now hear the story from the jilted girl herself, with Kaitlyn Dever playing the least-talked-about ex-girlfriend in Shakespeare's canon. The film arrives on Friday, October 14.
Aftershock: Everest and the Nepal Earthquake 
It's feast or famine at Netflix regarding British content. This month is feasting, starting with the documentary film Aftershock: Everest and the Nepal Earthquake, featuring survivors' firsthand accounts and existing accounts footage of footage of the 2015 tragedy in an emotional docuseries. It arrives Thursday, October 6.
Derry Girls Season 3
The final season of Derry Girls, the 90s-era Irish teen comedy-drama, finally arrives on this side of the pond as fans say a proper goodbye to Erin, Orla, Claire, Michelle, and James. As Northern Ireland takes a big step into the future, so do they, though it's never going to be without a bit of mess. All episodes arrive Friday, October 7.
Island of the Sea Wolves
The British talent for nature documentaries is represented this month with Island of the Sea Wolves, featuring wild, wondrous Vancouver Island, where the ocean nurtures all life, from bald eagles to sea wolves. The documentary lands on Tuesday, October 11.
Sue Perkins: Perfectly Legal 
If you miss Sue Perkins from the The Great British Baking Show, she's got yet another new travel documentary. In Sue Perkins: Perfectly Legal she goes around exploring history, eating food, and confronting middle age head-on in various Latin American countries. All episodes arrive on Thursday, October 13.
The Bastard Son & The Devil Himself 
Netflix doesn't have a British horror series for Halloween weekend per se. Still, it does have The Bastard Son & The Devil Himself, a fantasy series starring Jay Lycurgo and Nadia Parkes based on the Half Bad books by Sally Green. All episodes arrive on Friday, October. 28.
Inside Man
And finally, the biggest title for October is Inside Man, from the mind of Steve Moffat and starring David Tennant. The BBC and Netflix co-production features Tennant as a vicar whose life becomes tangled with a death row inmate (Stanley Tucci). The four-episode series concludes in the U.K. on October 4; Netflix will premiere all episodes on October 31. 
Prince Andrew: Banished
The death of Queen Elizabeth II refocused the public interest in the British royal family in America. Most of the hot takes and fast turnaround series focus on Meghan and Harry. However, Peacock, proving it really needs help in the ratings and subscribers department, brings Prince Andrew: Banished, a limited series about the disgraced son of the Queen. If you can stomach it, all episodes arrive on Wednesday, October 5.
---
By
for on October 1st, 2022