By
for on April 17th, 2021
British Actresses You Should Know: Ruth Wilson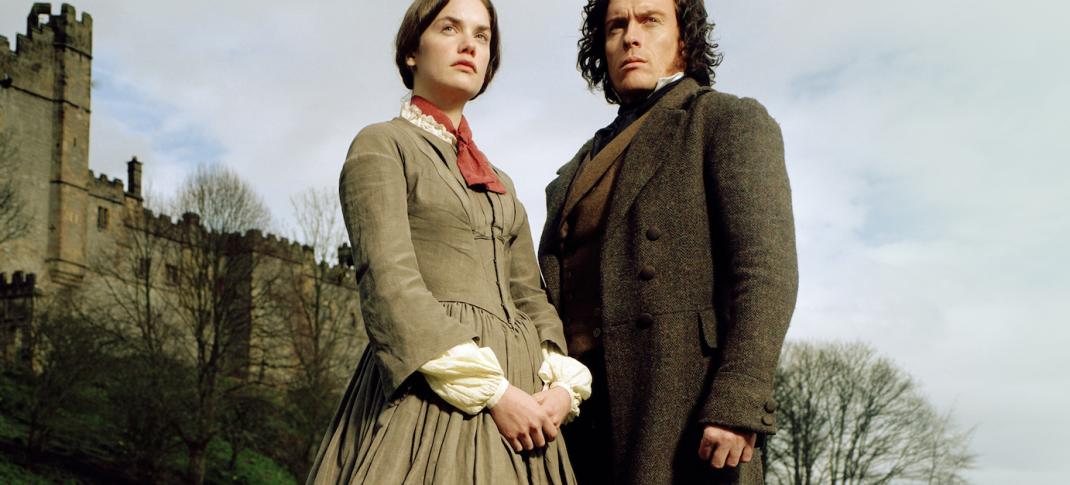 Award-winning actress Ruth Wilson has the sort of wide-ranging career that encompasses both period classics (Jane Eyre) and groundbreaking contemporary gems (Luther). 
She's also one of those performers whose work is generally so consistently great that we often forget to talk about how great it is. (For example, Wilson's performance is literally the only thing making any part of His Dark Materials' first season work.)
 A talented character actress, she excels at playing everything from her own grandmother (Mrs. Wilson) to distinctly morally grey types who are hard to put in boxes (The Affair).
Here's a look at several of Wilson's most notable roles, in roughly chronological order, if only because I don't want to play favorites.
Jane Eyre
Jane Eyre is the miniseries that elevated Wilson to the upper echelon of British actresses working today, even if it was crime drama Luther that turned her into a household name. Wilson plays the eponymous Jane opposite Toby Stephens as Mr. Rochester, and the end result is the closest thing we've yet achieved to a definitive onscreen version of Charlotte Bronte's classic novel.
To be fair, as an adaptation it plays a bit fast and loose with the source material at various points, but its added scenes further underline the novel's themes of repression and loss. Plus, Wilson and Stephens have crackling chemistry together.
Luther
This British psychological thriller starring Idris Elba as DCI John Luther made Wilson a household name. In it, she portrays Alice Morgan, a research scientist and highly intelligent individual who also happens to be a complete psychopath and rather skilled murderer.
Alice's relationship with John becomes a central axis around which Luther turns, as the pair ricochets from arch-enemies to uneasy allies and even something like friends. Elba and Wilson have scorching chemistry, and her performance is a thing of wonder throughout.
The Prisoner
This 2009 AMC remake of the classic 1967 series has an all-star cast that includes Wilson alongside such names as Jim Caviezel, Hayley Atwell, and Ian McKellen.
 It follows the story of a man who awakens in a mysterious, picturesque, but ultimately escape-proof village where everyone is known solely by a number. As the man now known as Number 6 engages in a battle of wills with village leader Number 2, he also develops a romantic connection with Wilson's Number 313.
This isn't a particularly good remake of the original, but it's great to look at and McKellen is clearly having a blast.
Small Island
The two-part drama Small Island is adapted from Andrea Levy's 2004 novel of the same name. (Eagle-eyed Masterpiece viewers will recognize Levy's name from the recent drama The Long Song.) The story focuses on the diaspora of Jamaican immigrants during and after World War II. Trying to escape economic hardship on their own "small island," they have moved to England, where they struggle to build new lives for themselves.
Wilson plays Queenie Bligh, who longs to escape her life on a pig farm in Yorkshire. And when a kindly aunt sends her train fare to London, she arrives full of hope. But after an unexpected tragedy forces her to wed the dull Bernard, she embarks upon a dangerous affair when he's sent to the front. The series' all-star cast includes Benedict Cumberbatch, Naomie Harris, and David Oyelowo.
The Affair
The Affair is a Showtime series that ran for five seasons and explores the long-lasting emotional impact of an affair between Noah Solloway and Allison Bailey, who meet when the Solloway family arrives in Montauk for a summer getaway.
Wilson starred as Allison opposite Dominic West, Maura Tierney, and Joshua Jackson, and the series featured rotating POVs that often depicted the same scenes and conversations from the perspectives of multiple characters. Which narrators do we trust? Whose story is closest to the truth? These are questioning The Affair often leaves up to the audience to answer,
The entire cast of The Affair is top-notch, but Wilson's performance stands out as the grieving, lost Allison who often seems to want everything and nothing all at once. Unfortunately, Wilson departed the series in the summer of 2018, after finally growing fed up with what was described as a toxic and unsafe work environment, and the mystery surrounding her character's death was a key plot point in its final season.
Mrs. Wilson
Wilson plays her own grandmother in Mrs. Wilson, a drama based on a real-life tale of intrigue, spycraft, and a longstanding family mystery. In it, Alison McKelvie falls in love with an older man—Major Alexander Wilson, a popular author of spy novels doing real intelligence work for the war effort. But after his death, she discovers that her late husband wasn't just unfaithful, he was a bigamist several times over, with wives and children all over England.
Wilson is, naturally, is the heart of this surprisingly moving two-part series, but it also features solid performances from Iain Glen and Keeley Hawes.
His Dark Materials
Wilson is hands-down the best part of His Dark Materials, HBO's prestige TV adaptation of Philip Pullman's bestselling trilogy of the same name.
This take on His Dark Materials is certainly much more faithful to the source material than the dreadful feature film The Golden Compass but can feel a bit paint-by-numbers as a result. Except for Wilson's fantastic depiction of the villainous Mrs. Coulter, a performance that adds much-needed depth and complexity to the character – some that isn't even present in the original novels. It's thrilling work. 
Do you have a favorite Ruth Wilson performance? Sound off in the comments.
---
By
for on April 17th, 2021