By
for on July 22nd, 2020
British Actresses You Should Know: Rosamund Pike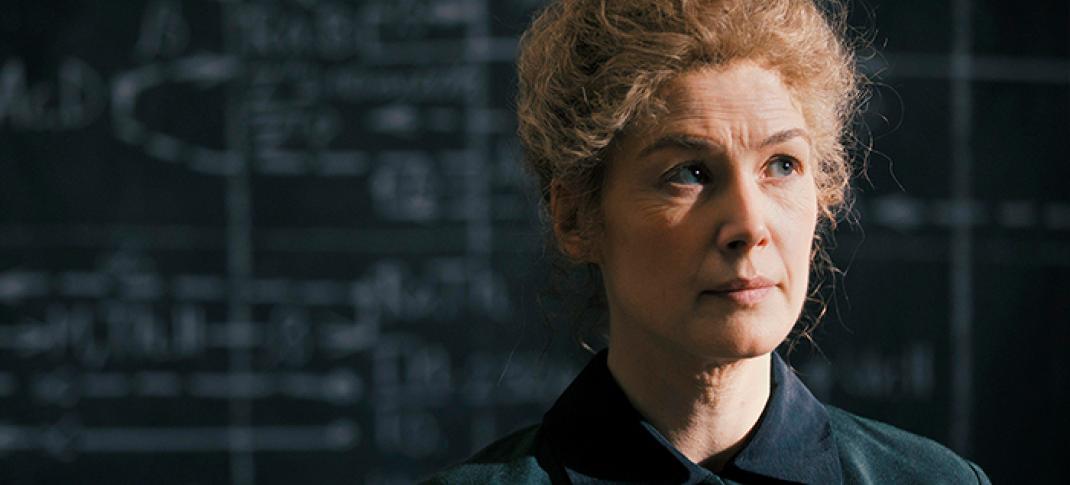 For those who may not be familiar with actress Rosamund Pike's career, you might be initially inclined to place her in that ornamental "English Rose" category – elegant, proper, and possibly aloof. She did play Jane Bennett in the 2005 adaptation of Pride and Prejudice after all.
Upon closer inspection, however, you will find she has taken on a range of characters over the course of her career who all possess various combinations of courage, intelligence, tenacity, and, on one occasion, criminal insanity. In advance of her latest film role as the legendary scientist, Marie Curie (more on this one in a bit), let's take a look at a sampling of Pike's roles that encompass a wider female experience.
Note: Unless otherwise mentioned, the films highlighted below are available to rent on most on-demand streaming platforms.
Die Another Day. Tough and determined characters can be found in Ms. Pike's CV as far back as her 2002 big-screen debut in this James Bond film, which is notable for being star Pierce Brosnan's last turn as 007.
Rosamund starred opposite Brosnan and Halle Berry, playing  the cool and ruthless double agent, Miranda Frost. Not only was she offered her first film role shortly after her college graduation, but Pike became the first Bond girl to have attended Oxford. 
Die Another Day can be streamed on Showtime.
Made in Dagenham. Ms. Pike makes an impressive showing amongst notable co-stars such as Sally Hawkins, Geraldine James, Miranda Richardson, and Andrea Riseborough.  
This 2010 film dramatizes the events of the 1968 Ford sewing machinists' strike spearheaded by female factory workers campaigning for equal pay. Rosamund portrays Lisa, a posh executive's wife who, despite her excellent education, is treated as classy arm candy. Inspired by their audacity, she lends her moral support to the striking women's cause.
Gone Girl. The attention and accolades Pike received for her lead performance in this 2014 mystery thriller very likely makes it her best-known role so far.
Based on the best-selling novel of the same name by Gillian Flynn, the role of anti-heroine Amy Dunne required someone who could depict a calculating manipulator willing to play a very long game to exact her revenge. Rosamund achieved just the right balance, teetering between chilling and outrageous. (One criminal profiler on YouTube said the character of Amy most likely had Munchausen syndrome!) Her performance garnered multiple lead actress nominations including the Oscar, Golden Globe, and BAFTA.
Gone Girl is available to stream on Hulu. 
A United Kingdom. In 2017, Rosamund starred opposite David Oyelowo in this little-known love story about Prince Seretse Khama, the future king of Botswana, and Ruth Williams, a white civil servant from London.
At the end of World War II, Seretse comes to England to study law, and the pair fall in love in the face of family and government opposition. Their relationship is threatened by tremendous pressures on all sides, especially for Ruth who is starting a new life far from home.  Ms. Pike's performance portrays a courage grounded in her love for her husband and his commitment to his country.
Hostiles. This 2018 movie united Rosamund with fellow Brit Christian Bale in a very American period Western.
Bale plays Joseph Blocker, a U.S. Army cavalry captain who has been forced to escort a Cheyenne war chief and his family back to their home in Montana in 1892. Along the way, he and his company happen upon Rosalee Quaid (Pike), the lone survivor of a Commanche attack upon her family. It's a harrowing role filled with traumatic loss and abuse, but Rosamund pulls it off with an overlying sense of dignity.
Hostiles is available to stream on Netflix.
A Private War. In this 2018 biopic, Ms. Pike portrays celebrated war correspondent, the late Marie Colvin. Fearless and (quite possibly) an adrenaline junkie, Colvin was compelled to cover the world's most deadly conflicts.
Despite the toll her job takes on her personal life, Marie's mission to give voice to the voiceless leads her and photographer Paul Conroy (Jamie Dornan) to document the atrocities of the never-ending Syrian Civil War. Rosamund's performance showcases not only the bravery and bravado of Ms. Colvin but the trauma that results from traveling the dangerous path of uncovering the truth.
A Private War is free to stream on Amazon Prime.
Radioactive. The latest example of this actress's versatility is her starring turn in the new Marie Curie biopic, Radioactive. In it, Pike plays the brilliant Nobel Prize-winning physicist who conducted pioneering research with her husband Pierre on radioactivity.
Unfortunately, the misogyny of Victorian-era academia makes it necessary for Madame Curie to vigorously advocate for the recognition she deserves.
Radioactive debuts July 24th on Amazon Prime.
Do you have a favorite Rosamund Pike performance? Let's discuss in the comments!
---
By
for on July 22nd, 2020
More to Love from Telly Visions