By
for on March 16th, 2022
British Actresses You Should Know: Oona Chaplin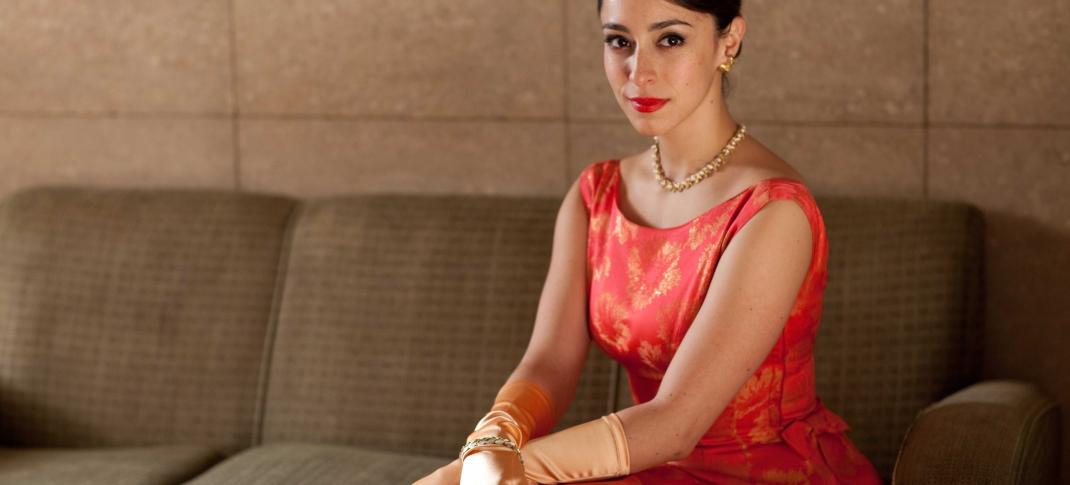 While we rate all the talented subjects of our Actors/Actresses You Should Know profiles as worthy of your notice, most don't have the same showbiz pedigree as that of Oona Chaplin. Her grandfather was legendary silent film actor and filmmaker Charlie Chaplin. Her great-grandfather was the celebrated American playwright, Eugene O'Neill. Oona was named after her grandmother, Oona (O'Neill) Chaplin.
Ms. Chaplin was born in Madrid. With her parents' (actress Geraldine Chaplin and Chilean cinematographer, Patricio Castilla) busy careers, she spent much of her youth on sets and visiting family in Spain, Switzerland, Cuba, Chile, and the UK. Due to her globe-trotting childhood, Oona can speak fluent Spanish, French, and English.
At 15, she earned a drama scholarship at an independent boarding school in Scotland. Afterwards, Chaplin was accepted into the Royal Academy of Dramatic Art (RADA) program in London and completed her course in 2007.
The first few years of Oona's career included some small TV and film roles including her blink-and-you'll-miss-her cameo in the 2008 Bond movie, Quantum of Solace. She also appeared in several on-screen projects with her mother at this time.
¿Para Qué Sirve Un Oso? (What Is A Bear For?)
Oona appeared with her mother Geraldine in ¿Para Qué Sirve Un Oso?, a 2011 Spanish comedy about two wildlife-loving brothers. One is a biologist jaded about his Artic conservation efforts; the other is a photographer obsessed with proving that bears have returned to the Asturian mountains in Spain. Oona plays Rosa, a schoolteacher who gets romantically involved with the photographer's American assistant. (Or at least that's what I understood from the translated synopses I read!)
The Hour
Also in 2011, Ms. Chaplin scored a supporting role in The Hour, an Emmy Award-winning drama about an investigative news program in Cold War era England. For two seasons, she played Marnie Madden, the wife of philandering anchorman, Hector Madden (Dominic West). She later is hired as a hostess on a cookery program, upstaging her publicly humiliated spouse.
Game of Thrones
Oona gained global exposure when she joined the cast of the hugely popular HBO fantasy series Game of Thrones in its second season. She portrayed Talisa Maegyr, a woman of noble birth and a battlefield nurse. She wins the heart of Robb Stark (Richard Madden) which causes him to call off his arranged marriage to a Frey daughter. In the third season, this slight brings a vicious revenge on the couple and their unborn child at the Red Wedding.
The Crimson Field
PBS viewers may remember seeing Chaplin in The Crimson Field, a 2014 WWI drama set in a field hospital in the Northern France. Oona stars as Kitty Trevelyan, one of three volunteer nurses who are new to the medical team. Headstrong and opinionated, Kitty courts danger even as she is desperate to leave her past behind and start fresh.
The Longest Ride
Ms. Chaplin was cast in the 2015 film adaptation of  The Longest Ride, Nicholas Sparks' romance novel about two couples from two time periods who overcame challenges to their relationships. Oona played "Young Ruth", appearing in flashback scenes of a couple falling in love in the midst of WWII. Despite challenges in their marriage, Ruth and Ira (Jack Huston) had a love that remained strong until they were parted by death.
Taboo
In 2017, Oona played opposite Tom Hardy in Taboo, a dark, early 19th century period TV drama. Chaplin's role was that of Zilpha Geary, the half-sister of the mysterious James Delaney - just recently returned to England after a decade spent in Africa. While James has a beef with the government and the East India Company, he also has an unhealthy obsession with Zilpha that he hopes rekindle. She has found herself in a suffocating marriage and is torn by her attraction to James.
Chaplin is set to appear in all four of the upcoming Avatar movie sequels with the first set for release in December 2022. She is also in midst of filming a Netflix spy drama series, Treason, with Charlie Cox.
Do you have a favorite Oona role? Or is this newest performer in the Chaplin acting dynasty not yet on your radar? Share your thoughts in the comments!
---
By
for on March 16th, 2022
More to Love from Telly Visions