By
for on January 30th, 2021
British Actresses You Should Know: Michelle Gomez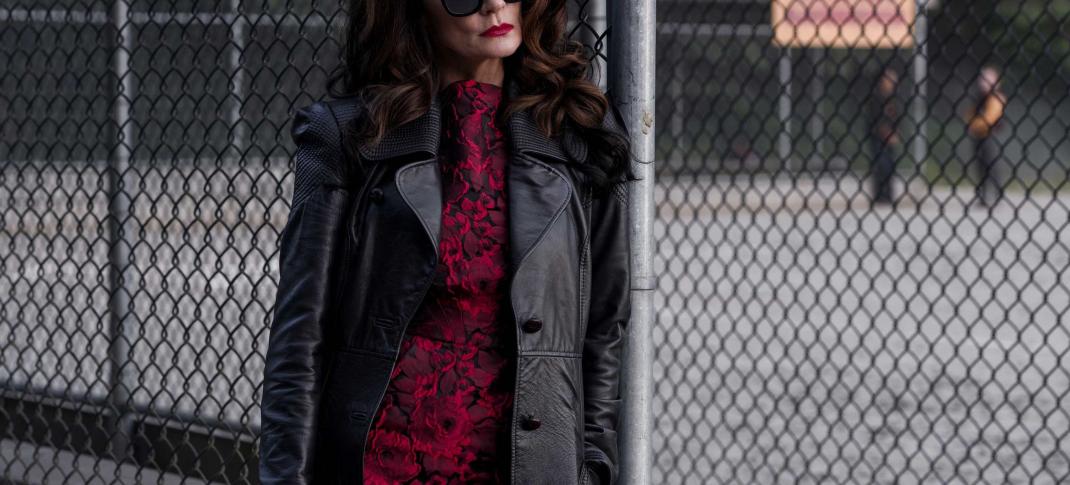 Michelle Gomez is a Scottish actress who feels as though she's been everywhere of late, but whose career actually dates back several decades. The fact that she's finally getting her much-deserved moment in the spotlight is a testament to her ability as a chameleon-like character actress, as well as her breakthrough role in iconic sci-fi series Doctor Who in which she played a groundbreaking female version of the show's iconic villain.
After hanging up her sonic umbrella, Gomez has gone on to snag buzzy roles in shows like Chilling Adventures of Sabrina and The Flight Attendant, so many viewers may not be aware of her many comic performances in shows like Green Wing and Bad Education.
Here's a look at several of Gomez's most notable – and awesome – roles, in roughly chronological order.
Green Wing
An often bizarre satirical comedy, Green Wing revolves around the staff of the fictional East Hampton Hospital, but it doesn't actually feature any medical stories. Instead, it follows the frequently soap opera-esque relationships between the characters, primarily the on-again, off-again romance between surgical registrar Caroline Todd (Tamsin Grieg) and the endearing, but often enigmatic Dr. Macartney (Julian Rhind-Tun), who never even gets a first name.
Gomez plays the hilarious and often disturbed Sue White, the Scottish liaison officer whose job is to listen to the problems of the East Hampton staff. But since Sue is mean, insensitive, unsympathetic and hates basically anyone who isn't Mac, this goes about as well as you'd expect, and her treatment of her clients runs the gamut from simple rudeness to psychological torture.
Bad Education
BBC Three comedy
Bad Education
follows the story of posh, newly graduated history teacher Alfie Wickers, played by
Jack Whitehall
, at the fictional Abbey Grove School in Hartfordshire.  Determined to impress his crush Rosie, Alfie constantly attempts to appear cool, usually with disastrous results, such as his attempt to coach the school football team or pushing a candidate for the school elections.   Gomez plays the school's dictatorial Deputy Headmistress, Isobel Pickwell, who is known for her strict rules and rigid discipline. Constantly attempting to acquire more power at the school, she resents Alfie's "hippie" beliefs as an affront to her conservative values and loves to do things like reading Bible passages in her sex education classes. As you might expect, Gomez is hilarious in the role.  
Psychobitches
The dramatically named Psychobitches is a sketch comedy show in which famous women from history and fiction seek help from an impassive therapist and recount their problems. The series stars an array of recognizable British actresses, including The Thick of It's Rebecca Front, Catastrophe's Sharon Horgan, Doctor Who's Frances Barber, comedian Katy Brand and more.
As part of this ensemble, Gomez played a variety of roles, most notably Mary, Queen of Scots, Hildegard von Bingen, and Margaret Thatcher.
The Collection
Gomez only has a small part in The Collection, a period drama that follows the story of brothers Paul and Claude Sabine at their family's Paris fashion house and the complex relationship between them.
So why is it on this list? Solely for the outfits, which are as incredible as you'd expect a show about post World War II Paris fashion to be, and which Gomez wears the heck out of.
Doctor Who
Many viewers probably got their first exposure to Gomez during her run on the popular sci-fi series Doctor Who, in which she played Missy, the groundbreaking first female version of the Master. (And, who, I will never stop reminding people, largely helped pave the way for the first female Doctor Jodie Whittaker to follow after her just a few short years later.)
Missy's chaotic energy is a perfect outlet for Gomez's chameleon-like talents and her fantastic chemistry with co-star Peter Capaldi helped redefine the iconic relationship between the Doctor and the Master for a whole new generation. While it's unlikely that Gomez will return to the role on television anytime soon – though never say never, John Simm did it, after all – she's still making audio adventures as the renegade Time Lady for Big Finish.
Chilling Adventures of Sabrina
A Netflix adaptation of the dark Archie Comics story of the same name, Chilling Adventures of Sabrina follows the story of the titular Sabrina Spellman on a dark coming of age journey as she attempts to reconcile her half-witch, half-mortal nature. (And fights some evil forces along the way.)
Gomez plays Madame Satan, otherwise known as Lilith, the first wife of Adam from the Garden of Eden according to Jewish folklore, who steals the identity of Sabrina's favorite teacher at Baxter High to manipulate her into serving her and her Dark Lord. Lilith's role over the course of the series is half monstrous villain and half aspirational feminist icon, as she fights to claim her rightful place in Hell and remake it in her own image. And Gomez is perfect at walking the fine line between both, crafting a character who isn't a role model or even a good person, but an endlessly adaptable survivor.
Ducktales
Gomez's role in this sparkling remake of the 1987 DuckTales series is fairly minor, and generally remarkable only in that it brings together two popular Doctor Who actors whose tenures with the series never actually intersected, but whose characters are forever intertwined. But who am I to deny anyone the chance to see former Master (er…Mistress?) Gomez and former Tenth Doctor David Tennant share a screen – even if it's only in animated form?
Gomez voices Matilda McDuck, Scrooge's sister with whom he does not particularly get along and who has never actually appeared on either animated version of DuckTales before, despite appearing in the original Don Rosa Scrooge McDuck comics. The siblings have a longstanding rivalry and spend most of the episode  - "The Fight for Castle McDuck" – shouting at one another in a way that I'm sure both the Doctor and the Master would approve of.
The Flight Attendant
Buzzy HBO series The Flight Attendant is based on the book of the same name by bestselling author Chris Bohjalian. It stars Kaley Cuoco as titular flight attendant Cassie Bowen, who becomes embroiled in an espionage plot following her affair with a first-class passenger, who winds up murdered after their night together.
Gomez plays icy and mysterious assassin Miranda Croft, who also possesses some rather terrifying knife skills. Though the show was originally planned as a limited series, The Flight Attendant was so successful for streamer HBO Max that it has been renewed for a second season. 
What's your favorite Michelle Gomez role? Sound off in the comments.
---
By
for on January 30th, 2021
More to Love from Telly Visions