By
for on January 22nd, 2018
British Actresses You Should Know: Dame Diana Rigg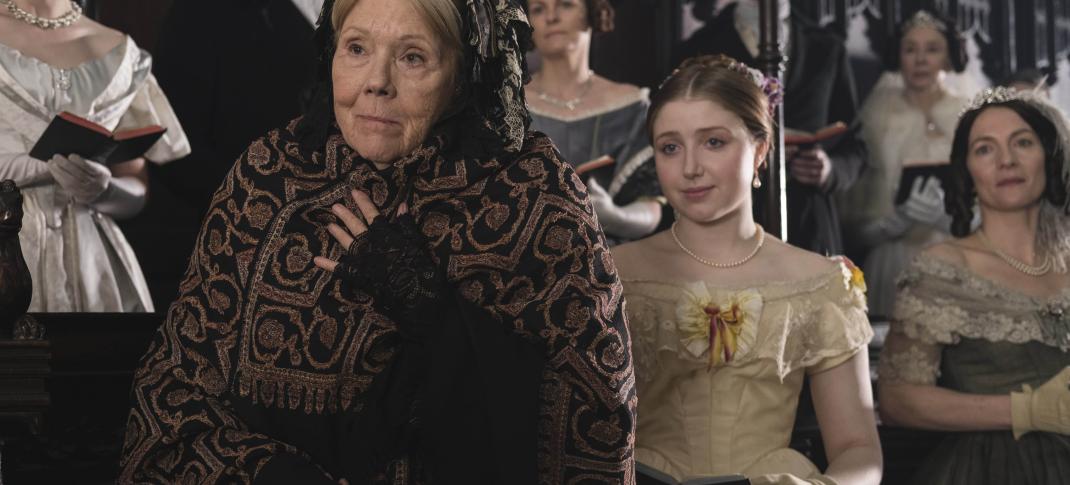 When you hear the name Dame Diana Rigg, what comes to mind? The talented lady spy Emma Peel from The Avengers? The one and only Bond girl to marry 007 himself from On Her Majesty's Secret Service? Or perhaps famous British fashion designer and jewel heist victim, Lady Holiday, from The Great Muppet Caper?
Well, Dame Diana has been in the acting game for over six decades and, in my opinion anyhow, her most recent roles have more entertaining and more badass than any martial arts master/genius clad in a leather catsuit. Her new gig as Victoria's new Mistress of the Robes is just the latest in a growing list of "tough as old boots" roles that have earned Ms. Rigg a whole new generation of fans.
Here are just a sampling of her more mature roles from the past twenty years.
Mrs. Danvers - Rebecca
Masterpiece viewers might remember the 1997 mini-series adaptation of Daphne de Maurier's novelRebecca that broadcast on PBS. It featured Diana Rigg in the role of the famously disapproving and antagonistic Mrs. Danvers, for which she won an Emmy award.
(Speaking of PBS you may also recall Dame Diana's stint as classy host of Masterpiece Mystery!  from 1989 -2004.)
Queen Henrietta Maria - The Last King  a.k.a Charles II: The Power & the Passion
In this historical mini-series, Rigg plays Queen Henrietta Maria, the widow of King Charles I, the British monarch who was executed for treason in 1649. This cold, vengeful woman tries to press the same hard-line views that got her husband beheaded onto her son, following his restoration to the throne.  Charles II just so happens to be played by one of Rigg's Victoria co-stars, Rufus Sewell.
Winifred Gillyflower - Doctor Who episode "The Crimson Horror"
In a Victorian-era episode that was written especially for her by Doctor Who writer Mark Gatiss, Dame Diana plays Winifred Gillyflower, a fanatical chemist who aspires to purge the Earth of all but the beautiful and worthy.
Her ingenious but maniacal plan involves launching a rocket that will disperse a poison produced by her red pet leech, Mr. Sweet.  Of course, the Doctor and his compadres foil her plot and rescue her daughter Ada (portrayed by Rigg's real-life daughter Rachael Stirling) just in the nick of time.
And of course, the Doctor's companion in this episode is Clara Oswald played by Jenna Coleman, who will later go on to star in the titular role of Victoria…with Dame Diana.
Lady Olenna Tyrell - Game of Thrones
Rigg's portrayal of Lady Olenna made her a favorite with many Game of Thrones fans. Also known as the Queen of Thorns for her sharp tongue, the manipulative head of House Tyrell could be blunt to the point of savagery.
However, her characterization certainly made for one-liners reminiscent of another popular TV matriarch, the Dowager Countess of Grantham played with similar aplomb by Dame Maggie Smith on Downton Abbey. 
Veronica – Detectorists
In the Bafta-awarding winning sitcom Detectorists, Ms. Rigg plays the classic disapproving mother-in-law to Mackenzie Crook's oft-struggling metal detecting hobbyist, Andy Stone. Veronica tolerates Andy (just) for the sake of her grandson and daughter Becky (again played by Rigg's real daughter, Rachael Stirling).
Duchess of Buccleuch – Victoria
PBS viewers now have the distinct pleasure of watching Rigg play yet another character who has no reservations about speaking her mind, Queen Victoria's new Mistress of the Robes, the Duchess of Buccleuch.
From just the first installment, we are learning that Victoria's newest lady in waiting is prone to prejudices and perhaps starting a little domestic trouble, but I have a feeling her experience will be invaluable to the young queen as time goes on.
Dame Diana has said in interviews, "I never want to retire. What's the point of it?" so potentially we have many more excellent performances to come from this acting legend.
Please share your thoughts on Rigg's career, from your favorite characters to the evolution her roles over the years.
---
By
for on January 22nd, 2018
More to Love from Telly Visions