By
for on August 10th, 2021
British Actors You Should Know: Jared Harris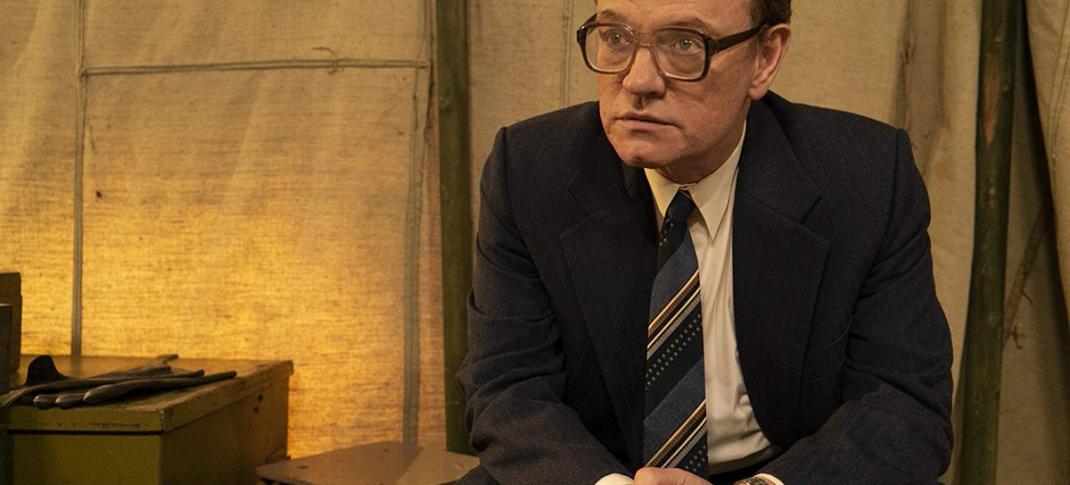 If British actor Jared Harris seems omnipresent these days, it's because he generally is. He seems to pop up on virtually every sort of award-winning prestige drama, playing every sort of character, from heroes to villains to something in between. If you're only familiar with his work from one of them - the award-winning disaster drama Chernobyl or the dramatic mystery The Beast Must Die or even everyone's favorite 1950s period drama Mad Men -  you're missing out on a wide array of fabulous performances.
The son of the late, beloved Richard Harris (most recently seen as the original Albus Dumbledore in the Harry Potter films), he's been working regularly since the mid-1990s in the sort of smaller character parts we generally expect from British actors. While Mad Men is likely remembered as the role that served as Harris' big break in the minds of American audiences, he'd also appeared in everything from Fringe to a Sherlock Holmes film by that point. 
Here's a look at several of Harris' most notable roles, in roughly chronological order, if only because I don't want to play favorites between them all. 
Mad Men
Most American viewers probably became aware of Jared Harris' talent thanks to his role as the sartorially sharp British ad man Lane Pryce on AMC's critically acclaimed Mad Men. Brought on by Sterling Cooper's new British owners, Lane was originally introduced as an antagonist of sorts for Don and company, but by the end of the series' third season he had essentially become part of the group, ultimately forming a new agency with Don Draper, Roger Sterling, and Bert Cooper.
Harris' charming chemistry and subsequent friendship with Christina Hendricks' Joan was a highlight of his time on the series, as was the heartbreaking tragedy of his exit. (Which I won't spoil, for those who haven't seen it, or his great performance.
Sherlock Holmes: A Game of Shadows
We all know the names of the men who've taken on the iconic role of Sherlock Holmes in recent years, including Benedict Cumberbatch, Jonny Lee Miller, and Robert Downey, Jr. But what about the men – and women – who've played Moriarty are perhaps even more interesting, from Andrew Scott to Natalie Dormer.
Harris played the Moriarty to RDJ's Holmes in the feature film Sherlock Holmes: A Game of Shadows, inhabiting the character with a calm menace that grounds some of the film's more aggressively bombastic tendencies. Also, his sartorial choices are on point throughout – who can resist a villain in a good top hat? He's slated to return in the long-rumored third installment of this Holmes franchise.
Lincoln
Harris played General Ulysses S. Grant in Steven Spielberg's epic Lincoln, the Daniel Day-Lewis-led biopic about the life of Abraham Lincoln that racked up 12 Academy Award nominations in 2013.  
Perhaps it's a bit weird for a British actor to play such a famous American historical figure, but, well, if you think about the fact that the guy playing Lincoln was British as well, it makes a weird sort of sense. (Plus, the two men had great chemistry with one another.)
The Terror
Harris starred in the first season of AMC's period anthology horror series The Terror, based on Dan Simmons's best-selling novel of the same name. Season 1 followed the story of the doomed Franklin Expedition in 1845 in which the H.M.S. Erebus and the H.M.S. Terror were both lost on a search for the Northwest Passage.
The ships, whose wreckage was discovered in 2014, became icebound and were abandoned by their crews, all of whom perished from the elements, starvation, or, as the AMC series hints, something worse. Reports from the local tribes indicate some may have turned to cannibalism.
The Terror takes all these true pieces and winds them into a cracking horror story, which sees the crews of both ships stalked by a supernatural presence, even as madness and fear start to take over. Harris starred as Captain Francis Crozier, the commanding officer of the Terror and the expedition's second in command. Other familiar faces include Cirian Hinds, Tobias Menzies, Matthew McNulty, Tom Weston-Jones, Paul Ready, Greta Scacchi, and more.
The Crown
Everyone's probably familiar with The Crown, Netflix's lavish period retelling of the reign of Queen Elizabeth II, but you may not remember that Harris is part of it. (Understandable, honestly; the show's cast is massive and bursting at the seams with A-listers.) 
Harris plays Elizabeth's father George VI, embodying a version of the King of England that is fiercely intelligent, deeply loyal, and who loves his family but is ultimately devoted to the role he was forced to take on after his brother's abdication. He's a father figure full of advice and guidance, but not so much the hugs and affirmation part of being a dad.
Fun fact: Harris was so good in this role – and his chemistry with on-screen daughter Claire Foy was so on point, that the folks in charge of The Crown actually expanded his role significantly, to incorporate a series of flashbacks that helped contextualize the beginning of Elizabeth's reign.
Carnival Row
Amazon's dystopian fantasy series Carnival Row follows the story of the uneasy coexistence between humans and magical creatures such as fae and fauns. Set in a city called the Burge, which happens to be vaguely reminiscent of Victorian London, the story is one part forbidden romance between a human police investigator and a fairy girl, one part political rumination on our global refugee crisis, and one part murder mystery.
Harris plays the fantastically named Absalom Breakspear, a powerful politician who serves as Chancellor of the Burge's Parliament. With an ambitious wife and a troubled son, he's got plenty of problems at home, yet he's still sympathetic to the flight of the magical refugees flooding their city. (Or is he?)
Chernobyl
The award-winning 2019 HBO miniseries Chernobyl dramatizes the events surrounding the 1986 accident at the Chernobyl Nuclear Power Plant, one of the worst man-made catastrophes in history, and the subsequent sacrifices made to save Europe from unimaginable disaster. A gut-wrenching series that manages to convey both the scope and horror of the event and its immediate impact on the very real lives of the people who lived in the plant's shadow, Chernobyl very deservedly won a bunch of awards. That Harris' performance is still a standout among a cast full of heavyweight performances just goes to show how good it really is.
Harris plays Valery Legasov, a Russian nuclear scientist who played a huge role in the Soviet response to the disaster, even at the eventual cost of his own life. His performance is a tightrope of fear and heroism as he manages a multi-pronged attempt to limit the damage, all while knowing that his presence at the site is literally killing him.
The Beast Must Die
AMC's latest buzzy adaptation The Beast Must Die follows the story of Francis Cairnes, a grieving mother who vows to take matters into her own hands after the police investigation into the hit-and-run accident that killed her young son has been dropped without anyone arrested for the crime.
Posing as a novelist researching a murder mystery she's writing, Francis works to ingratiate herself into the family of George Rattery, the man she believes to be responsible for his death, to take the first available opportunity to kill him. Harris plays Rattery, oozing general rich guy with a flashy sports car villainy, but who may not actually be guilty of the murder he's being accused of.
---
By
for on August 10th, 2021
More to Love from Telly Visions