By
for on February 23rd, 2022
British Actors You Should Know: Dominic West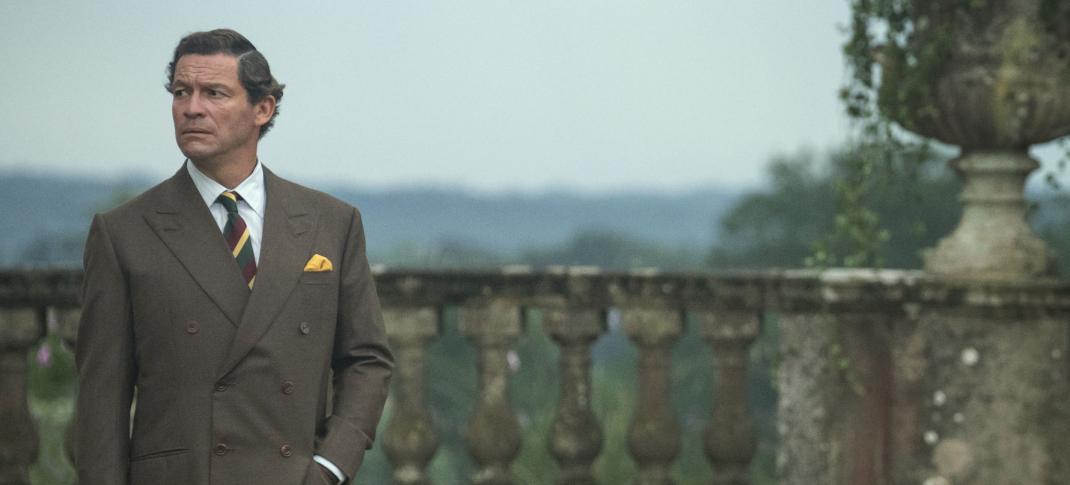 You may have noticed that Dominic West has a few projects coming to our screens this year if you've been keeping up with Telly Visions lately. In the spring, the Yorkshire-born actor is guest-starring in the new Downton Abbey movie, Downton Abbey: A New Era and, based on the trailer, appears to be a more aristocratic type. And in November 2022, we'll see him as the new incarnation of Prince Charles in the award-winning Netflix drama, The Crown.
So it seemed a good time to look back on some of Dominic's past roles from his three decades on the big and small screens.
The Wire
Probably the defining role of West's early career (and certainly the one that introduced him to American audiences) is as homicide detective Jimmy McNulty from The Wire. He starred on the critically acclaimed HBO crime drama from 2002-2008 as a hard-drinking, rebellious Baltimore cop with a superiority complex.
300
In the 2006 big-budget action film 300, Dominic portrayed the villainous Theron, a corrupt Spartan politician. His treachery reached a peak when he manipulated his own queen (played by Game of Thrones' Lena Headey) for sex and then betrayed her in front of the council.
The Hour
In the early 2000's West was often cast as the caddish boyfriend in Hollywood films such as 28 Days, Chicago, and Mona Lisa Smile. However, in the BBC drama The Hour (2011-12), he played a similar though vastly more developed character. Hector Madden has family connections, education and charisma that make him the obvious choice for the presenter of an innovative news program called 'The Hour'. But in taking on the job, he longs for a different world to the entitled one he's always known.
Appropriate Adult
Dominic's BAFTA award-winning portrayal of infamous serial killer Fred West in Appropriate Adult, a 2011 ITV mini-series was a real eye opener to many. His performance depicted a troubled man possessing deeply contradictory traits from almost childlike to deliberately controlling.
Burton and Taylor
West received a second BAFTA nomination for playing another real-life person, the actor Richard Burton. The 2013 BBC biopic Burton and Taylor chronicled the professional reunion of the legendary acting duo of Burton and Elizabeth Taylor (Harry Potter's Helena Bonham Carter) in their infamous 1983 stage revival of Private Lives.
Pride
Dominic's performance in the 2014 British Independent Film Awards winner Pride is a pure joy. He played Jonathan, one of a group of gay activists, who come to the aid of striking Welsh coal miners in the summer of 1984. His dance scene is one of the most memorable of the entire movie.
The Affair
West starred in the Golden Globe-winning Showtime series The Affair for five seasons from 2014-19. He played Noah Solloway, a schoolteacher and struggling novelist, who enters into an extramarital affair with a waitress (His Dark Materials' Ruth Wilson) while his family are on vacation. The series went on to explore the emotional and practical consequences of adultery.
Finding Dory
A fun little one for you here. Dominic and his co-star from The Wire, Idris Elba, lent their voice talents to the 2016 Pixar production Finding Dory, the hit sequel to Finding Nemo. They played a pair of sea lions, Fluke (Elba) and Rudder (West) who jealously guard their favorite sunning rock at the Marine Life Institute.
Les Misérables
PBS Masterpiece viewers likely remember this 2019 non-musical adaptation of Victor Hugo's epic saga Les Misérables. Mr. West starred as ex-con Jean Valjean, the story's hero on a hard-fought journey for redemption and belonging.
While this is only a sampling of Dominic's acting resume, it attempts to represent his range — from period pieces to contemporary, action and drama to comedy and animation. Do you have a favorite Dominic West role? Please share yours in the comments.
---
By
for on February 23rd, 2022
More to Love from Telly Visions