By
for on November 26th, 2013
British Actors You Should Know: David Bradley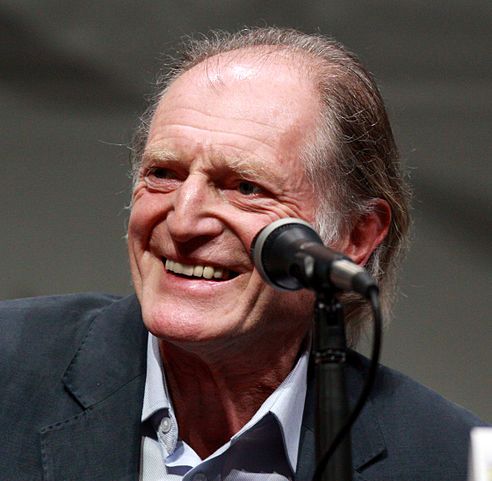 Did you happen to watch An Adventure in Space and Time last week while we were all celebrating the Doctor Who 50th anniversary? If not, you should absolutely go find it on On Demand or iTunes, because it's excellent, not for the least of which reason is because actor David Bradley is just stunning in the lead role. 
After having seen that, we thought some people might be curious about what else the actor's done, so he seemed an ideal choice for a profile in our British Actors You Should Know series. Much like previous BAYSK Bill Nighy, Bradley has been working in film, television and theater for several decades at this point, and this list is but a sampling of a long and successful career (there's no way all his roles would fit in one blog post!), though he's only really broken through into the pop culture mainstream in the past few years.
You've seen him in something though, for sure, even if you didn't know who he was. Take a look at some of his more famous roles. 
An Adventure in Space and Time. Bradley takes on the role of real-life First Doctor William Hartnell in this story about the people who brought iconic sci-fi series Doctor Who to life. The film doesn't shy away from presenting a complete picture of the actor, including his often cantankerous and difficult nature, the joy he took in being part of Who, and the pain caused by his deteriorating health, which forced him to give up the role, Bradley is marvelous in this, and basically looks like Hartnell reincarnated. If you've ever at any point in your life enjoyed Doctor Who, you should watch this. 
Another Year. Written and directed by Mike Leigh, this film tells the story of an older married couple with a comfortable, loving relationship over the course of one year, surrounded by family and friends who mostly suffer some degree of unhappiness. Jim Broadbent and Lesley Manville play the main couple, Tom and Geri, while Bradley plays Tom's brother, Ronnie, who is dazed by the loss of his wife. Bradley earned a nomination for Best Supporting Actor from the London Film Critics Circle Awards for his performance in this film. 
[This video is no longer available.]
Broadchurch. This tense and surprising murder mystery follows the story of an investigation into the death of a young boy named Danny Latimer and stars such notable figures as David Tennant and Olivia Colman. Bradley plays Jack Marshall, a local man who lives in Broadchurch who comes under suspicion in the matter of Danny's death (as does most of the town at one point or other) and he will just break your heart. 
[This video is no longer available.]
Game of Thrones. This is probably the role most of you will know Bradley from, even if you don't know his name. He plays the infamous Walder Frey in the HBO television adaptation of George R. R. Martin's epic Game of Thrones novels, and he is basically the character that literally everyone in the world hates. If you've seen the show, you know why. If you haven't, well. Beware. 
The Harry Potter Films. Before everyone knew Bradley from Game of Thrones, everyone knew him from Harry Potter. He plays Hogwarts caretaker Argus Filch in seven out of the eight Potter film, another role that most fans love to hate. (Fun fact: Filch doesn't appear in Harry Potter and the Deathly Hallows: Part One.) As an infamous Squib whose favorite past time is catching students out after hours and who is obsessed with his caretaker assistant cat Mrs. Norris, it's hard to find a lot of sympathy for Filch, though it does happen once or twice. 
Our Friends in the North. This nine-part series follows four friends from Newcastle through the changes in their lives between 1964 and 1995. The story references many real-life political and social events, both specific to Newcastle and the country at large, including local government and police corruption, the UK miners strike and the Great Storm of 1987. The serial is commonly regarded as one of the most successful BBC television dramas of the 1990s. The drama features several faces that will be familiar to Anglophiles besides Bradley, including Christopher Eccleston, Daniel Craig, Gina McKee and Mark Strong. 
The World's End. Bradley's actually appeared in two out of the three installments in Edgar Wright's Cornetto Trilogy, though his role was more impactful in recent finale The World's End. (Sadly, he is not in Shaun of the Dead, which is a real shame.) The story follows a group of five friends who return to the small town they grew up in, to complete an epic bar crawl. Bradley plays Basil, as local town oddball who turns out to not be such a weirdo in the end after all. He's hilariously entertaining in a movie full of entertaining things. 
Honorable mention: Doctor Who. As seems to be something of a trend in these sorts of posts – this particular British Actor You Should Know gets an honorable mention for their Doctor Who appearance because, well, there are only so many actors in Britain and it seems like all of them end up on Who at some point. Bradley took his turn in Series 7, playing a dastardly space pirate (basically) in the episode Dinosaurs on a Spaceship. 
Thoughts? Are you a fan of Bradley's work? Did we leave out something must-see? Tell us in the comments! 
---
By
for on November 26th, 2013