By
for on December 11th, 2022
BritBox's 'Suspect' is a Star Turn for James Nesbitt, But Fails to Satisfy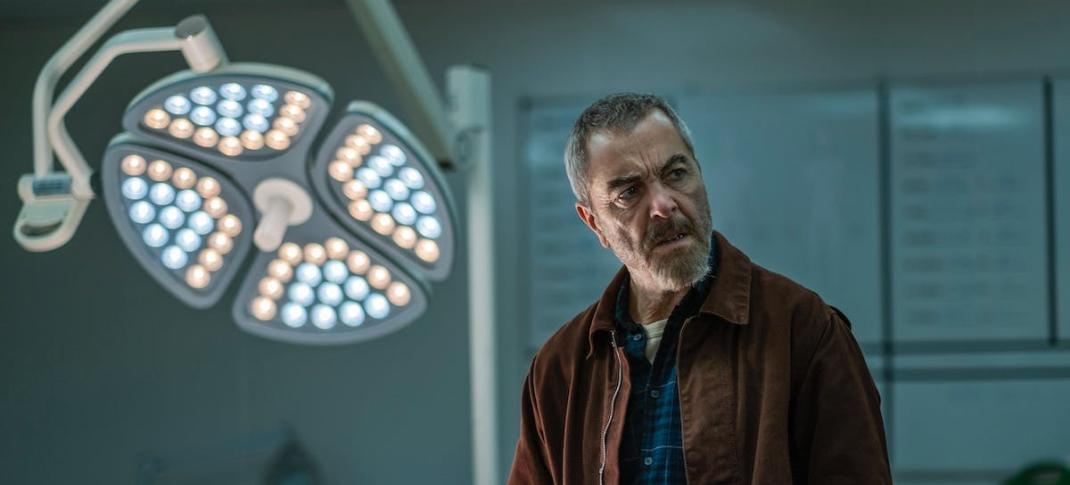 BritBox's Suspect is not your typical British TV crime series. It's the latest English language remake from Walter's Choice head, Walter Iuzzolino's production company, Eagle Eye Drama, a remake of the Danish series Face to Face (Forhøret), the original which debuted on PBS Passport in December 2022. Adapted by Matt Baker (who wrote the Walter's Choice Before We Die remake) and directed by Dries Vos (who directed the Walter's Choice hit Professor T remake), it stars James Nesbitt (Bloodlands), who headlines an exceptional cast as cop Danny Frater.
Grim, chaotic, and painful, there are rarely more than two characters on camera at one time, adding to the atmosphere of paranoia and claustrophobia that characterizes the series. But sadly, like previous Walter's Choice remakes, it doesn't really work, presenting us with a morass of details and distractions that limp to a long-overdue conclusion that doesn't make us feel justice has been done.
The series opens with Danny in a hospital mortuary where he's on a routine call to drop off some paperwork concerning the recently-found body of a young woman. Neither he nor pathologist Jackie (Joely Richardson) are much concerned about the suicide victim's identity until Jackie shares a few details — the quantity of hesitation cuts, excessive bleeding, and death by hanging — and receives a terrible shock when he uncovers his daughter Christina (Imogen King), from whom he's been estranged for several years. His emotional outburst is such Jackie summons Danny's boss Richard (Ben Miller), for help.
Having created chaos and stolen a few items, including Christina's and Jackie's keys, Danny evades Jackie and Richard by escaping through a different exit. He pauses as his daughter's apparition appears through the glass and asks him where he's been all this time. It's the first of several sweet and gentle exchanges in which she gives him no clue about how she died. Convinced she was murdered, he goes on the hunt for her killer.
Their relationship was difficult; Danny threw her out of the house for being LGBTQ+. The first stop for Danny is Christina's home, a sumptuous Thames-side apartment that raises the question of precisely what she did to afford it and why she lived separately from her wife Nicola (Niamh Algar). Nicola describes Christina as a damaged soul and believes her death was suicide. She and Danny cry together and share a cigarette, but his ruthlessness in questioning her makes us realize he is a cop who does not play by the rules (and not in a good way).
It turns out every single person who was involved with Christina lies. Even Nicola, heartbroken as she is, has stolen bitcoin data and a large wad of cash, proving Christina was involved in illegal activities. A the end of the episode, Nicola refers Danny to another of Christina's friends. This device links the episodes, as do Christina's ghostly appearances throughout, with each focusing on a different possible suspect. (Ed note: Hey, lookit, we have the title!)
Christina was involved with a strip club, the Crimson Orchid, Danny's next stop, where he meets manager Maia (Antonia Thomas). Maia tells Danny his daughter's been dealing for years, even when she lived at home. However, she'd recently gotten into new substances with digital transactions made untraceable with cryptocurrency. Maia admits that Christina betrayed her, cutting her out of a lucrative deal and stealing a boyfriend, but before that, they were good friends, and she misses her. With each new suspect, more of Christina's fraught relationship with her father is revealed as well; this episode features Danny with a photo from her apartment where she's riding the horse he bought her.
Maia refers Danny to the next cog, Jaisal (Sacha Dhawan), a disgraced cop who escaped prison thanks to Danny's testimony. He's now managing a nightclub/restaurant front for all sorts of illegal activity. Jaisal shows Danny video footage of her innocently dancing the night of her death until the internet goes down, conveniently giving Christina's ghost the screen. Jaisal and Christina were partners in drug dealing until recently when she started selling psychotropic substances. Then a customer died, and though the police report disappeared, she wanted to get out. Danny finds the CCTV and sees Christina leaving the club with his bagman and partner, Ryan.
Ryan (a ridiculously bulked-up Sam Heughan) is in the gym, where he seems to spend a lot of time between feeding his gambling habit. He's all concern for Danny, saying Christina was running with a fast crowd as they chew over family history and other disasters. Ryan can't deny he was at the club but proves he was making an arrest at the time of Christina's death, so he's in the clear. Danny, suspicious of the links between his daughter's death and his police colleagues, offers Ryan a ride back to the station. Finding a text on Ryan's phone from Harry Carr (Richard E. Grant), he crashes the vehicle, leaving Ryan unconscious while he steals another to track down Carr.
Harry owns the Crimson Orchid (natch!), and Grant's scenery-chewing suggests probably every crooked scheme in the U.K. to boot. Danny finds him at a racecourse (we're not sure how) and brandishes a gun. Naturally, Harry enthuses about Christina's fine mind and the wonderful philosophical discussions they enjoyed before admitting he masterminded the expansion to psychotropic drugs, thanks to his connections with the pharmaceutical industry. Ryan was the detective assigned to her client's death (and Jackie the post-mortem!). Ryan started blackmailing her, so she asked Harry to take over the business. He also reveals the story of Christina's horse, which Danny bought from Harry (who's grooming a racehorse as their conversation continues) and sold it to slaughter after throwing Christina out.
Danny collapses, weeping, and drops his gun, which Harry picks up and then uses to shoot the poor horse in front of him. With that out of the way, Danny finally answers the endless messages from Christina's mother, ex-wife Susannah, played by Anne-Marie Duff (Sex Education). (He's been busy with his tour of the criminal underground, ok?) They meet to view Christina's remains, and it's highly emotional for Susannah, while Danny is still driven and mostly crazy, and neither finds comfort in the other. And then Susannah just so happens to mention that she's moved on and is having an affair with Danny's boss Richard.
Danny reverts to cop mode and blurts out a piece of evidence, realizing which one of the suspects introduced over the last five episodes is guilty of the crime. But even though the twist should be satisfying (Ed note: And is in the original version!), in this remake, it comes off as facile, considering how many others there are to blame for Christina's fate, including Danny himself. Who really is to blame? The solution should be as satisfying as the journey, and Suspect, despite its terrific cast, doesn't deliver.
All eight episodes of Suspect are available on BritBox.
---
By
for on December 11th, 2022
More to Love from Telly Visions