By
for on February 27th, 2023
BritBox's Witty 'Death In Paradise' Spinoff 'Beyond Paradise' is a Hometown Charmer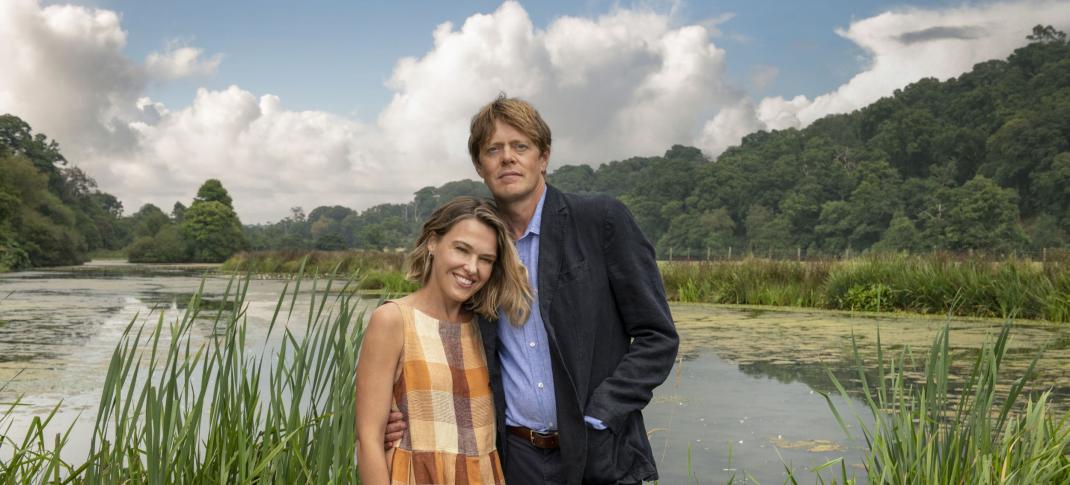 Just like 2022's The Sister Boniface Mysteries took a memorable character from Father Brown's long ago first season and spun her into habit-wearing mystery solving gold, the BBC and BritBox's latest series, Beyond Paradise, picks up pair of characters from Death in Paradise Season 6. After taking over the series from original lead DI Richard Poole (Ben Miller) in Season 3, heartbroken DI Humphrey Goodman (Kris Marshall) left the Caribbean island of Saint Marie to follow his true love Martha Lloyd (Sally Bretton) to London. The new series rejoins the now-engaged couple relocating to her hometown, the fictional Shipton Abbott in Devon.
It's what we talked about. Making a fresh start after all the madness, you running your own cafe and me finding lost tractors and missing sheep. Starting a family.
Beyond Paradise adheres to some of the favorite characteristics of the genre –– a picturesque small town in a gorgeous setting, and plenty of local characters with endearing or otherwise personalities. It also evolves naturally from Death in Paradise, with its one mystery per episode format and its strong, quirky characters thanks to the involvement of series' creator Robert Thorogood.
What is doesn't have is a steady body count. Instead, the show's creators writer Tony Jordan (Hustle, Dickensian) and director Sandy Johnson (Jonathan Creek) provide Humphrey with complex but non-lethal cases involving, as the six-episode season progresses, a stolen painting, the disappearance of an entire family, and an arsonist inspired by Three Little Pigs. Shipton Abbott is a much safer place than lethal Midsomer County, but with enough crime, petty or otherwise, to keep its four-person police team busy.
Humphrey discovers on his first case that everyone in the tight-knit, gossipy town is in each other's business, in each other's beds, and frequently in both. His future team is already in action, with PC Kelby Hartford (Dylan Llewellyn) introduced mid-chase with petty criminal Josh Woods (Chris Jenks) around the harbor. Kelby jumps into a boat and chugs across the water to intercept the shoplifter, who just wanted a bottle of perfume for his girlfriend's birthday — which he's now gifted the harbor waters. Longing to be part of a more modern and glamorous operation, Kelby mutters in disgust that he needs a taser.
His colleague DS Esther Williams (Zahra Ahmadi) is summoned by administrator Margo Martins (Felicity Montagu) to a road accident nearby. She is the first to meet their new Detective Inspector, who dangles from an oak tree like a giant, gangly spider after a hang-gliding mishap. Martha shows up to check on her fiancé but remains unfazed; such mishaps are part of life with Humphrey. They are optimistic about their new lives, and that they love each other is very clear. However, their conversation also hints they have also undergone more than one grueling IVF procedure and are anxiously waiting for the latest result.
Having just arrived in town, the two are currently staying at the family home. (Martha's mother, Anne (Barbara Flynn), loathes her daughter's husband-to-be.) Hoping to settle in their own place soon, Martha soon gets to work finding a venue for her cafe, while Humphrey fails to endear himself to anyone. 
It takes some time for Esther, a stickler for protocol and professional behavior, to come to terms with Humphrey upon his formal arrival. He is bumbling, untidy, eccentric, and wildly creative in his methods. He keeps notes and essential information on small scraps of paper stuffed into his pockets. But within days of his arrival, he persuades the entire department to participate in a strange physical exercise to prove a point about the case. They do so without much grumbling (Margo seems convinced he's inviting them to an orgy). 
The team's most pressing case is a woman claiming a witch assaulted her. Gwen Tyler (Montserrat Lombard) was on a stepladder to change the lights on a balcony when she fell to the floor below, "knocked off," in her words, by Old Mother Wheaten, a 17th-century witch and noted a tourist attraction who even has her own visitor center in the nearby woods. Humphrey and Esther visit the scene, which they upgrade to attempted murder, when they discover the stepladder moved and Gwen dragged across the floor. Gwen, severely injured, claims she was alone in the house, save Old Mother Wheaten, depicted in a large, gruesome oil painting.
Security cameras show no one left or arrived. Her husband Ben (Davood Ghadami) has an alibi, having been at a dinner party with the town's other movers-and-shakers, including her former business partner Peter Meadows (Dan Mersh). Aspiring MP Yvonne Wiley (Samantha Spiro) and her husband Patrick were also on hand; the latter installed the Tylers' security system and assures Humphrey that it would not be possible for anyone to edit the video without leaving a trace. The case leads Humphrey to uncover a tangled web of adultery, financial mismanagement, and tinkering with mobile phone data, a very un-17th-century sort of magic.
But in what is perhaps Beyond Paradise's most brilliant move, it breaks away from the standard approach in which the lead detective tells all in the standard trope of an audience gathered in a drawing room setting, revealing whodunit in front of all and sundry. Instead, Beyond Paradise's reveals rewind the clock, taking us back to the place and time of the crime scene and putting our lead detective in the thick of it. There, Humphrey explains in real time what happened, hovering around the actors, explaining and demonstrating. This innovative approach is highly effective, and it's fun to see Humphrey keeping his flailing limbs in check, dancing around the villain.
With Death In Paradise sticking around for at least two more seasons, hopefully, Beyond Paradise will soon join it in being recommissioned for further Devon adventures. Beyond Paradise released its first episode in the U.K. and on BritBox on Friday, February 24. New episodes will roll out on air and streaming every Friday on both sides of the pond through March 31, 2023.
---
By
for on February 27th, 2023
More to Love from Telly Visions