By
for on September 26th, 2022
BritBox Sets 'Karen Pirie' for an October Debut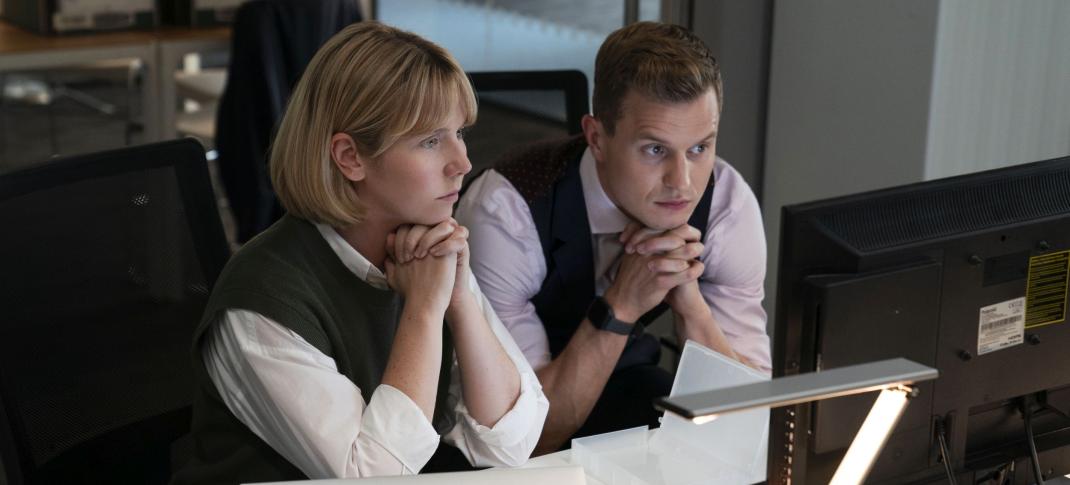 Here at PBS, we've been touting Masterpiece's all-female detective lineup for fall, with Kate Phillips returning as Miss Scarlet, Nicola Walker from Unforgotten in Annika, where she played the titular detective, and Lesley Manville in the new series, Magpie Murders. But they aren't the only women detective on the case in October. BritBox also has a new series, the Scottish detective Karen Pirie, based on the best-selling novels by Val McDermid and adapted by Father Brown's Emer Kenny, who also co-stars in the series.
Starring Lauren Lyle (Outlander) as the series' titular sleuth and Kenny as Karen's BFF, River Wilde, the series is primarily set in and around the Scottish university town of St. Andrews. The titular Pirie is part of Police Scotland's Historic Cases Unit; the first season's adventure concerns a 25-year-old cold case after it becomes the season-long subject of a popular True Crime podcast. As the trailer shows, the brass decides that this time, having a woman in charge of the case could make all the difference. 
Karen Pirie is the third series adapted from McDermid's works, the first in a while. The first two, Wire in The Blood and A Place of Execution, were done in 2002 and 2008, respectively. Like those adaptations, the series runs three feature-length episodes. Though it has not been renewed yet, McDermid has plenty of Pirie books in her bibliography that could quickly provide multiple follow-up seasons. The series is being produced by World Productions, which is the same outfit behind the Jed Mercutio hits Line Of Duty and Bodyguard.
Here's the series synopsis:
Karen Pirie on DS Karen Pirie, a truly contemporary and brilliant young Scottish detective with a quick mouth and tenacious desire for the truth. In this opening story, based on the first Karen Pirie novel A Distant Echo, newly promoted Karen is tasked with reopening a murder investigation that has been the subject of a controversial true crime podcast. When teenage barmaid Rosie Duff was found brutally murdered in a St. Andrew's graveyard in 1996, suspicion fell on the three students who discovered her body. But with a lack of forensic evidence, no charges were brought and the investigation floundered. Twenty-five years on, someone is willing to risk everything to keep the secrets surrounding the case hidden. Do the three men know more than they previously revealed? How flawed was the original investigation? And can Karen uncover the truth of what happened to Rosie that fateful night?
Lyle and Kenny are joined by a talented cast, with Zach Wyatt (Blithe Spirit) as DS Phil Parhatka and Chris Jenks (Sex Education) as DC Jason "The Mint" Murray, her main crew. Other co-stars include Anna Russell-Martin (Annika), Jhon Lumsden (Pancake), Jack Hesketh (Beautiful Disaster), and Buom Tihngang (Death In Paradise). Guest stars include Michael Schaeffer (The Salisbury Poisonings), Ariyon Bakare (His Dark Materials), and Alec Newman (Unforgotten). Gareth Bryn (Hidden) directed all three installments. 
Karen Pirie debuts on BritBox with all three episodes on Tuesday, Oct. 25, 2022.
---
By
for on September 26th, 2022
More to Love from Telly Visions