By
for on March 16th, 2013
The Best of Red Nose Day 2013: The Office, The Vicar of Dibley and More!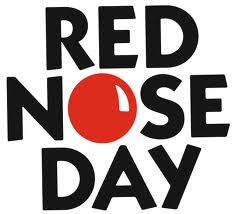 The BBC's annual Red Nose Day charity telethon to benefit Comic Relief took place yesterday (March 15) and, just like every year, there were many hilarious gags and skits featured, all for a good cause. While my favorite Red Nose Day sketch of recent years is still probably the amazing Uptown Downstairs Abbey, there were some real winners this time around as well, most notably the returns of both The Office and The Vicar of Dibley, and a particularly hilarious mashup of Call the Midwife and Doctor Who.  
I do love Red Nose Day – though I am greedy enough to feel like there didn't seem to be quite as many skits this year. Or maybe that was just because I thought the bits about Miranda Hart planning a wedding or the weird Everyone Wants to Marry Simon Cowell bit was tedious. But, the bits that worked? Really worked! 
Doctor Who Meets Call the Midwife: I can't decide what part of this sketch is more awesome, the Doctor and Sister Evangelina flirting or everyone finally banding together to shout at the super sappy Vanessa Redgrave voiceover. Eleventh Doctor Matt Smith is tremendously adorable in this.
[This video is no longer available.]
The Office Revisited: As promised, Red Nose Day also brought us the return of The Office, or at least the return of star Ricky Gervais as the infamous David Brent. Sadly, there's no Tim or Dawn or Gareth in this clip (sadness!) but it's so good to see David again that it's almost okay. (Allright, no Tim is never okay, but what can you do.) I may have gotten a little sappy just about the couple notes from the theme music in the opening moments. And it's still hilarious after all these years. 
It turns out that Gervais also made an actual music video for David's Equality Street single. Hilarity ensues.  
If you enjoyed the Red Nose Day Return of Brent, you'll probably also be pleased to hear that Gervais is planning to create more original content featuring his The Office alter ego for YouTube. Gervais' new channel will feature a variety of original content, in addition to the further adventures of David Brent, but let's be honest, that's mainly what I'm subscribing for anyway. 
The Vicar of Dibley Star Dawn French and many of the cast from The Vicar of Dibley are back, alongside Homeland star Damien Lewis, who may surprise many people with his actual accent. 
---
By
for on March 16th, 2013
More to Love from Telly Visions