By
for on October 7th, 2013
Benedict Cumberbatch's Short Film 'Little Favour' to Get Worldwide iTunes release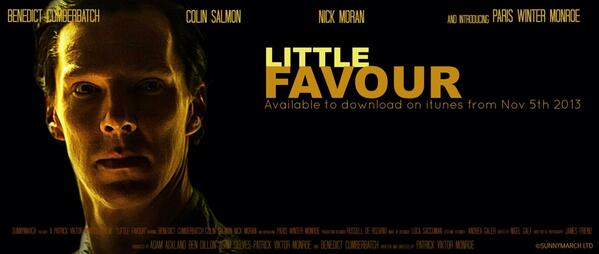 It's a day that ends in "y", so it's probably time to watch a preview for a new Benedict Cumberbatch project of some type. This is in no way a complaint, mind you. At all. We can do this everyday; it's cool.
The Sherlock star's latest is a new independent short film project, an action thriller entitled Little Favour. The film was made by production company SunnyMarch – a collaboration founded by Cumberbatch himself, along with friends Adam Ackland and Ben Dillon – and made headlines earlier this year by way of its super successful Indigogo public fundraising campaign. We're talking £85,000 worth of successful, just so you know.
A brief teaser trailer was released a few weeks ago, and now a proper trailer has finally arrived, which you can watch below. (Spoiler: It looks amazing.) Best news of all, however, is probably the announcement that Cumberbatch fans around the world won't have to struggle with how to see the film for themselves – a frequent problem in a global media marketplace. 
Fans who funded the project at certain levels via Indiegogo will get first dibs on digital access to the film, but according to Ackland himself, Little Favour is getting a worldwide release via iTunes on November 5th, with festival dates still to come. So mark your calendars and get ready to download!
In the meantime, content yourselves with this (lovely) new full trailer for the film, which looks rather fantastic. Watch: 
[This video is no longer available.]
The official synopsis for Little Favour reads: ""It's been 7 years since Wallace left Her Majesty's service and 10 years since the American counterpart who became his friend, saved his life on a joint mission in Iraq. He's migrated his skill set into a lucrative business while managing to keep his secret battle with PTSD under wraps. One day, while finally deciding to try his hand at a functional relationship, his old friend James cashes in his chip and asks a "little favour". How could he refuse when he owes the man his life?"
Dun dun dun….sounds exciting doesn't it? (Or at least the sort of exciting that appears to lead to Cumberbatch engaging in fisticuffs and ending up covered in blood.) Seriously it looks great.
Are you planning to check out Little Favour when its released? 
---
By
for on October 7th, 2013