By
for on September 7th, 2013
Benedict Cumberbatch to Star as Explorer Percy Fawcett in 'Lost City of Z' Adaptation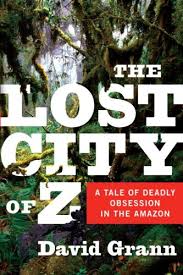 In what should surely come as a surprise to no one at this point, Sherlock star Benedict Cumberbatch looks set to add another intriguing film role to his already overstuffed resume of late. The actor is in talks to star in The Lost City of Z, an adaptation of the best-selling David Grann book of the same name.  
Grann's narrative nonfiction tells the story of British explorer Pecy Harrison Fawcett, who disappeared in the Brazilian jungle along with his son and another companion in 1925. The group had been attempting to locate a lost civilization hidden in the Amazon, which Fawcett claimed he had discovered and called the City of Z. They were never seen again, their bodies were never found, and their quest remains a great unsolved exploration mystery.
James Gray is set to direct from a script he adapted and word on the internet is that the project has been in development for several years, though it's struggled with finding funding and a lead actor. Those problems certainly seem to have been solved at present, so fingers crossed.
Cumberbatch recently dropped out of Guillermo del Toro's horror flick Crimson Peak, so perhaps Lost City of Z is the new role that's set to replace it, since it would appear that all those rumors about the actor joining the cast of Star Wars Episode VII appear to be so much wishful thinking at this point. Which is fine by me, as this role frankly sounds a lot more interesting.
No word yet on when filming is expected to commence or when this might hit theaters, but given that we can still see Cumberbatch in The Fifth Estate, August: Osage County, 12 Years a Slave and The Hobbit: The Desolation of Smaug before year's end, it doesn't seem like the wait for it is going to be terribly tedious or anything.
Thoughts? While it's no Holmes or Hawking, this certainly sounds like yet another interesting real-life role for Cumberbatch to tackle. (And I can't be the only one kind of getting an Indiana Jones vibe from this story, can I? Bring it on.)
Source: Deadline
---
By
for on September 7th, 2013