By
for on August 22nd, 2014
Benedict Cumberbatch, Matt Smith and a Slew of Other Brits Take the Ice Bucket Challenge for Charity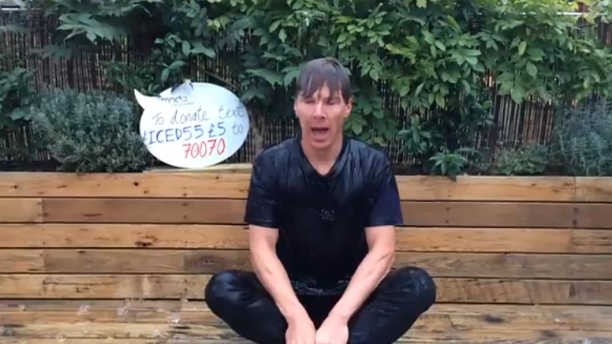 As you've no doubt seen on some form of social media at some time over the last week, the
ALS Ice Bucket Challenge
, a viral online campaign which encourages people to dump ice water over themselves to raise money and awareness for organizations
supporting research into and treatment of the neurodegenerative disease ALS
is the biggest thing going on the internet right now. (FYI, ALS is also known as Motor Neurone disease in Britain.) The idea is that you face down the bucket of ice water then nominate three friends to do the same within 24 hours and make a donation.
Pretty much every famous person you can think of has done this – from President George W. Bush to Oprah Winfrey to Bill Gates to Chris Pratt. And, of course, everyone's favorite Brit of the moment, Benedict Cumberbatch. Who, quite frankly, may have done the most epic take on the challenge yet. 
Cumberbatch douses himself with water no less than five times, and there's a motorbike involved and his shower makes an appearance, among other things. Yeah, so, game on, rest of the world.  
Several other notable British celebrities  have also taken part in this viral charity effort this week including Tom Hiddleston, Matt Smith, Luke Evans, Rupert Graves, Robert Pattinson and more. In the interest of fairness, it seems wise to present them to you as well, so that we may better judge whose is really the best. 
Hiddleston appears to have shot his video in his backyard garden: 
Evans, on the other hand, seems to have put his together outside his trailer during a film shoot:
[This video is no longer available.]
Doctor Who star Smith was incredibly enthusiastic: 
Pattinson took on his challenge sans bucket, but with plenty of help from friends: 
[This video is no longer available.]
 Game of Thrones star Sophie Turner did hers in a hotel shower: 
[This video is no longer available.]
Soccer legend David Beckham did his shirtless: 
[This video is no longer available.]
Sherlock star Graves seems to have been slightly confused about the point of the challenge, but was apparently really eager to dump water on himself: 
[This video is no longer available.]
As you can see, everyone is getting involved in this. If you'd like to see more celebs dumping water on themselves in aid of a good cause, this YouTube channel seems to be compiling the majority into playlists.    Who's your favorite so far? 
---
By
for on August 22nd, 2014
More to Love from Telly Visions