By
for on April 20th, 2020
'Baptiste' Season 1 Episode 2 Recap: "Measure of a Man"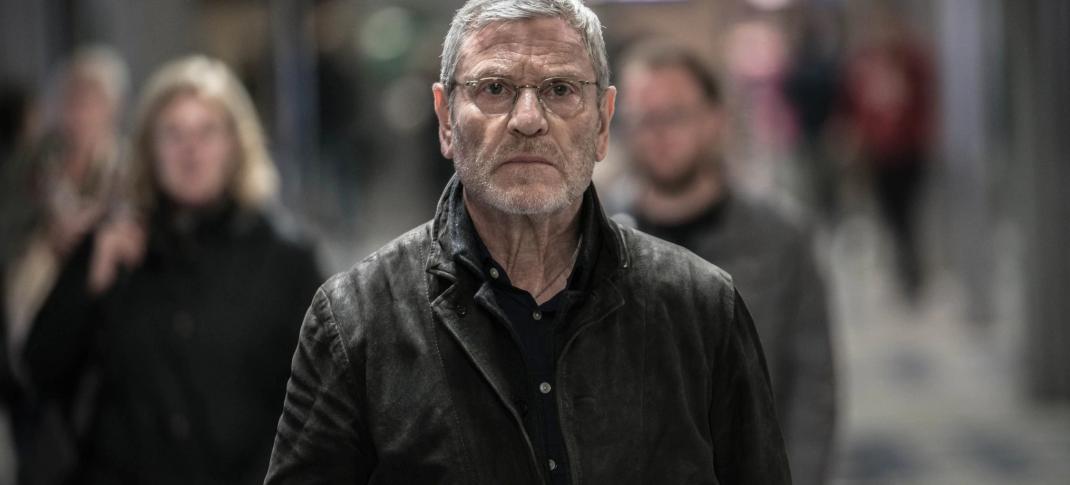 After last week's wild ending which revealed Natalie Rose alive and Edward Stratton with a head in his basement, this week's Baptiste picks right back up at Natalie's houseboat hideout. Stratton isn't her uncle; he's a client, and an obsessive one at that. Natalie says he began double and triple booking and then demanding to know how much she would charge to be his kept woman.
When she told him that wasn't an option, Stratton broke her jaw. Baptiste is perplexed, both that this man he trusted was such a liar, and must have known his lies would collapse the moment she was found. Natalie is amazed she has to spell it out for him: Stratton doesn't give a damn about the police because he's untouchable.
Baptiste: The only way to trust someone is to trust them.
Stratton: Ernest Hemmingway.
According to Natalie, Stratton part of an international Romanian gang, the Brigada Serbilu, who traffic girls in and out of the country. The cartel uses him because he "doesn't look the type." No one asks what an Englishman who works in shipping brings to and from the Netherlands. Just because the government gives girls like her the right to sell themselves doesn't make it safe. She keeps her head down and pretends not to notice. Baptiste initially refuses to believe her, because otherwise wouldn't she have left the country? Why not go to the cops?  She says half of them are on the gang's payroll. But despite his protests, when Stratten calls, Baptiste does not pick up the phone.
Constantin rings Stratton and says Baptiste found Natalie, though they've failed to track where he went. He seems rather disdainful of Stratton's behavior, pointing out Natalie will tell Baptiste the truth. If Stratton wants, they can remove the detective from the picture. But Stratton refuses, saying he'll deal with it before pulling a gun from its hiding spot.
Finding himself in a situation where things are not clear-cut black-and-white bad-guy-kidnaps-child, Baptiste is angry. He calls Martha and demands to know what kind of department she's running, why no one did a lick of research before randomly handing the case off to him. Baptiste then goes to meet Stratton as planned. But he's is a lousy liar, and when he says he cannot continue on the case, Stratton understands it's a confession that he knows the truth. Stratten breaks his middle-class act and tells Baptiste to get out of his way: "I'll find her myself." He then steals Baptiste's car keys as he exits. When Baptiste reaches the car, he realizes Stratton has checked the GPS log.
The cold open introduced cancer survivor Niels (Boris Van Severen), he turns out to be Martha's son. She asks about the operation he was supposed to schedule, but Baptiste's frantic call to save the girl interrupts. But Constantin is already there. Natalie attempts to escape underwater but gets her foot caught in the ropes tying the houseboats to the pier. When Neils arrives, the houseboat it's empty. Baptiste is enraged and calls Stratton back up. They both react in horror when they realize that neither has Natalie. Baptiste runs outside and looks down in the water, but it's too late. The divers pull up her body. Niels tracks down Natalie Rose's next of kin, an ex-boyfriend, at the hospital with his son to identify her. 
Back at home, Baptiste is blaming himself, and feeling like he's missed something important. Sara and Omar take the baby for a walk, and there is a very deliberate piece of dialogue about how she and her mother have the same phone case and keep grabbing the wrong one. Meanwhile, Stratton goes to see Kim with a gun in his pocket. He tells a story about torturing animals at the age of nine to punish a bully and how it taught him that everyone has something to lose. He's terrifying, unhinged, and would have killed her, but Greg walks in and interrupts.
Martha sets up a meeting with Baptiste and Niels, who it turns out is part of the Europol task force that's working to bring down the Brigada Serbilu. Niels insists Stratton is clean as a whistle and seems sure Baptiste has this all wrong. If Stratton were involved, they would know. He wants Baptiste off the case, but Martha sides with her old friend; they need to question Stratton. But before Niels can ask for him to be brought in, he's told Stratton has walked into the station, volunteering to give evidence. He claims to have spent the time Natalie died at a cafe, which the CCTV confirms, but Baptiste Baptiste recognizes it's a performance, an alibi while someone else searches the house. 
Remember the tulip farmer? His dog didn't find a body, but considering the size of the gym bag, it wasn't a bad assumption. It's thousands of euros. After thinking it over, he takes his dog, and they head to the station to turn it in. But upon walking in, he sees the TV, and Natalie Rose's picture on the news. He stares frozen and then flees. Back home, he rifles through the mail until he finds a letter with a note in it. Whatever it is, it makes him cry before heading to the hospital. Noting Natalie's druggie ex-boyfriend at the vending machine, he slips into the room where the boy is resting and whispers for the child to come with him.
Baptiste goes home and finds Sara and Omar are still out. He starts making calls to figure out what he missed, beginning with Stratton's ex-wife, Clare. She fills him in about Lucy, their daughter, who died of an overdose at 19. (It's strikingly similar to the story he told about Natalie.) Lucy's death destroyed their marriage. As they talk, an email comes in from a contact in the UK. It's a photo of the headless man from Deal Constantin killed. Baptiste heads to Antwerp, deciding he must see Stratton again. But when he arrives, no one is home.
He breaks in and discovers the fly problem from last week. He follows the flies to the basement and finds the head, just as Stratton arrives home, pulling out a gun when he sees Baptiste's car and the door open. As they confront each other in the basement, back at the Baptiste house, Celia answers the bell to discover a man downstairs who has come to read the gas meter. You already know who it is.
---
By
for on April 20th, 2020
More to Love from Telly Visions