By
for on February 13th, 2016
'Ballykissangel': Where Are They Now?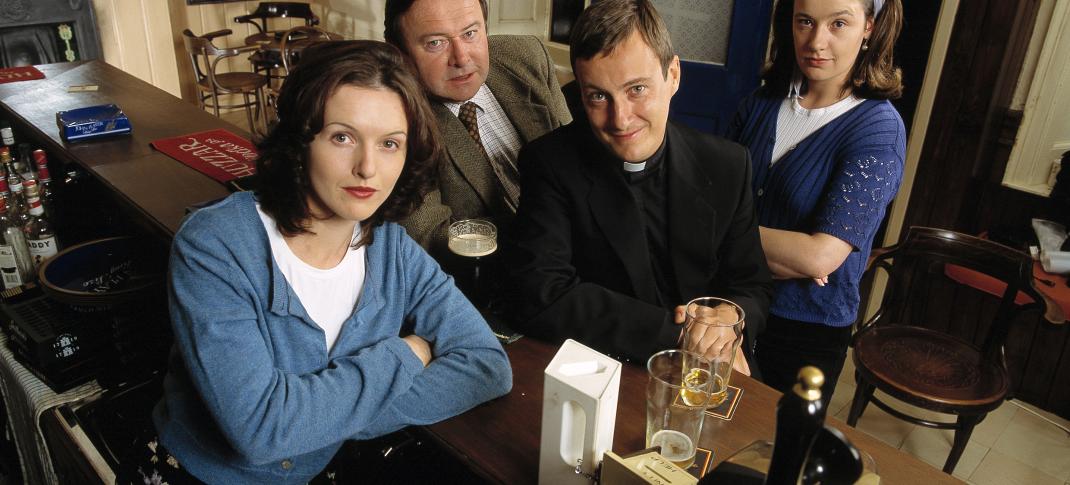 Twenty years ago this week, the BBC aired the first episode of the popular dramedy Ballykissangel. Set in a picturesque yet quirky Irish village, the show began with the arrival of Father Peter Clifford, a new Catholic priest sent by the diocese to Ireland from Manchester. Through his eyes we get acquainted with all the characters of the town, the first one being the strong-willed landlady of the local pub, Assumpta Fitzgerald.
Ballykissangel carried on for six series. Through it actors like James Nesbitt who played Assumpta's husband Leo and Colin Farrell who joined the cast in series four to play Dublin bad boy (and farmer Eamon's nephew) Danny Byrne were introduced to a larger audience. The program was picked up by a large number of PBS affiliates and, as far as I know, reruns are still being aired in the US to this day. However, significant turnover in cast members over the years eventually led to lower ratings and the show was finally canceled in 2001.
Never seen Ballykissangel? Take a look at a clip below: 
In the two decades since this beloved show's debut, its actors have gone on to other projects in TV, radio, film and the stage. Alas, several of the cast are no longer with us. In fact during the production of Ballykissangel, Tony Doyle who played the village's own version of Donald Trump, Brian Quigley, died in 2001 and had to be written out of the final series of the show. Birdy Sweeney, who portrayed Eamon Byrne, passed away and thus left the show in the fifth series.
Peter Caffrey who played troubled village mechanic Padraig O'Kelly left the series in 1999 and suffered a stroke the following year. Mr. Caffrey died in 2008.
On the lighter side, let's take a look at what has happened to the gang from Ballykissangel since they departed the show. 
Stephen Tompkinson (Father Peter Clifford) exited the series in 1998 and has been one of busiest and most successful actors from this cast. He went straight from priest to builder in a dramedy costarring Robson Green about dysfunctional brothers called Grafters. He played a vet and game reserve owner for seven seasons in Wild at Heart; he played a grocery store pharmacist in the sitcom Trollied, and for the past six years he's been the title character in his own crime drama, DCI Banks.
Dervla Kirwan (Assumpta Fitzgerald) left Ballykissangel at the end of Series 3 in a rather shocking fashion. (Bad pun, I know!) In 2001, she joined forces with former co-star Tompkinson to make Shades, a mini-series about two people who meet unexpected ends and join forces to face their respective unfinished business. Kirwan also appeared in the 2009 film Ondine, this time with another BallyK alum, Colin Farrell. In 2011, she appeared in the crime thriller mini-series Injustice with James Purefoy. But it's surely her appearance as the power hungry Miss Hartigan in the Doctor Who Christmas episode 'The Next Doctor' that's her highest profile role to date.
Niall Tobin's old school Father MacAnally stayed with Ballykissangel for its entire run. After he left the religious life, he played a physician in the first series of Irish drama, The Clinic. He returned to wearing the collar, however, in the film Veronica Guerin. Also in 2001 he performed a one man show called Niall Toibin: The Revenge Tour as part of the Irish Arts Center's Comedy Festival in New York City. Toibin received the Irish Film and Television Academy's Lifetime Achievement Award in 2011. 
Tina Kellegher aka outspoken wife, mother, and pub owner Niamh Quigley/Egan/Dillion made her exit at the very beginning of Series 6. She went on to appear in the Irish police drama Single-Handed; she played a dying mother in Accused: Stephen's Story with Robert Sheehan; and she could be heard on the Radio 4 series Baldi as policewoman Tina Mahon.
Lorcan Cranitch joined the show in Series 4 as unwelcome but wealthy returning native Sean Dillion and left with Niamh after their wedding. Despite his short tenure in BallyK, Cranitch has been working nonstop since his departure. Some of his more notable credits include roles on TV series such as Rome, Atlantis, Fortitude, Penny Dreadful and the Hornblower TV movies.
"But wait!" you say, "what about Siobhan, Brendan, Dr. Ryan or Liam and Donal?" Never fear, all the supporting villagers you know and love are still alive and working. In fact Aine Ni Mhuiri who played local busy body and judgmental shopkeeper Kathleen Hendley actually appeared in this year's Oscar-nominated film Brooklyn as Mrs. Byrne - basically a local busy body and judgmental shopkeeper.
I hope you enjoyed revisiting Ballykissangel and discovering where many of your favorite actors from the show have ended up. If you'd like to chat about any aspect of the series, I direct you to the comments section below! 
---
By
for on February 13th, 2016
More to Love from Telly Visions