By
for on August 14th, 2013
Back To School – British Telly Style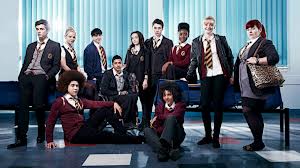 It's hard to believe another school year is about to begin. I reckon just like their American counterparts, British children are busily loading up their backpacks and rucksacks with new biros and pencils with fresh pink rubbers (a.k.a erasers) on the ends. No doubt they're looking forward to donning their smart school uniforms for the first day of school.
During the year ahead, these students may be worried about passing maths or revising for their GCSEs.  But more likely, they're probably just hoping that their regular instructor will fall ill and be replaced by an unseasoned, unsuspecting supply teacher. Or is he?
The task of challenging young minds has been a subject often tackled in wonderful British films such as Goodbye Mr. Chips, To Sir with Love, The Prime of Miss Jean Brodie and The History Boys which all featured dedicated, passionate pedagogues.
But if we're talking telly, far more often it's the comic side of the teaching profession that we see. Let's look at a few examples of less than perfect sitcom educators:
Bad Education – Alfie Wickers (Jack Whitehall). Alfie is a posh, immature new history teacher at Abbey Grove School. He comes to work hung-over, procrastinates when it comes to grading important exams and manipulates his students into lying for him. On the other hand, Alfie does have a unique and fun-loving teaching style.  Who knows?  Class Wars might actually make history come alive for Mr. Wicker's young pupils.
So far Bad Education doesn't appear to be available in the States, but as it's been re-commissioned for another season, I expect this is sort of sitcom that will find its way onto Hulu sometime in the future.
Teachers – Simon Casey (Andrew Lincoln). Mr. Casey teaches English on a trial basis at Summerdown Comprehensive School. Though stressed and desperate to keep his job, Simon just doesn't put in the work necessary to insure his promotion to a permanent faculty position. He envisions himself as the coolest teacher at Summerdown and he's quite prone to fantasizing about his students' admiration and a particular female teacher's intimate intentions.
I don't know that Simon should actually be a teacher, but I believe he does aspire to inspire.
All four series of Teachers can be found on Hulu. And if Simon looks familiar to you, these days actor Andrew Lincoln stars in that big US hit The Walking Dead. Zombies, teenagers. It's all the same, right?
The Inbetweeners – Mr. Gilbert (Greg Davies). As head of sixth form at Rudge Park Comprehensive School, Mr. Gilbert is one of those teachers who should probably take early retirement. Cynical, overly punitive, and entirely without compassion, Mr. Gilbert doesn't like students who grass on others, students who are sincere and ambitious… He just doesn't like students full stop. (Note this clip is actually from The Inbetweeners Movie).
The first two series of The Inbetweeners can be streamed on Hulu or Netflix. If you are looking for the third and final series, pop over to Amazon Instant Video or buy the complete series on Region 1 DVD.
So from whence will the next inferior education professional emerge? If I were a betting woman, I'd wager on the new sitcom, Big School.
Nominees for most incompetent teacher at Greybridge Secondary School include disillusioned and socially awkward science teacher, Mr. Church (David Walliams); Miss Postern (Catherine Tate), a French teacher whose never been to France; or in all likelihood, the insensitive male chauvinist PE teacher, Mr. Gunn (Philip Glenister). Yeah, my money's on the jock. Big School premieres on BBC One on August 16th. Who knows when we'll see it here in the States, but we'll keep you posted.
Share your pick for most awful telly (or film) teacher.  Miss Trunchbull and the chokey, anyone?
---
By
for on August 14th, 2013
More to Love from Telly Visions