By
for on May 23rd, 2021
'Atlantic Crossing' Episode 8 Recap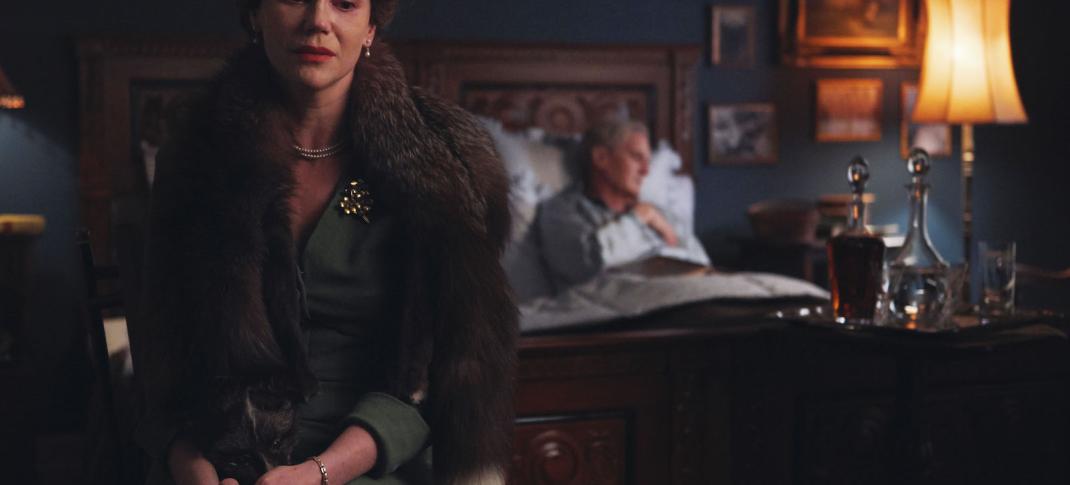 After the drama of Nazi spies in our midst and the break-up of the affair-that-probably-wasn't, I'm happy to report that the final episode of Atlantic Crossing gets us back onto familiar ground. We start off, however, with Olav drunk. He is flirting with women. He's obnoxious. Nikolai arrives to take him home, and Olav becomes insulting and abusive. Nikolai slaps his face. I'm not sure if that carries a sentence of beheading in Norway, but it subdues Olav, who probably doesn't even realize his father the King is waiting for them in the car, watching.
The next morning, the King wakes his hungover son with a dousing of water and summons him to a Cabinet meeting. There, Olav is nominated as Chief of Defense, the position he's wanted for so long, but the Minister of Defense proposes the nomination should be dropped and rephrased as an order. It's unanimous, and the King sends his son out of the meeting to get busy winning the war.
Olav receives a letter from Roosevelt, inviting him to the White House for Christmas; it's from the President because Märtha doesn't think he'll accept an invitation from her. Roosevelt, reading the letter to her, clearly isn't well, pale and indecisive. But Olav will only go if the President demands it and stays in England. While he's recording a New Year's Eve broadcast to Norway, he misses a phone call from Märtha. His father, who thought he should have accepted the President's invitation, chides him, reminding him that family is important.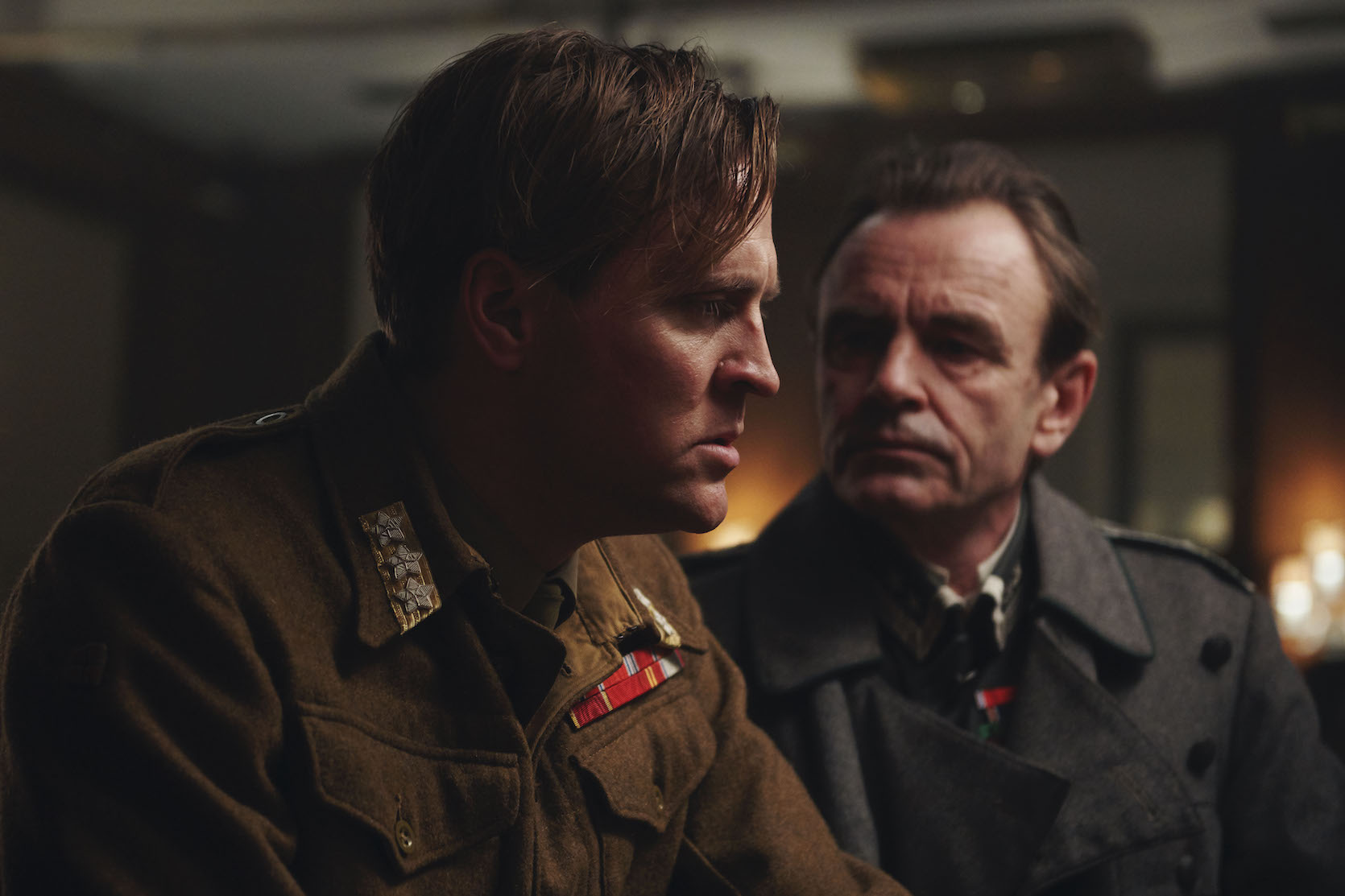 So Märtha (incidentally rocking a fabulous black lace dress and matching hat) is surprised to see her husband at a White House party early in the new year. Olav in turn is surprised that his son is fluent in English and has forgotten his Norwegian, so Märtha acts as translator. Harald is not responsive to his father. She's overheard her children talking about Norway and was saddened that they could hardly remember their life there, and wanted to stay in the U.S.
Olav is in the U.S. on business, to talk to the Allies before the Yalta Conference. He's scheduled to meet with the President, and Eleanor asks him to keep it as brief as possible. Olav makes his case for the survival of Norway. He's afraid that the Russians may lay claim to the country after liberating the northern part. Yes, Roosevelt agrees, Stalin is a tricky bastard, and gently chides Olav for his reticence toward Märtha. He expects to see them both in the White House for the victory party.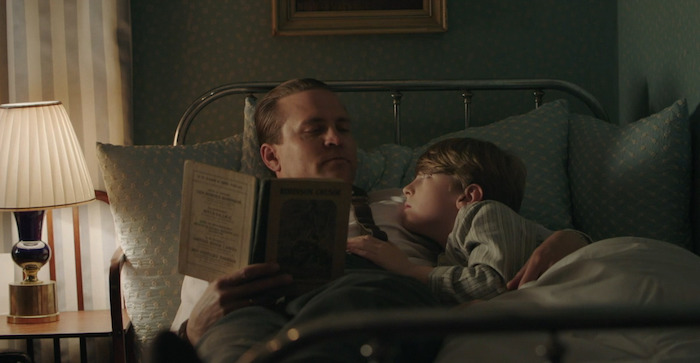 Seeing her son Harald warming to Olav, Märtha invites him to stay overnight at Pook's Hill. There, he cuddles up with Harald and reads Robinson Crusoe to him. Märtha looks in later and finds them both asleep. Early the next morning, Olav gets up to leave and finds his wife and children asleep. He doesn't wake them, but Märtha runs out after him as his car leaves, yet another missed opportunity. She's in tears, disheveled, the gray evident in her hair.
A month later Roosevelt returns to the White House from the Yalta Conference. Eleanor and Harry Holt are there to greet him, and are shocked by his frailty. Märtha reads in the newspaper that the White House has canceled a press conference, and she knows that something is wrong. But when she arrives at the White House, Holt refuses to let her see Roosevelt. He's resting, and the next day he's going to Warm Springs for treatment. She argues; he tells her that Roosevelt is not getting better, and doesn't want to see her.
Märtha threatens to make a spectacle, the ultimate threat to White House protocol, and barges into Roosevelt's bedroom. The frail President tells her to leave, and she hesitates before coming to sit on the bed. She asks him if he wants to take her for a ride, and sings Happy Days Are Here Again, fighting back tears. "Hold onto your britches," he responds, a shared catchphrase. And she leaves.
Later we see Märtha break the news to her children—they're all devastated, particularly Harald—and there's newsreel footage of the funeral. Olav, watching from England, is visibly moved. Märtha returns from the funeral and weeps in Ragni's arms.
Germany surrenders, and free Europe rejoices. But Olav and the King are reminded of the price their country has had to pay when they fulfill the solemn duty of awarding military medals. Among the many names, Olav sees one he recognizes— Thorbjørn Tradin, the young man he last saw leaving a pub with his wife who was about to give birth. He goes to visit Tulla in person, to present the medal to her.
The couple's story has had no happy ending. As Olav enters the apartment he sees an empty crib, and only Tulla has survived. Olav describes his visit as official business, to give her the medal awarded for fighting for the old country. Tulla responds:
No. Thorbjørn didn't fight for the old. He fought for the future. For a new and better Norway. We can't get back what once was. We have to do our best to look forward.
Olav, who possibly identified with the couple because of their youth and courage, and their impending life as parents, is shocked and saddened. He becomes convinced that he should go to Norway, but the King is afraid for his safety—the country is chaotic, there are still German soldiers at large. Olav argues his case, telling the King it's time for him to trust his son.
On his travels, he carries a briefcase that holds a sealed package and finally arrives at the house in which he and his family were so happy. It's forlorn and shabby, the front door open and windows broken. One of their horses is wandering around. Olav greets it with affection and a rush of emotion.
Inside, the house shows every sign of a hurried retreat and its recent German occupation. In the study, furniture and papers are in disarray; there's an abandoned Nazi flag and a portrait of Hitler on the wall. Olav is horrified, particularly when he comes across a form designed to record racial characteristics. He launches himself in a frenzy, clearing the room, smashing the portrait of Hitler, and ripping curtains down to let in the sunlight. His briefcase is lying open, the package open to reveal his family photographs, and he weeps.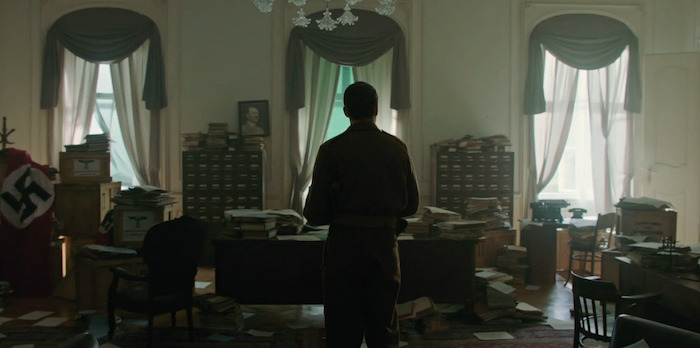 So, now, what about Olav and Märtha? All those longing glances they've been exchanging even when they've both been too hurt to talk about what divides them, the not particularly subtle nudges from Eleanor, King Haakon, and even Roosevelt himself, in his off-hand sort of way—what happens next?
Märtha and the children are on their way home, along with the King, sailing on the HMS Norfolk. Harald is the first to spot land, and the beginning of a flotilla of crafts of all kinds come to welcome them back and escort them home. Olav is aboard one of these boats, and while the King hovers like a royal fairy godmother, smiling broadly, he hugs his children and his wife. It's a tentative and shy reunion, but Olav admits that although he was meant to greet them as the ship docked, he couldn't wait. There's a clever interweaving of original footage, simulated original black and white, and the screenplay, reminding us that Märtha is busy with her movie camera.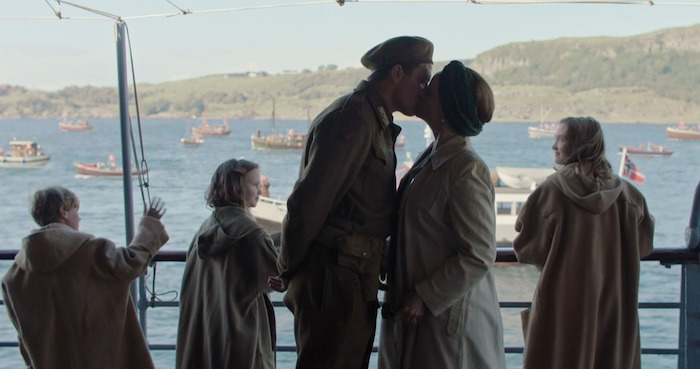 Following a massive enthusiastic public welcome home to the royal family, Olav, Märtha and the children are able to return to their own house. Olav has been busy, and although work is still being done on the house, he shows her the room which will be her office. In an eloquent gesture of forgiveness, apology, and love, Olav has placed a framed photograph of Märtha and Roosevelt at the launch of HMoMS​ King Haakkon VII on the desk. The episode ends with Olav and the children romping together in the garden as Märtha films, accompanied by Over the Rainbow.
It's an elegant and understated ending to a series that has carefully chosen what to invent and what to omit in this little-known history of World War II. We're not shown any grand groveling apologies, explanations, or recriminations between Märtha and Olav, although I was hoping that the cowboy hat (from Episode 1) might make a reappearance.
What are your overall feelings about the series? Did you find the ending satisfactory? Let's discuss!
---
By
for on May 23rd, 2021
More to Love from Telly Visions