By
for on April 4th, 2021
'Atlantic Crossing' Episode 1 Recap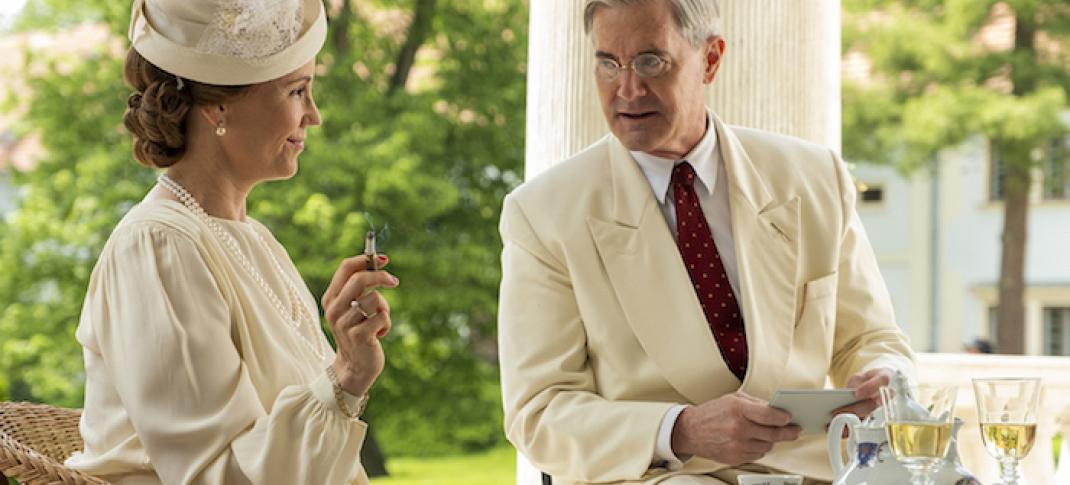 "Hello, cowboy," says Crown Princess Märtha of Norway (Sofia Helin) to her consort, Crown Prince Olav (Tobias Santelmann) as the new Masterpiece drama Atlantic Crossing kicks off. He is wearing a Stetson. It's 1939 and they're aboard a train on a goodwill visit to the U.S., having lots of fun (and sex), on their way to visit President Roosevelt (Kyle MacLachlan).
The press adores this good-looking, charming couple, and who can blame them, laughing indulgently when Märtha admits the thing she likes best about America is … her husband. They're royalty, but they live relatively simply, and they are friendly and approachable. FDR takes a liking to them, too; Märtha flirts with him, and Olav retrieves a grandson's ball from a pond, tactfully evading the issue of the President's mobility. Eleanor Roosevelt (Harriet Sansom Harris) gets down to business and asks them if they think Norway will be invaded and what the chances of war are. FDR dismisses her concerns.
A year later, though, the international scene has changed considerably. Eleanor and FDR study a map of Norway together. German's steel supply depends on access to Norway which means Eleanor's fears are well-founded. "Those poor people," she says, close to tears.
In Norway, Märtha takes photographs as her children, Princess Astrid (Amalthea Eik), Princess Ragnhild (Leonora Eik), and little Prince Harald (Justýna Brožková),  play in the snow. Their grandfather, King Haakon VII (Søren Pilmark) visits, and we see what an affectionate family they are. But Olav has ordered blackout curtains to be installed, just in case. German airplanes have been flying over the country, and Norway also feels under threat from the British who want to mine their waters to prevent invasion.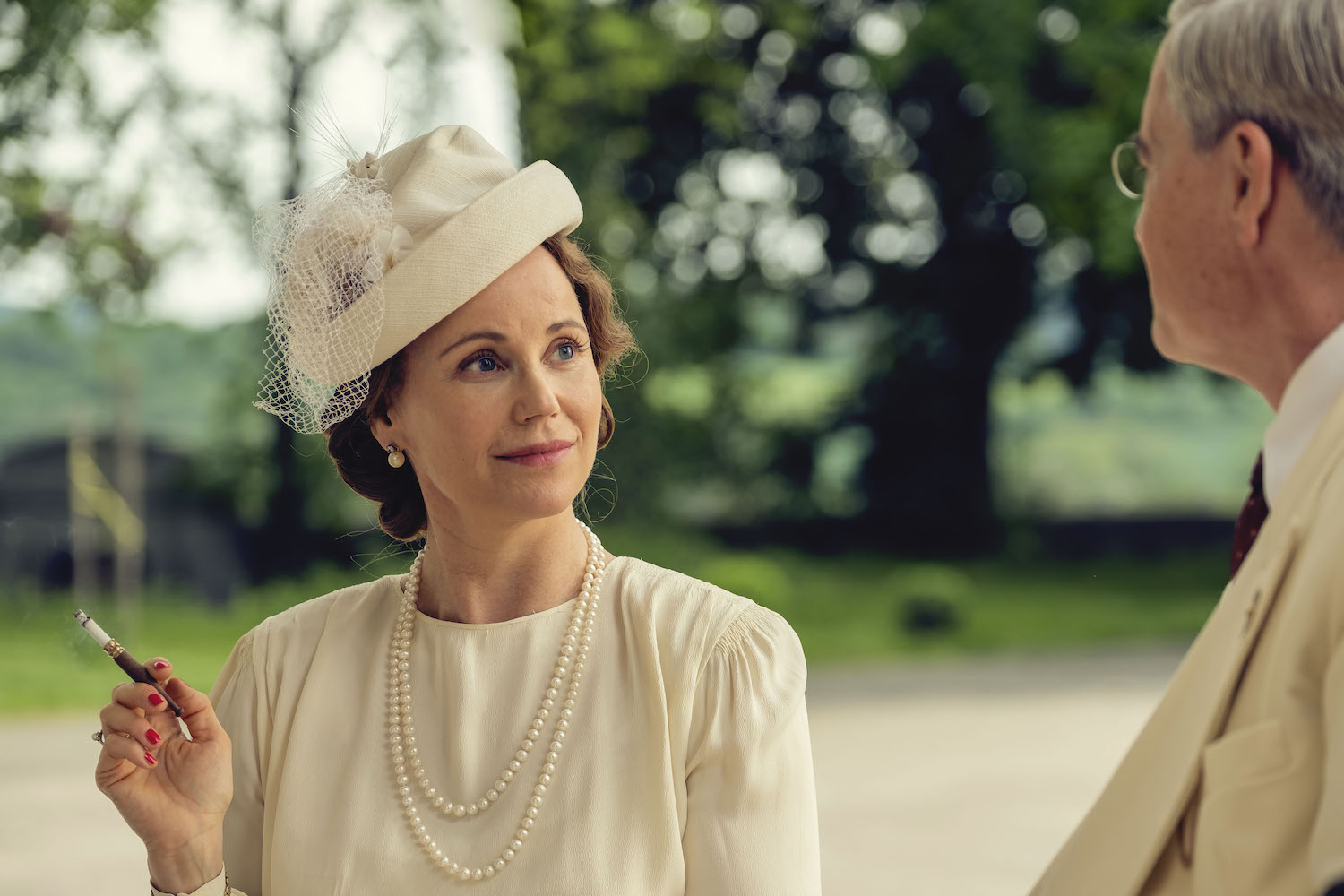 As the couple listens to Churchill on the radio, we switch to a scene of a passenger ship, the Mira, with many women and children aboard. They're enjoying the sunny sky and calm sea—I believe a deliberate choice was made to present this scene in faded, bright light, as though it's archival footage—until German planes fly overhead firing, creating damage and panic.
Olav receives this news while he's playing with his children, dumping them into the bathtub fully clothed with much splashing and squealing. His little son Harald has a toy ship with a gun, and Olav snatches it from his hands. The mood darkens.
That evening at a reception, Olav asks his Prime Minister how the country will respond to the attack. The Prime Minister assures him that all is well because the Mira made it safely to port. Committed to a position of neutrality, it turns out the government fears invasion by the British as much as an invasion from Germany. Even though Olav reminds him that 54 Norwegian merchant ships have been destroyed by the Germans, the Prime Minister will not back down. But U.S. Ambassador Florence Harriman (Suzanne Bertish) bluntly tells Märtha to prepare for the worst.
While the Swedish royal family lives in a relatively modest and informal style (compared to their British counterparts, for instance) they do have personal staff, and we meet those who are probably closest to them, Olav's adjutant Nikolai Østgaard (Lasse Kolsrud), and his wife (Ragni Anneke von der Lippe) who serves Märtha. Like the royal couple, they have three children, teenagers Ulla (Maria Annette Tanderø Berglyd) and Rolf (Nico Jones Clasen) and their youngest, Einar (Ondrej Gabriel). Ulla and Rolf, who seem better prepared than most adult Norwegians, have gone to a preparedness class given by the Red Cross when the news comes that Nikolai and Ragni must attend the royals, who are retreating to safety in Sweden. They take Einar and decide they'll leave a note for the older kids who can then catch a bus to join them. (A bus?! During an imminent invasion when the sky is full of German planes?)
Märtha weeps and shakes as she packs her jewels. Olav reassures her—surely the British will help. But he's in uniform and armed; he doesn't just want to be a figurehead, but his wife and children must be safe as he fights. The royal family, the Cabinet and the Parliament plan to travel to safety; German troops are closing in on Denmark. At the train station, the King advises calm and dignity while Olav mutters that planes overhead are Norwegian because they're old (not a good sign), and that mobilization is apparently being conducted by mail. The family is advised to take separate compartments on the train, in case it's attacked. The journey quickly becomes terrifying, as German planes fly overhead, and at the next railroad station, they run from the train and take refuge in a tunnel between platforms as bombs fall above them.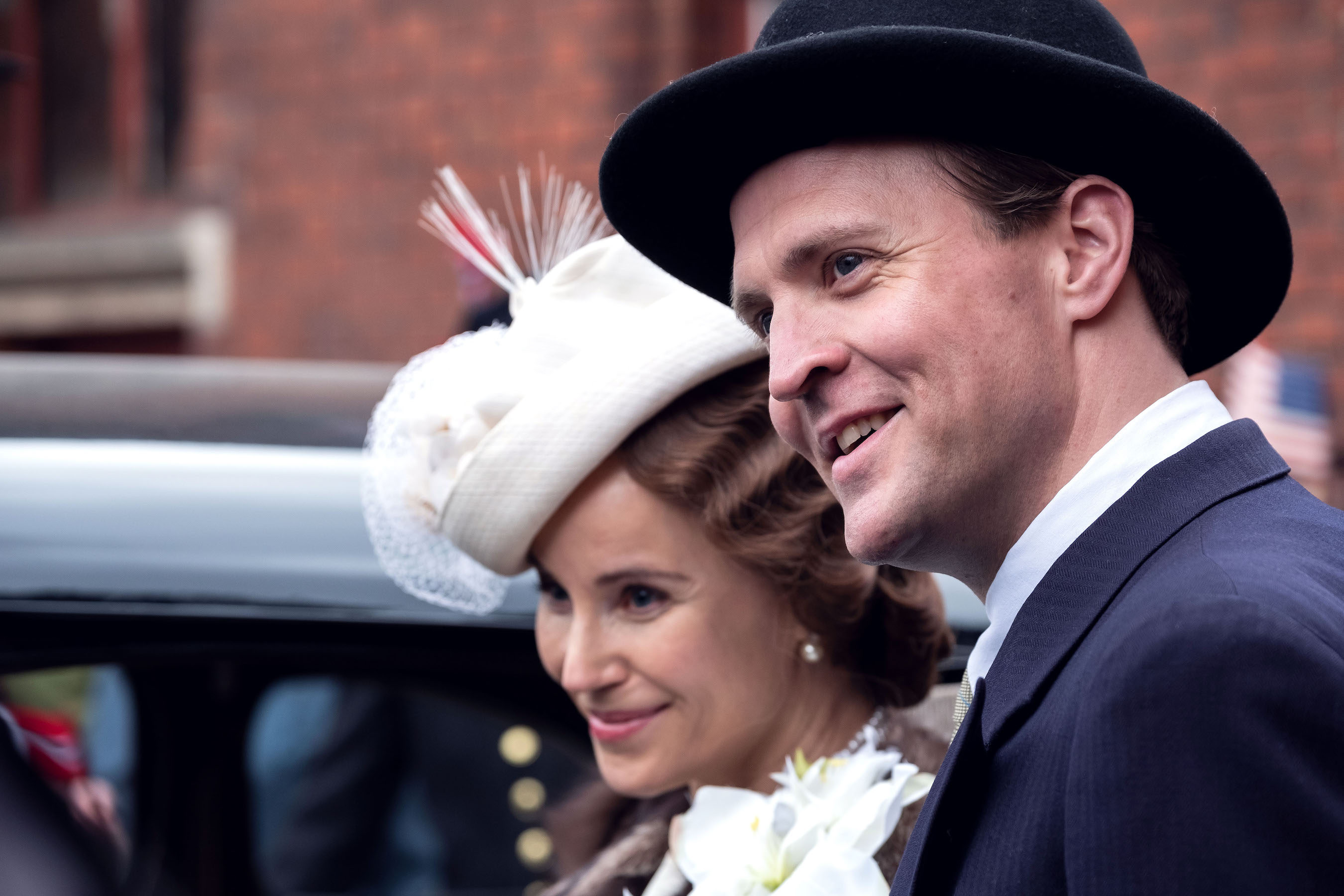 The journey continues by car, and it's very clear now that they're all in danger. The King and Olav leave the rest of the family, planning to meet Märtha and the children in Sweden; it's an emotional, tear-jerking farewell. Nikolai drives them through snowy woods until the car gets a flat tire. There are no tools in the car, and the lug nuts are frozen solid. He tells Märtha, Ragni, and the children to get onto the floor of the car and draws his gun. After a tense moment, Norwegian soldiers on skis emerge and promise to hold off the nearby German troops so that they can escape. And you know those brave soldiers don't stand a chance.
Presumably, the flat tire is fixed, and they continue on to the Swedish border. There, they run into a problem. They don't have their passports. (I was dumbfounded. It's not as though they were, I don't know, on a bus or something. Apparently, these everyday royal figures need to carry ID, even during an invasion.) For the first time, Märtha pulls rank and identifies herself, reminding the guard that she is the niece of the King of Denmark. He is not impressed. Nikolai backs the car off and then crashes the barrier, getting them to safety. He drops them off at a hotel and returns to serve Olav, who has also found safety, but the sound of planes overhead drives him and his retinue into the forest. We last see him shouting to find his father the King.
Meanwhile back in the city, Ulla and Rolf Østgaard have come back home to find their parents and younger brother have gone. They don't know that all the roads out are now blocked and Denmark has fallen.
German troops have invaded the royal residence and are now questioning the servants: Where is the royal family? Their commander instructs his men to use any means necessary to learn the truth. He is annoyed by the whimpering of the family's dog. You can guess what happens next.
What did you think of this first episode? Let's hope this intensity and tension continue in all seven episodes.
---
By
for on April 4th, 2021