By
for on November 24th, 2021
The 'Around The World In 80 Days' Trailer Brings 1870s Planes, Trains, and Automobiles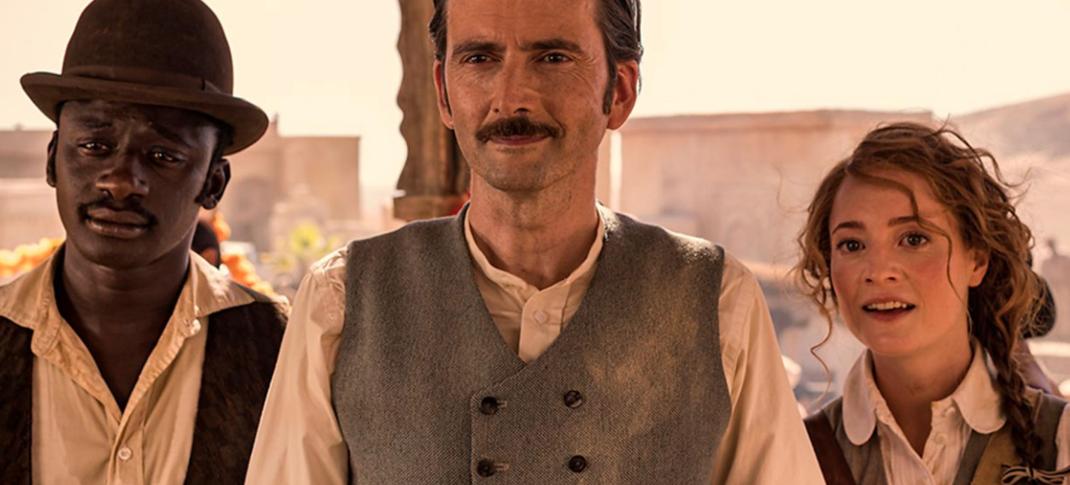 Jules Verne's Around The World In 80 Days has been a stone-cold classic of the burgeoning science fiction genre since it was first published in 1872. The story of the not-so-competent upper-class Phileas Fogg of London and his oh-so-competent working-class French valet Passepartout as they attempt to circumnavigate the planet in 80 days on a wager has been one of those boy's book adventures that's stood the test of time. The new adaptation, a co-production involving many countries, including France Télévisions, PBS/Masterpiece, the BBC, RAI, and ZDF, is bringing the romp to the 21st century.
As the trailer reveals, there have been a few updates. English gentleman-turned-adventurer Phileas Fogg, played by David Tennant (Doctor Who), will not just be accompanied by his valet, Passepartout, played by French actor Ibrahim Koma. They'll have female company as the role of the detective Inspector Fix has been completely reimagined to be a determined journalist by the name of Abigail' Fix' Fortescue, played by Leonie Benesch. But even more intriguing is that the series is adding a romance for Passepartout, as he and Fix will hit it off, and their attraction is mutual.
The first look reminds everyone just how utterly unprepared Fogg is to take on this journey. It also gives fans a look at just how many modes of transportation he and his companions will experience. Call it the 1870s version of Planes, Trains, and Automobiles: Balloons, Locomotives, and a Whole Lot of Walking.
The trailer does not indicate if Fogg's romance with Aouda (who was restyled as Princess Aouda in the 1956 film), who he rescues as she undergoes sati, will remain in the show. (Considering some of the problematic aspects, it would not surprise if the series changed it up somehow.) The synopsis also does not mention her.
The miniseries follows the trio as they head east from London on Oct. 5, 1872, intending to make it back to the reading room of the city's snobbish Reform Club no later than one o'clock on Christmas Eve. En route, they take ships, trains, balloons, camels, stagecoaches, and other transports as they face increasingly dangerous obstacles. Around the World in 80 Days is a classic tale with both adventure and heart as Fogg and companions face revolution, starvation, false arrest, life-threatening attacks, and other perils in an attempt to complete the bet.
Around the World in 80 Days will also feature a star-studded supporting cast, with Jason Watkins (The Crown) and Peter Sullivan (Poldark) in significant roles. Guest stars for the eight-episode series along include Anthony Flanagan (Gentleman Jack), Shivaani Ghai (Batwoman), Lindsay Duncan (A Discovery Of Witches), Dolly Wells (Dracula), Richard Wilson (Merlin), Facial Elkihel (The Missing), Gary Beadle (Grantchester) and Giovanni Scifoni (Leonardo). 
The series, which Life On Mars creator Ashley Pharoah is helming, is currently being billed as a limited series. The series is planned as a holiday debut in the U.K. and Europe. It will follow on Masterpiece with a premiere on New Year's weekend, beginning Sunday, Jan. 2, 2022, at 8 p.m. ET on most PBS stations. As always, check your local listings.
---
By
for on November 24th, 2021
More to Love from Telly Visions