By
for on February 13th, 2022
'Around the World in 80 Days' Recap: Episode 7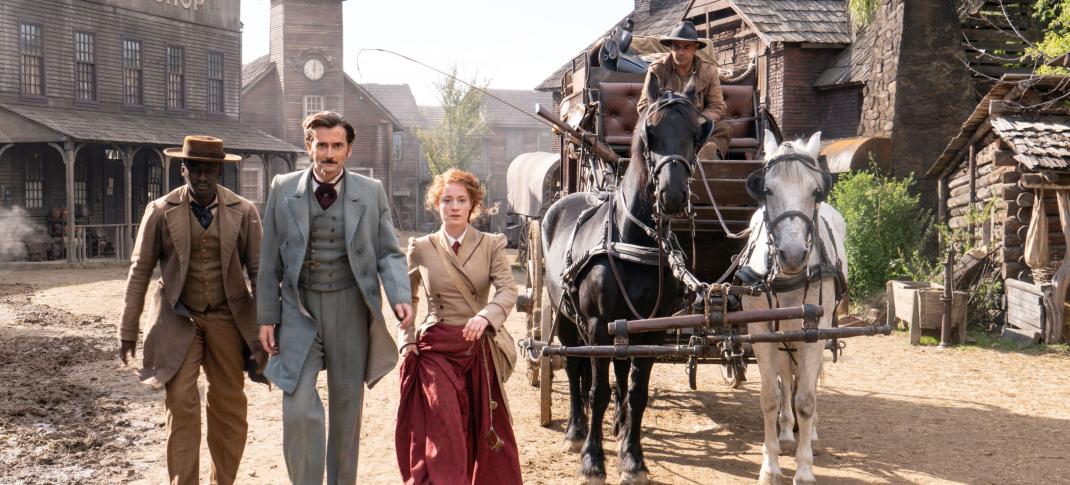 Hard to believe, but we have reached the penultimate installment of Around the World in 80 Days' globetrotting saga. Last week, our travelers were marooned on a desert island with few resources and their wits to get them back to civilization. 
It's Day 65, and we've reached the breathtaking Rocky Mountain region via an exceedingly jarring stagecoach journey. Battle Mountain is the destination, where the trio will catch a cross-country train to New York City. Provisions are low, and their margin for unexpected stops or breakdowns is almost non-existent. So predictably, they are flagged by a man with a rifle who wants to commandeer their coach.
Bass Reeves (Gary Beadle) — the first black US Marshal west of the Mississippi — is transporting a prisoner to Louisiana to stand trial for violating civil rights. Sally (Elena Saurel), the stagecoach conductor, isn't keen on them, but it's Mr. Fogg's decision since he's paying. Once settled, the prisoner, Colonel Ambrose Abernathy (John Light) introduces himself; he recognizes Fogg from the newspapers. He informs the trio everyone thinks they fell overboard and are presumed dead.
Abagail suggests they send a telegram to her father, but Phileas opts to sort things out when they get back to London. The stagecoach stops to water the horses; while they wait, Abernathy engages Phileas in conversation about his admiration for England, where there" is a place for everyone and everyone in their place." The fugitive also tells a disbelieving Fogg that Abigail and Passepartout are getting inappropriately close and he should do something about it.
Meanwhile, Bass fills Passepartout in on his prisoner. The lawman tells him about the Klan, Ambrose's secret society, who don hoods to terrorize and murder black people. Losing the war has forced such men into the shadows. Reeves says he'll continue to fight to remain a free man. The marshal reminds Passepartout of his brother, who gave his life for a cause. The young Frenchman doubts he'd be willing to die for anything, but Bass says he'll only know in the moment. 
Unfortunately, Abernathy's gang is tracking them. Once they cross the path of a horse without a rider and detect stagecoach tracks nearby, they deduce that they'll find their friend in Battle Mountain. Meanwhile, with the stagecoach underway again, Abigail chats to Reeves about his firearms. Her father taught her how to shoot when she was younger. The marshal loans her an elegant pistol, which he confiscated from Abernathy. 
As on arrival in Battle Mountain, Fogg is ecstatic they can still make the train. Townspeople look suspiciously at the marshal walking his fugitive through the main street, as Sally suggests the saloon for a quick meal. As she bids Fogg farewell, she comments on how soft his hands are. He's taken aback by her forthright, flirty manner, but maybe he's flattered as well.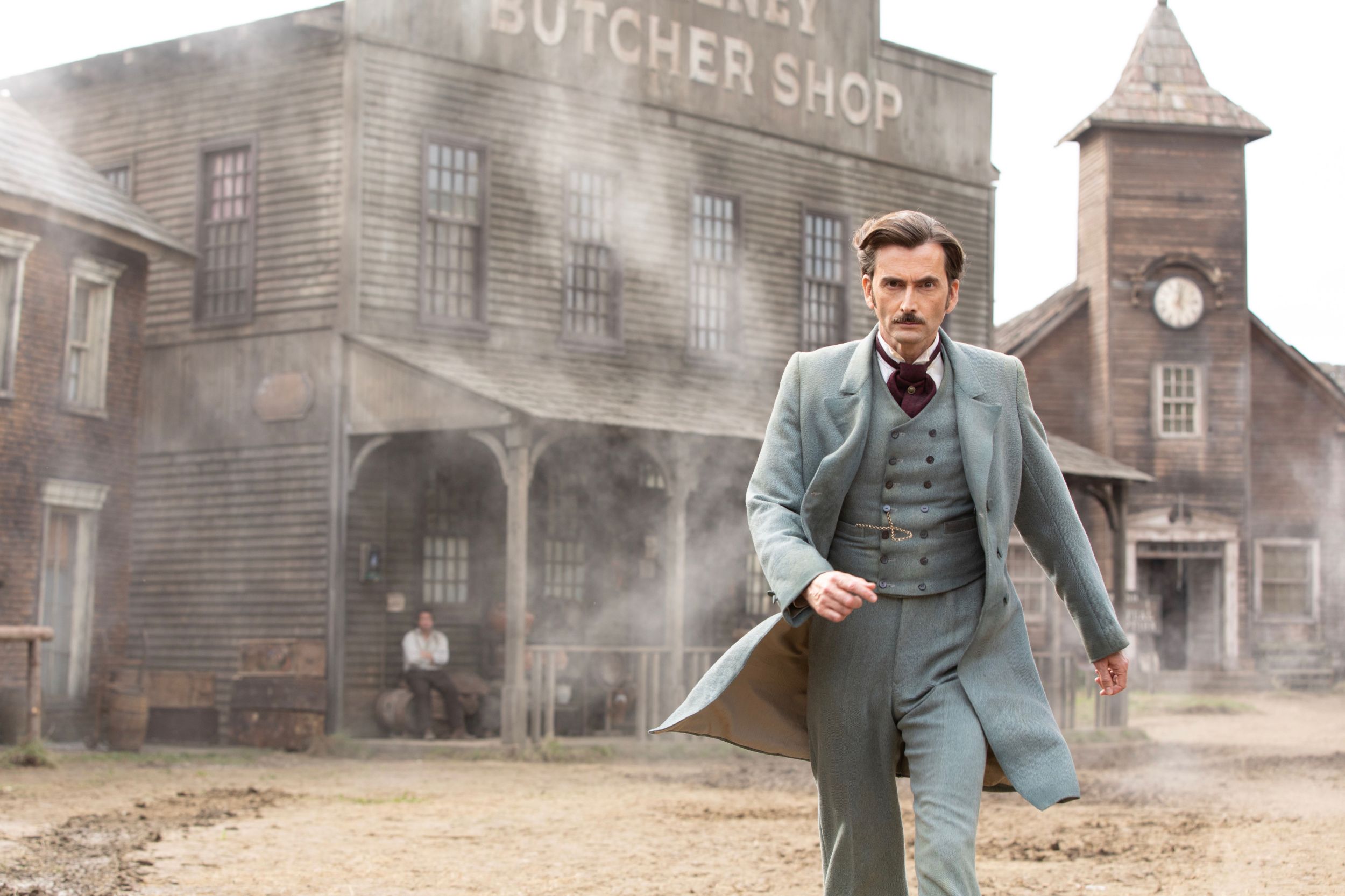 Abernathy questions Fogg about how he will deal with Passepartout and Abigail, and it finally dawns on Phileas how bigoted he is. Abigail is offended people don't recognize the relationship between her and Passepartout, snaps people should mind their own business, and goes off on her own.
Fogg orders the group from the establishment's minimal menu at the saloon. Abernathy antagonizes everyone with his racist vitriol, and Reeves urges Passepartout not to take the bait. Phileas makes it clear that he and Abernathy have no values in common. Abigail finds her way to the telegram office to send a pair of messages to London; however, the line goes dead. The operator says someone cut the wire: A robbery or murder is imminent. 
Back in old Blighty, Bellamy (harassed by debt collectors) needles Bernard Fortescue to settle the wager. Though he's Fogg's executor, Fortescue doesn't see the point since Phileas is dead, but Bellamy says it's a matter of Fogg's honor. He even offers to make an appointment with the solicitor.
Meanwhile, in Battle Mountain, Abernathy's armed henchmen have entered the saloon and surrounded Reeves. Trying to diffuse the situation, Fogg asks the fugitive why he doesn't just escape, but Abernathy is intent on a reckoning first. He orders Fogg to cut off one of Passepartout's fingers. Passepartout sees his boss's hesitation and places his hand on the table, encouraging Fogg to do it. The valet assures the blame will not be on him.
But Passepartout catches Abigail's eye at the last moment as she crouches by the door. He screams, "Stop;" he wants to make sure Fogg is "prepared," and Abigail bursts through the swinging doors on a horse. She shoots Abernathy in the leg. The prisoner scampers out the back as the barroom brawl continues, and Abigail runs out of ammo. In the end, our trio and Reeves take out all the bad guys by demonstrating bravery. I also submit that Passepartout found out, in the moment, what (or who) he was willing to die for.
The foursome split up to find the wounded Abernathy. Abigail and Passepartout go out the back while Fogg teams up with Reeves. The marshal handcuffs a prisoner to the porch and leaves Phileas to watch the street with a shotgun. Fogg notices blood on the ground and follows the trail into a barn where Abernathy is hiding.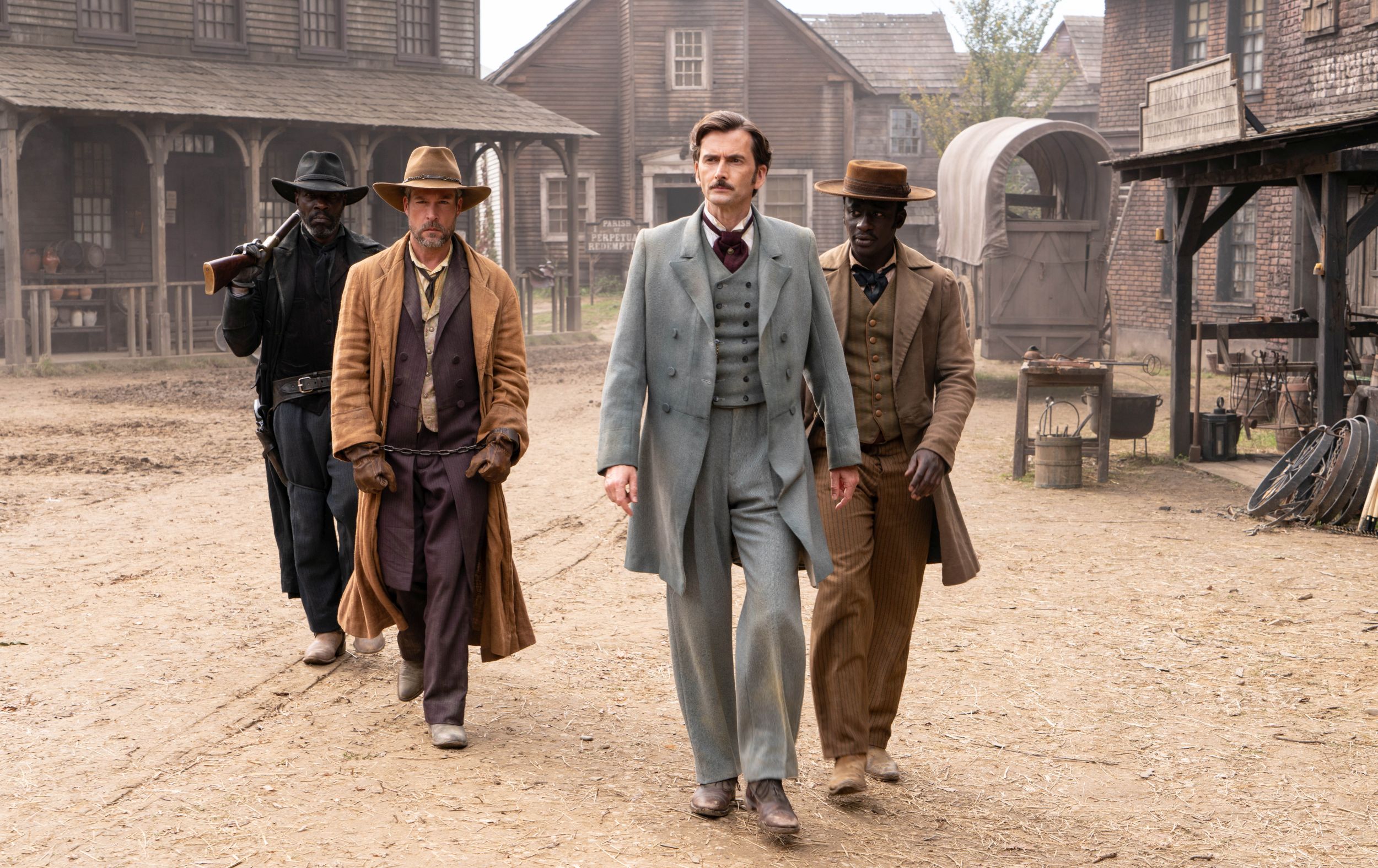 The wounded Abernathy taunts Fogg, calling him a coward, but he stands firm and orders Abernathy to drop his weapon. Passepartout is ready to finish him off, but the fugitive drops his gun. Reeves breaks up the faceoff and leads Abernathy away. The marshal reminds his posse that their train is about to leave, and they head off to the station in the nick of time.
Speaking of the nick of time, Abigail's father receives her telegram back in London just as he and Bellamy are about to meet the solicitor. Barnard rejoices, calling for the map to be remounted in the Reform Club. Bellamy can only stand there, but we know the wheels in his head are turning. The press in New York swarms our trio. Fogg looks around the station and sees the distinctive clock in his postcard drawing. Could Estella be nearby, or does it represent something else?
Only one more leg of the trip remains with a transatlantic crossing to survive and Bellamy, surely scheming away. What were your feelings about this episode and its handling of racial tensions? Let's chat about that and any other opinions you have in the comments!
---
By
for on February 13th, 2022
More to Love from Telly Visions