By
for on February 20th, 2020
Another 'Emma'? Thankfully, This One is Worth Your Time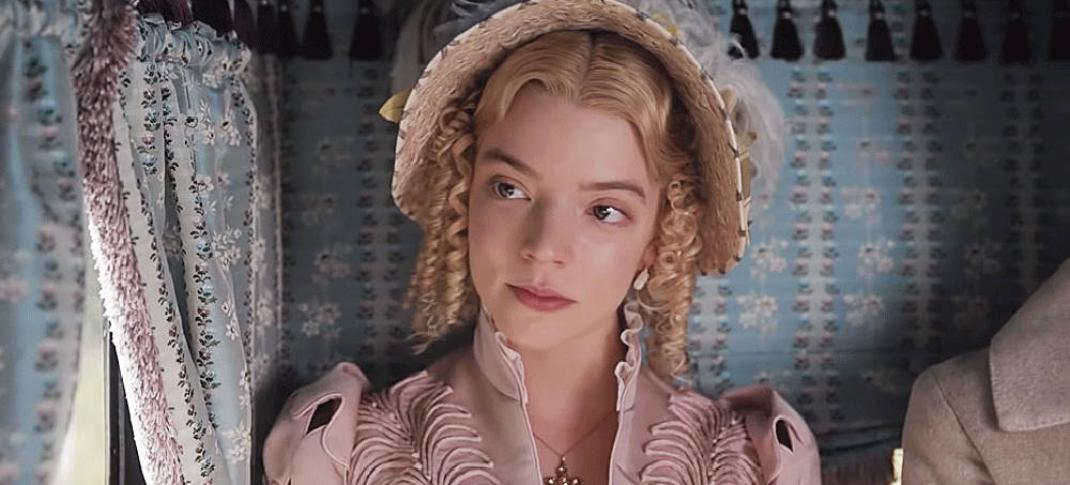 Emma Woodhouse, handsome, clever, and rich, with a comfortable home and happy disposition, seemed to unite some of the best blessings of existence; and had lived nearly twenty-one years in the world with very little to distress or vex her.
These are the opening words of Jane Austen's novel Emma, first published in 1815, and which appear on the screen at the beginning of the shiny new feature film adaptation, Emma.—yes, its official title includes the seemingly stuffy punctuation. But writer Eleanor Catton (New Zealand novelist and 2013 Man Booker Prize Winner) and director Autumn de Wilde (who comes from a music video and photography background) have crafted a fresh, funny, fast-moving version of this much-loved novel. The fidelity to Austen's words continues throughout the movie with much of the dialogue taken straight from the novel, and even though the storyline deviates from the original at various points, the changes are thoughtfully done.
I have to admit that when the movie opened, I was appalled at its prettiness. I didn't want pretty, I wanted to see the serious business of an Austen novel, which is always there beneath the elegant veneer. So when I saw Emma Woodhouse (Anya Taylor-Joy, Peaky Blinders) picking gorgeous flowers—she's not a girl into heavy lifting, so she has a servant doing the arduous clipping and carrying—my heart sank. But when Emma coolly tells the servant to not pick a particular flower, but the next one, I almost cheered. This is Emma—an autocratic perfectionist, who believes she can manipulate people as well as she does flowers, but who can also be endearingly silly. Remember, the 1995 teen movie Clueless is based on Emma.

Emma's newest interest is matchmaking, her major triumph (in her eyes) being the recent pairing of her former governess Miss Taylor, (Gemma Whelan, Gentleman Jack, Game of Thrones) with a neighbor Mr. Weston (Rupert Graves, Last Tango in Halifax, Sherlock). She isn't interested in marriage herself, of course. And one major obstacle is her father, played by Bill Nighy (Love Actually, Their Finest) in top form; he's a professional and easily-panicked health nut who barricades himself behind screens, snatches away dangerous food from his guests, and hates change. "Poor Miss Taylor," he laments as they attend the wedding.
This is a scene that isn't in the novel, but neatly serves the purpose of introducing us to the other members of the village of Highbury, except for their neighbor Mr. Knightley (Johnny Flynn, Les Miserables, War and Peace) who calls at their house, Hartfield, after the wedding, and that's the beginning of the book.
He actually spends most evenings with them, reading by the fire, while Mr. Woodhouse fusses about the room temperature and furniture placement. Knightley's relationship with Emma is longstanding, affectionate, and combative, and we realize early on that he's in love with her and she's oblivious. Despite the bickering, there is much tenderness: "Let us be friends again," Emma says after one notable quarrel, and it's a gorgeously melting moment. This trailer uses the "Papageno/Papagena" aria from Mozart's The Magic Flute, an aria of two rather oddball characters teasing each other, dropping their disguises, and falling in love—what could be better?
Knightley has to both hold back and step back when Emma embarks on her new matchmaking hobby, befriending a young woman who's a student at a boarding school (there's a sly wink to The Handmaid's Tale as the girls parade around Highbury in their red cloaks). Harriet Smith (Mia Goth, Suspiria) is low-status, illegitimate, pretty but not very smart, and a blank slate for Emma.  She decides to match Harriet up with the new vicar in town, Mr. Elton, played with exactly the right mixture of charm and nastiness by Josh O'Connor (The Durrells in Corfu, The Crown).
The plan goes belly-up when he and Emma share a carriage, and he proposes to her (Emma, what were you thinking!)—the detail of Mr. Elton seductively untying his cloak is masterful. Meanwhile, Harriet has turned down an appropriate suitor, one of Knightley's tenant farmers, and Knightley subsequently has to spell out to Emma why this match was suitable, and why Elton was a disastrous choice.
Sure enough, Mr. Elton goes out of town to nurse his broken heart, and comes back married, and this was one of the areas in the movie in which I felt dissatisfied. The new Mrs. Elton (Tanya Reynolds, Sex Education) is nouveau-riche and in the book Austen makes a point of her Bristol origins. (Bristol is code in Austen for the slave trade, that is, dirty money.)  I'm afraid the movie dilutes her, and it's a grave disappointment, because she's great comic material—awful and pretentious, and a rival for Emma's position of Queen Bee of Highbury.
It's also disappointing that we don't see much of the subplot (although it's so beautifully intertwined with Emma's journey I hesitate to define it as such) which makes the book so satisfying to read. Frank Churchill (Callum Turner, Fantastic Beasts: The Crimes of Grindelwald), local legend, professional flirt, and the son of Mr. Weston's first marriage, barely has time to establish what seems to be a serious interest in Emma. You certainly don't get much of an impression that he's a sexual predator or even an incorrigible flirt.
.Jane Fairfax (Amber Anderson, In Darkness) makes only a few notable appearances and I wish we'd seen more of her and her predicament, which is serious enough to cause her real damage. She's the niece of Miss Bates, an impoverished spinster with an elderly mother, who talks endlessly in run-on sentences and is played impeccably by Miranda Hart (Chummie from Call the Midwife). This simplification robs what should be great comic or dramatic scenes—the final denouement when the truth is revealed to Emma, the strawberry picking at Donwell Abbey (Mr. Knightley's house), and the disastrous Box Hill picnic—of their full significance. And that's what I was alluding to in my mention of the "serious business" of an Austen novel.
Frustratingly, there are also inexplicably deleted lines, sometimes of significance, such as in this scene when Knightley asks Emma to dance. The last line, spoken by Knightley "Brother and sister! no indeed," is very significant, showing a major change in their relationship amid the romantic setting of a ball, always an important event in Austen's novels. And it's so frustrating when other times the attention to detail is inspired--for instance, Emma often wears a topaz cross just like the one Jane Austen owned.

"Whom are you going to dance with?" asked Mr. Knightley.
She hesitated a moment, and then replied, "With you, if you will ask me."
"Will you?" said he, offering his hand.
"Indeed I will. You have shewn that you can dance, and you know we are not really so much brother and sister as to make it at all improper."
"Brother and sister! no, indeed."
As it is, the movie is largely about Emma and Harriet, and it's an interesting twist, if not quite what Austen intended. The added detail at the end of the movie, where Harriet hears from her absent father, a galoshes maker in Bristol, is ludicrous (the Regency equivalent of galoshes would be pattens, so where did that come from?). And I don't believe that Emma would be that keen on meeting a tradesman, even after the lessons she's learned and assuming she is really fond of Harriet.

Harriet is more than the docile, rather dumb, raw material that Austen portrayed; she becomes angry with Emma after the Elton fiasco, and learns to speak her mind. She realizes she doesn't stand a chance against the rich, pretty Miss Woodhouse. But Emma redeems herself by visiting the farm of Harriet's former suitor to make amends and attempt a reconciliation. (And she is such a dreadful snob, this is a major thing for her.) She approaches on foot, not in a smart carriage, and charmingly carries a basket of apology gifts, including a dead duck (I laughed). She and Harriet achieve an equality of sorts as friends, and there's never a moment, as in the book, where Emma bitterly regrets ever meeting her. They let their hair down together, literally: there's a charming scene where the two young women practice dance steps in their shifts and corsets.
And... yes, let's talk about clothes. First, there's a fair amount of characters lounging around in their linens or getting dressed (thank you, thank you, filmmakers, for the Johnny Flynn shirt and stockings scene), which you don't often see in an everyday context. I'm assured that the clothes details are correct, and they are full of interest, Very pretty, and more important, they move in the right way—when characters are on a windswept walk, or during dancing. I suspect most of the bonnets, hairstyles (lots of added ringlets), and trims are perhaps over the top, but for a historical movie there are a fair amount of gloves worn, a detail that's usually missed. Any costume historians out there, please let me know what you think!

Similarly, the settings are gorgeous. Locations include Wilton House near Salisbury, also used in the film versions Pride & Prejudice (2005), Sense & Sensibility (1995), and Netflix original The Crown, as well the interestingly-named Lower Slaughter in the Cotswolds stands in for Highbury. The interiors, particularly of those of Hartfield, Emma's house, are splendid, with period-correct paint colors and reproduction wallpaper made specifically for the film. The table settings and furnishings are equally beautiful. When Harriet first visits Emma, her eyes get wider and wider as yet more luscious desserts are served. I left this movie hungry. And yes, we should mention the servants, who are by no means wallpaper in this film. They are carefully choreographed as a silent, straight-faced Greek chorus who add to the action: fleeing the room when Emma and Knightley yell at each other, or turning away in unison when they (finally!) kiss.

The music is extraordinary and serves a dramatic role in both the book and the movie. The pianos not only look right for the period (square pianos of the sort Austen owned) but sound right, and I suspect the vocal songs may be ones that Austen knew and played herself (there is an archive online of her music and songs, many copied out by her). Johnny Flynn, well known in England as a songwriter and performer, sings and plays fiddle, and Taylor-Joy plays an excerpt from a Mozart piano sonata. Appropriately for her situation, of which we are given no clue, Jane Fairfax plays Beethoven's Appassionata sonata (I'm not sure whether actor Amber Anderson was actually playing the instrument herself, although it looked very convincing).

Despite some variations and omissions from the original book, this movie has heart and charm to spare. Maybe its weakness is that it has too much prettiness, too much heart and charm, but that's no bad thing for our times. Austen wasn't afraid to create characters who were not nice, and she didn't try to redeem them either, and for many of us her acerbity and cynicism are part of her charm. However, I loved this Emma for its  brilliant acting, the carefully thought out details, and the respect the film's creators so obviously have for the novel and its language. Go see it.
How does it stand up to other versions? Do you have a favorite television or film version, and have you read the book? Let's discuss!
---
By
for on February 20th, 2020
More to Love from Telly Visions