By
for on November 6th, 2022
'Annika' Builds a Few Bridges in Episode 4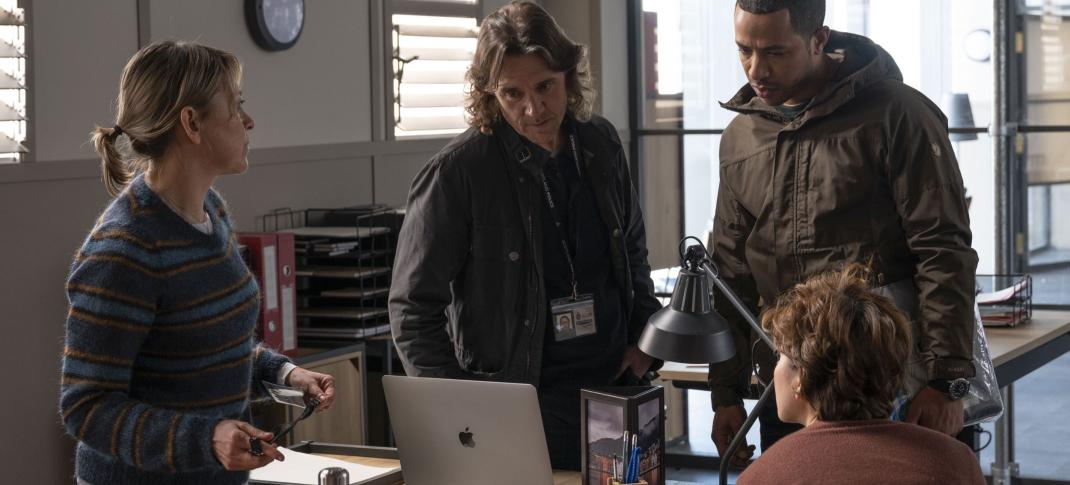 In a change of pace, Annika begins not with a treatise on classic literature but on bridges. It might be a heavy-handed metaphor for this week's episode, but the point remains that Annika can only name three kinds of bridges out of six. (Beam, arch, and suspension; sorry to the truss, cantilever, and cable stay.) Perhaps she should stick to reading, as she recognizes an author by name, if not body, as the victim found on Kingley Bridge that inspired her lecture was Cara Gibson, a famous author.
Jake: I love bridges.
Annika: Lots of nice butresses.
Gibson is identified as a right-leaning Tory whose first hit book, Workshy, blamed the poor for their lack of money. It led to internet and TV fame, including Gibson's short-lived reality series giving "poor people makeovers" to pass them as landed gentry.) But in the last year, she ceased writing and was currently working by the hour at Glasgow University teaching English to first-year students, which sounds like a fitting end. She'd also been frequenting The Menagerie, which features house singer Evelyn Bailie (Aisha Toussaint), whose hit teen pop band Fix Me Up, was the subject of Gibson's follow-up book, the drugs-and-sex-expose Sour Note.
The maintenance guy, Graham Kennedy (Michael Abubakar), lets Annika and Miachel into Cara's rental house just as Glasgow TA, Ming Mei Zhao (Millicent Wong), is placing a bouquet on the steps. In Gibson's office, a copy of Workshy is filled with posties, including one under book subject Maggie Fisher (Gail Watson), which reads: "Still alive?" Graham says Gibson's co-writer on Workshy, Fraser Clanahan (Robert Jack), also teaches at Glasgow and helped her rent the house. 
Annika then visits Clanahan, who claims Gibson's right-wing statements were for clicks; she grew up in the kind of council housing they railed against in Workshy. Fisher was one of those interviewed, angry they "told the truth about government benefit abuse," to the point they had to take out a restraining order, but that was years back. Clanahan says he hasn't talked to Gibson for months; she joined AA and, as far he knew, was trying to stay sober. He, meanwhile, just made vice-chancellor of the college.
Annika's interest in bridges comes from Morgan's building one for school. Annika suggests a bridge-themed outing, which is over-laboring the point, after therapy with Morgan's new (female) therapist, with whom she isn't gelling. Annika and Morgan's awkward relationship is only a five compared to Tyrone's running into an old colleague, Ash (Shyvonne Ahmmad), who is more interested in flirting than strict protocols in evidence handling. In other awkward families, we also meet Adie (Andy Clark), Michael's older brother, who promises to keep an ear out for anything about Gibson.
Stream Now
Annika
Nicola Walker (Unforgotten) stars as DI Annika Strandhed who juggles cases and a daughter.
Image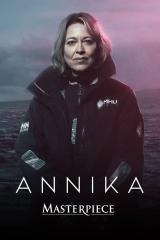 Michael heads to The Menagerie, where Bailie, now known as Evie B, says Gibson wanted her for a "big comeback book," but she refused because Gibson wouldn't pay her, and "content isn't free." Michael doesn't buy it, considering Gibson was responsible for Fix Me Up's collapse. (Also, Evie works in men's clubs and needs money.) Evie says that Gibson seemed to be doing the book under duress and that the author was afraid it would ruin her life.
Clanahan brings Ming to the station to point the finger at Lachie Nevin (Gavin Mitchell), the cabbie dispatched that night to pick up Gibson from her home to take her to the university. Ming works as a dispatcher to make ends meet since TA pay is dirt and claims Nevin took forever to call in the job was complete. Michael and Blair head to find Nevin, who runs at the sight of cops. Nevin says Gibson was so drunk she was going to vomit, so he threw her out of the cab at River View Inn, next to the Kingley Bridge. Nevin's story checks out, including that he picked up a new fare right after.
Tyrone looks up Fisher, who is under home arrest, for a pub brawl. She went AWOL the night of the murder, though it turns out to be a faulty ankle bracelet. However, she does say Gibson had reached out a week prior. On the photo wall of the estate's multipurpose room, Annika spots Graham as a teenager; Fisher says he was ultra bright and got into uni to study law. Sadly, he dropped out after being accused of stealing from fellow students' dorms. Tyrone heads off to investigate him while Annika is distracted by Dr. Jake.
Annika used Morgan's need for a better therapist as an excuse to call Jake; he decided to hand-deliver it as he was passing by their office on the river. (He responds he was out for a swim.) Blair might have solved Morgan's friendship problems anyway, as her kid sister, Erin (Jade Chan), is Morgan's age and has just moved in to stay with her for a spell. When Jake "accidentally" runs into them at the bridge exhibit, Morgan's phone chimes, so she takes off, leaving Jake and Annika to have a pun-filled date and a sleepover.
Tyrone finds Gibson's laptop in Graham's van, though CCTV has him at the uni gym at the time of her death. But hey, laptop! Blair leaves Erin and Morgan to bond over having detectives in the family and perhaps also to share a bed while she works with IT to hack it. Once in, they find the book is a confessional memoir of addiction, where Gibson calls Workshy a con job; everyone's interviews, including Fisher's, were twisted to fit a false thesis.
Annika sets Michael to check on the one person with the most to lose if Gibson's new book was published: her co-author, Fraser Clanahan, whose career began with Workshy. She finds him at an old funfair site he's telling investors he plans to bulldoze to expand campus. When she and Tyrone start asking about Gibson's drunken phone call to him the night of the murder from the Inn, he runs. "Really?" mutters Annika. Tyrone takes him down, grumbling this is unnecessary. Annika buys everyone cotton candy to celebrate, and Blair says next week, they'll have to arrest someone at the zoo to get penguins.
---
By
for on November 6th, 2022